All year long, Dalhousie is celebrating some of the most significant, influential and inspiring individuals from its 200-year history as part of the Dalhousie Originals series.

But the Dalhousie Originals series is about more than just recognizing the past — it also offers a platform to showcase emerging talent from the Fountain School of Performing Arts.


The 19 students from Dal's Acting program who are front-and-centre in the Dalhousie Originals video series found the project to be a great learning experience. Not only did they have to memorize and deliver a roughly one-minute speech about their particular Original, but they had to formally audition for the roles and perform in front of a camera —a new experience for some.

Off stage, on camera

For fourth-year Acting student Taylor McMillen (BA'18), it all started over a year ago when Professor Susan Stackhouse put out a call for volunteers to audition for the project.

"She thought acting students should be first in line to participate, so she took a poll and anyone who was interested signed up," he says.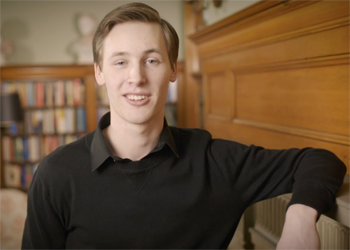 Taylor, from Lower Sackville, says the auditioning and filming process turned out to be an interesting experience for the budding thespians.

"As theatre acting students, we don't have much experience acting for the camera. So it was definitely a good experience in terms of getting in front of the camera and learning what an audition is like."

Taylor says he picked up a valuable lesson during the shoot about using his voice. Filming in the Steele Ocean Sciences Building, in parts of the space that were at the time unfinished, he tried his best to fill the space with sound, not realizing that it would all be picked up on the mic.

"I did my first take and the guy took off his headphones and was, like, 'Man, you've got to stop shouting.' I'm so used to having to project in a theatre setting."

Taylor was featured in three videos, all of which are still to come in the series. The Originals are being revealed one at a time, each Thursday, with some of the profiles thus far including alumni like astronaut Kathryn Sullivan and George Elliott Clarke; professors like Ford Doolittle and Wanda Thomas Bernard; and donors and builders like Eliza Ritchie and George Munro.
Keeping it in the community

The videos were produced with Firefly Digital Media in conjunction with Dalhousie's marketing department, and filmed over seven months during 2017. Hope McCallum, the university's marketing director, says it was important to keep the acting roles in-house.

"The Dalhousie Originals themselves are students and alumni, faculty and researchers, donors and supporters — so it made sense to keep the project within the Dal community by having our own Theatre students tell the stories," she says, adding that the partnership with the Fountain School was a win-win.

"We benefitted from great, authentic performances from people who really cared about the project and the students got a chance to put their theory into practice and add to their portfolios."
See all of the Originals thus far: Dalhousie Originals website

Prof. Stackhouse, who teaches voice and speech in the acting program, says she and her colleagues were equally enthusiastic about the opportunity the Dalhousie Originals series presented for the young actors.

"We were quite excited and considered this would be a wonderful capstone opportunity to audition for, and film for, a professional production company."

An enlightening experience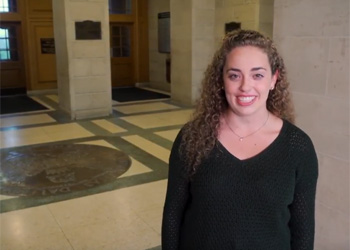 Lindsey Ross (BA'18), also found the on-camera work valuable as she prepares for a career in the arts. Lindsey starred in the Dalhousie Originals launch trailer as well as two additional videos for the series, including last month's video about the late Dr. David Precious — a Dal Dentistry prof and humanitarian renowned for his groundbreaking work repairing cleft palates.

In the Acting program, she was able to take classes with filmmaker and actor Cory Bowles (Black Cop) in a course on "Advanced Performance Techniques." That said, most part the Acting students have focused on live theatre work, including recent appearances in the well-received production of Drums and Organs (written by Dalhousie alumna Gillian Clark).

"Most of us were pretty excited because we hadn't had many opportunities presented like the Originals videos," says Lindsey.

The actors say that, along with the technical aspects of working on the project, it was enlightening to find out more about the notable individuals featured in the series.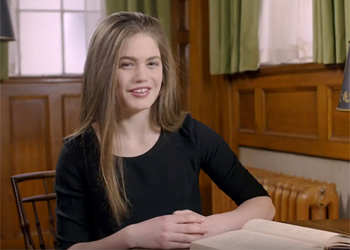 Fourth-year student Ursula Calder, for example, got to talk about Senator Wanda Thomas Bernard.

"She is an absolutely incredible person who has accomplished so much and inspired so many," says Ursula. "I found her story truly inspirational, and it reminded me of the potential each person has to accomplish great things."

"Just getting to look back on all of these amazing people," says Lindsey, "whose work ethic and determination changed the face of whatever their field was; to see the trailblazing work is very inspiring as we get set to go out into the professional world."
"I think it's very exciting to be part of the 2018 graduating class. It's a monumental time for Dal."
Student performers in the Dalhousie Originals series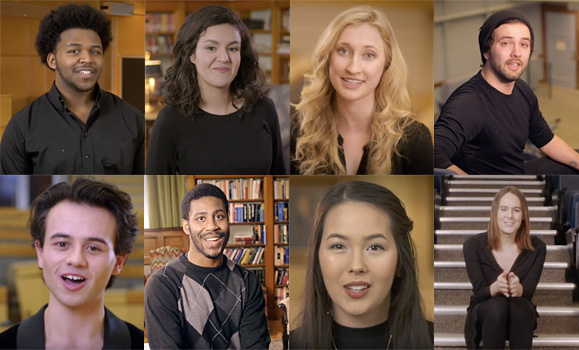 The full list of student performers to appear in the Dal Originals series is:

•    Maggie Andersen
•    Ursula Calder
•    Andrew Chen
•    Lisa Corey
•    Zachary Comeau
•    Ian French
•    Claudia Gutierrez-Perez
•    Kayla Gunn
•    Stepheny Hunter
•    Michael Kamras
•    Brandon Liddard
•    Zoë Mackey-Boenner
•    Stephanie Mah
•    Delany McCormick
•    Taylor McMillen
•    Erin McQueen
•    Michelle Raine
•    Lindsey Ross
•    Nathan Simmons
To see all of the Dalhousie Originals stories and videos thus far, visit the Dalhousie Originals website.