Two hundred years ago, when Dalhousie University was founded, its home wasn't located at the end of University Avenue. It was in the heart of Halifax's Grand Parade — the exact spot where City Hall stands today.
City Hall has been one of the most popular destination during Doors Open Halifax each June. And Dalhousie has been a participant in the city-wide event — for which buildings of historical, architectural or contemporary significance open their doors for free to the community — every year since it started in 2013.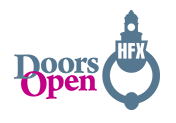 Given that Dal is celebrating 200 years in 2018, it's no surprise that the university is about to have one of its strongest-ever showings in Doors Open Halifax — including a special exhibit celebrating its historic campus.
On both the Saturday and Sunday of Doors Open Halifax (June 2 and 3), Halifax City Hall will host a Dalhousie 200th anniversary exhibit, offering a look back at the university's history from its earliest years through until today.
And although Dal has Convocation ceremonies on the Saturday of Doors Open, Sunday, June 3 will see the university's largest-ever participation in the event: six buildings opening their doors, each of them hosting unique hands-on activities sure to delight visitors of all ages. The roster includes new facilities like the Collaborative Health Education Building and the just-opened Dalplex fitness centre, but also historic spaces like the Forrest Building — Dal's first home in South-End Halifax.
Learn more: dal.ca/doorsopen
So drop by campus on Sunday, June 3 from 10 a.m. to 4 p.m. and discover something new about Dalhousie. Here's a glimpse at what's in store:
New Dalplex fitness centre
6260 South Street
Completed: 2018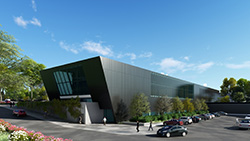 Doors Open Halifax is a great opportunity to get a look at Dal's newest building: the Dalplex fitness centre expansion. The first major expansion to Dal's fitness and recreation spaces in nearly 40 years, the fitness centre just opened to members and students on Friday, May 25. For Doors Open Halifax there will be building tours and fitness class demonstrations throughout the day, and you can also explore the new Dalhousie Physiotherapy Clinic.
Collaborative Health Education Building
5793 University Avenue
Completed: 2015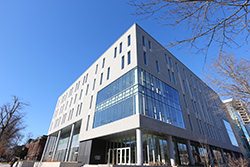 Dal's collaborative building for health-care education includes the Centre for Collaborative Clinical Learning and Research on its third floor — a hospital-like setting in which students work with technology and simulated patients to prepare for their health profession career. A variety of health care simulations will be demonstrated throughout the day, and younger visitors are invited to bring their favorite stuffed toy from home for some interactive TLC with the Teddy Bear for Care fun-spot.
Steele Ocean Sciences Building
1355 Oxford Street
Completed: 2012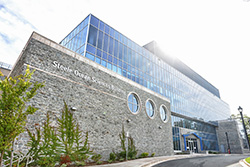 The heart of ocean research on-campus, the Steele Building will be showcasing research from the Faculties of Science and Agriculture during Doors Open Halifax. Researchers will show you first-hand how everything from mathematics and plant science, to aquaculture and oceans research impacts the world we live in, and how Nova Scotian researchers and students contribute to building the scientific knowledge needed to advance societies around the globe.
Goldberg Computer Science Building
6050 University Avenue
Completed: 1997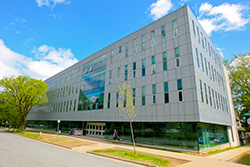 If you're into robots and technology, then the Goldberg Building is the place to be for Doors Open Halifax. Join Computer Science students, professors and SuperNOVA in the building's atrium to take part in family-friendly activities throughout the day, including programming your own robot. Also, you can take an interactive journey through time at the launch of the virtual exhibit celebrating women in computing.
Dentistry Building
5981 University Avenue
Completed: 1958
Though it's one of the older buildings in Dal's Doors Open Halifax offerings this year, there's plenty new to see in the Dentistry Building. Get an up-close look at the building's newly renovated, state-of-the-art clinic that hosts 6,000 patients each year. Watch students demonstrating their skills, and younger visitors can bring in their favourite stuffed toy from home for an oral check-up at another Teddy Bear for Care fun-spot.
Forrest Building
5869 University Avenue
Completed: 1887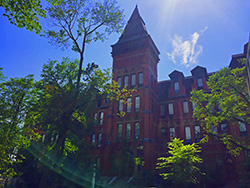 Home to Dalhousie Nursing, Physiotherapy and Occupational Therapy, the historic Forrest Building will celebrate one of its oldest alumni during Doors Open: beloved Canadian author Lucy Maud Montgomery, who attended classes in the Forrest Building in 1895-96. But you'll also get a great look at Dal health research in the here-and-now. See how the brain is stimulated; watch motion-capture technology paired with Nova Scotia's most advanced treadmill; listen to the heart, lung and bell sounds of high-fidelity mannequins; and tour the occupational therapy home suite to learn more about accessibility. Younger visitors can also take in another Teddy Bear for Care fun-spot.
Halifax City Hall – Dal 200 exhibit
(open both Saturday and Sunday)
Halifax Room, Grand Parade, 1841 Argyle Street
Completed: 1890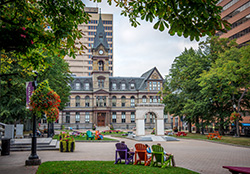 As part of the broader Doors Open experience at City Hall, take a walk through the past and discover just some of the major milestones in Dalhousie's history. The exhibit honours the moments, achievements and people that have shaped what Dal is today — and what it will become tomorrow.
Learn more about Doors Open Halifax at Dal by visiting dal.ca/doorsopen