Doors Open
We're laying out the welcome mat
A proud member of the Halifax community, we've participated in Doors Open Halifax since it began in 2013.
This year marks Dalhousie's 200th anniversary — an exciting year for us as we mark two centuries of academic excellence. We look forward to sharing this milestone celebration with you as we open the doors to campus spaces not typically open to the public, and invite you to engage first-hand in the interesting, exciting and life-changing work that happens here at Dal.
On Sunday, June 3, 2018 from 10 a.m. to 4 p.m., we invite you to explore multiple venues on our campuses. Visitors will enjoy a variety of engaging demonstrations and hands-on activities with world-class scientists, faculty and students in the fields of agriculture, computer science, dentistry, health, science, as well as athletics and recreation.
Dentistry Building at Dalhousie University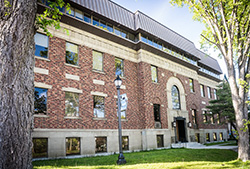 5981 University Avenue
The Faculty of Dentistry offers the only Doctor of Dental Surgery program in Atlantic Canada. The Dentistry Building, built in 1958 and recently renovated into a state-of-the-art facility, houses ultra-modern labs and a comprehensive dental clinic where over 6,000 adult and paediatric patients from around Nova Scotia receive dental and hygiene care each year.
On your Doors Open Halifax visit, learn how to become a patient and watch students demonstrating their skills in the lab and clinic. Younger visitors can bring in their favourite stuffed toy from home for an oral check-up at the Teddy Bear for Care fun-spot! Open Sunday, June 3, 10 a.m. to 4 p.m. only.
Goldberg Computer Science Building at Dalhousie University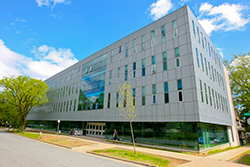 6050 University Avenue
Opened in 1997, the 70,000-square-foot Goldberg Computer Science Building is a collaborative learning and research environment for students, faculty and staff working in the field of computer science.
On your Doors Open Halifax visit, take an interactive journey through time at the launch of the virtual exhibit celebrating women in computing. Discover the impact women have made on technology through the ages — in Halifax, Canada, and beyond.  
Join Computer Science students, professors, and SuperNOVA in the building's atrium to take part in family-friendly activities throughout the day, including programming your own robot! Find out more about technology and the impact it has on our everyday lives with Dalhousie's Faculty of Computer Science! Open Sunday, June 3, 10 a.m. to 4 p.m. only.
Forrest Building at Dalhousie University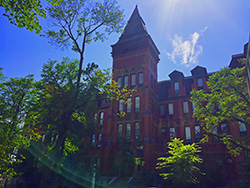 5869 University Avenue
The historic Forrest Building, which from 1887 to 1914 housed the entire university, is now home to the schools of Dalhousie Nursing, Physiotherapy, and Occupational Therapy. The three-storey brick building was designed by architect J.C. Dumasresq.
On your Doors Open Halifax visit, tour the Brain Recovery and Function Lab to see how the brain is stimulated; watch Joint Action Research Lab experts demonstrate motion capture technology paired with Nova Scotia's most advanced treadmill; and see, touch and listen to heart, lung and belly sounds of high-fidelity mannequins in the Nursing Lab. Tour the School of Occupational Therapy everyday living research collaboratory home suite for practical tips and demonstrations on accessibility and home safe living.
Younger visitors are invited to bring their favorite stuffed toy from home for interactive fun with the Teddy Bear for Care fun-spot!
We'll also celebrate Dalhousie's connection to beloved Canadian author Lucy Maud Montgomery, best known for the Anne of Green Gables novels, who attended classes in the Forrest Building in 1895-96. Open Sunday, June 3, 10 a.m. to 4 p.m. only.

Collaborative Health Education Building (CHEB) at Dalhousie University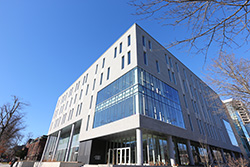 5793 University Avenue
Completed in 2015, the Centre for Collaborative Clinical Learning and Research, located on the third floor of the CHEB, enables students from various health professions to come together to learn clinical skills essential to their future practice. In this hospital-like setting, students work with technology and simulated patients to prepare for their health profession career.
This Doors Open Halifax venue is a great stop for all ages.  A variety of health care simulations will be demonstrated throughout the day.  Younger visitors are invited to bring their favorite stuffed toy from home for some interactive TLC with the Teddy Bear for Care fun-spot! Open Sunday, June 3, 10 a.m. to 4 p.m. only.

Steele Ocean Sciences Building at Dalhousie University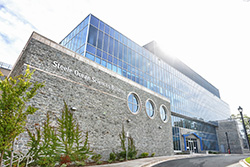 1355 Oxford Street
The 76,000-square-foot Steele Ocean Sciences Building was completed in 2012 and includes an electric car charging station, permeable pavement for stormwater control, passive lighting design, cycling support facilities, and other green features.
On your Doors Open Halifax visit, the Faculties of Science and Agriculture will show you first-hand how everything from chemistry and plant science, to aquaculture and oceans research impacts the world we live in, and how Nova Scotian researchers and students contribute to building the scientific knowledge needed to advance societies around the globe. Open Sunday, June 3, 10 a.m. to 4 p.m. only.
Dalhousie University's New Fitness Centre and Dalplex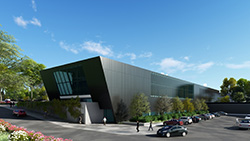 6260 South Street
Dalhousie's new Fitness Centre is the first major facility expansion since Dalplex opened in 1979. The Fitness Centre, designed to meet the needs of our 18,000+ students and Dalplex members, features new strength and cardio space, over 250 pieces of new equipment, four fitness studios, three locker rooms and a high-performance area.
On your Doors Open Halifax visit, join us for building tours and fitness class demonstrations throughout the day. You'll also be able to explore the new Dalhousie Physiotherapy Clinic, which was established in December 2017 as a partnership between the School of Physiotherapy and the Department of Athletics and Recreation. The clinic integrates exceptional service, learning, teaching and research opportunities. Open Sunday, June 3, 10 a.m. to 4 p.m. only.
Dalhousie University 200th Anniversary Exhibit at Halifax City Hall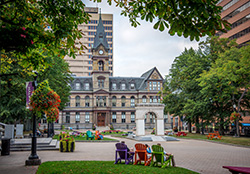 Garade Parade, 1841 Argyle Street, Halifax Room
 
At the dawn of our third century, Dalhousie is pleased to present a special 200th anniversary exhibit at Halifax City Hall, the original home to Dalhousie College until 1887. On your Doors Open visit, take a walk through the past and discover just some of the major milestones in Dalhousie's history, as we honour the moments, achievements and people that have shaped what we are today and will become tomorrow. Open Saturday, June 2 and Sunday, June 3 from 10 a.m. to 4 p.m.
Parking
Non-reserved parking spots in Dal-owned lots are free on weekends. Check out Dal's campus parking map for lots near our venues and plan your Doors Open Halifax route from there.