An honorary degree is the highest tribute a university can bestow. Beyond that fact, the packed crowd gathered Tuesday night at Dal's Rebecca Cohn Auditorium, to see Buffy Sainte-Marie receive her honorary degree during Dalhousie University's 200th year, could sense this would be no ordinary ceremony.
Sainte-Marie's address was part of the Belong Forum series, in which internationally recognized thinkers, trailblazers and change-makers wrestle the question: "What would it take to create a world where we all feel we truly belong?"
Decades of impact


The evening began with a slideshow of some of Sainte-Marie's highlights: with Pete Seeger at an anti-fracking rally; in concert, dancing with frenetic energy belying her 77 years; with Big Bird and Grover, teaching The Count one through five in Cree; with some of her striking artwork; in an Idle No More t-shirt. The images give a sense of decades of relentless activity, all with a grander purpose and tangible impact on communities and individuals.
No surprise then that this is Sainte-Marie's 16th honorary degree.
Officially honoured

Diana Lewis (pictured below), founder of Dalhousie's Indigenous Studies program, started the ceremony by introducing Elder Jane Abram of Millbrook First Nation, who gave an opening prayer asking Kisu'lk, the Creator, that Dal continue supporting all its students, diversity and inclusiveness.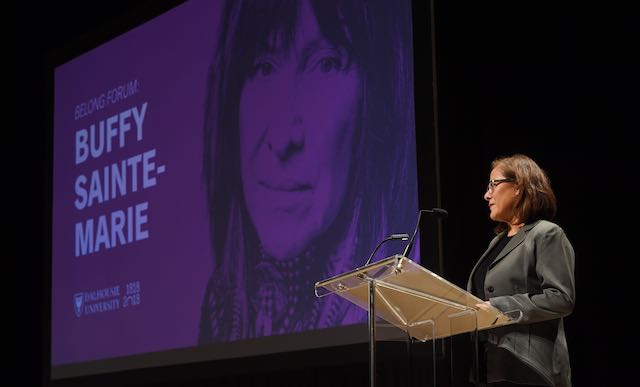 The crowd erupted in a standing ovation when Sainte-Marie took the stage alongside Dalhousie President Dr. Richard Florizone, Dalhousie Chancellor Anne McLellan and Dalhousie Senate Chair Kevin Hewitt. "Well, Dr. Sainte-Marie, I told you they were excited," Dr. Florizone said as he introduced the Belong Forum and invited the Honourable Anne McLellan to officially present Sainte-Marie with her degree.
Abandon the pecking order


The presentation was followed by a video tribute and finally, when the lights went up, a smiling and waving Buffy, who had shed her graduation robes in favour of a black leather jacket and, "my Beyoncé pants." She hit the ground running with a compelling, inspiring and funny address, clearly articulating what we all must do to change the world: "Stay calm and decolonize," she said. "That's my motto these days."
And how do we do that? "Abandon the pecking order," she said. "It's the oldest racket going…Indigenous societies all over the world have had alternative ways of government that work a lot better."
She gave a brief history lesson for context, noting that Settler-Canadians can only imagine other forms of governance and leadership if they understand where their own monolithic model comes from. "In order to build a better world modern people need to understand the painful truth about European history and the people who constructed the template that all of us live in today," she said.
And still, in this neo-colonial society, she said, governance is often controlled by "the biggest, meanest man."
Build something better

The solution? "Break the cycle of bullying everywhere…We're not stuck with these as part of human nature. They're choices…and they must be abandoned. You don't have to tear anything down or beat anybody up. Just build something better."
Sainte-Marie, who also founded the Cradleboard Teaching Project, also spoke of the importance of education, especially between Indigenous and non-Indigenous cultures. "We need to understand each other's histories," she said. That includes studying the world from an Indigenous perspective.
For example, students in the education programs she founded learn the science of sound through the use of Indigenous instruments. "We're studying science but we're reinforcing it with culture."
Education is so crucial, she believes, because "much of settler racism has to do with not knowing." Even the people with too much power who "don't want Indians or anybody else standing in the way of their complete control of all available lands and natural resources and the power therein," she said, "is just another five-year old throwing his truck and blaming his sister."
That will change, she believes, because humans evolve. The job of those wanting change, then, is to create a new menu. "Cook it up yourself. And then prepare to serve them."
Community welcome


Afterward, local Mi'kmaq film producer and director Cathy Martin then stood and thanked Sainte-Marie, welcoming her home to Mi'kmaq territory. "I'm so glad Dal did this," she said. "I graduated from here."
The evening was closed by incoming Dalhousie Student Union president Aaron Prosper, of Eskasoni First Nation and the first Mi'kmaq to hold the position, provided closing remarks. He honoured Indigenous trailblazers including Mi'kmaw Elder Albert Marshall and Nora Bernard, a Shubenacadie residential school survivor and pioneering force behind the Truth and Reconciliation court challenge and process.
Prosper presented Buffy with a wool blanket from Dalhousie Faculty of Agriculture sheep in Truro. Finally, he sang her the Mi'kmaq Honour song. Buffy Sainte-Marie was visibly moved. Everyone was.