Since comedian and TV personality Rick Mercer started his Spread the Net Challenge more than a decade ago, students at grade schools and universities across Canada have raised $2 million for life-saving, anti-malaria bed nets in Africa.
In the first university challenge in 2008, Dal students led the way, winning first place and earning a visit from Mercer and a feature segment on his Rick Mercer Report.
Ten years later, full circle: a new generation of students, led by the Golden Key Society, once again placed Dal atop the Spread the Net leaderboard. And, as before, Mercer and his Mercer Report came to campus — one last time, in fact, with Mercer Report set to air its final episode next week.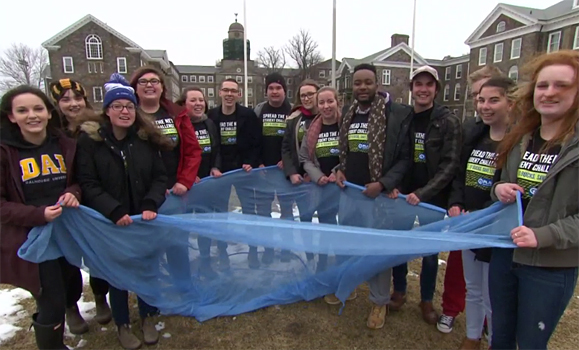 Golden Key Society students celebrate their Spread the Net success.

Read also: Learn more about the student fundraising effort behind the Spread the Net victory

But first, the penultimate episode, which aired this past Tuesday (April 3) and featured Mercer's campus visit. In the clip — filmed on March 13 — the host danced and raved with students on the Studley Quad, including the Golden Key Society members. He paid tribute to the university's 200th anniversary and the fact that the school has taken part in the Spread the Net Challenge every year since its first victory. And at Dalplex, he chatted with President Richard Florizone and helped the Dal Tigers men's basketball team work with kids at the Dalplex March Break camps.

Mercer interviews Tigers basketball player Sascha Kappos.
The episode also featured an all-school dance-off of sorts, featuring students from Dal and the other winning schools in the Spread the Net Challenge (all grade schools in Ontario) set to "Not Ready to Go," the 2003 hit single by Nova Scotia rock band The Trews.
The entire episode is now available to watch online at the CBC website or in the clips below.
Dal on the Mercer Report: Part one (featuring Dal-focused sequence)
Dal on the Mercer Report: Part two ("Not Ready to Go" dance sequence)

Watch the full episode: Rick Mercer Report at CBC.ca