An aura of excitement hung over the crowd in the McInnes Room on the night of March 22 for the seventh-annual Student Impact Awards gala.
As is the case every year, the accomplishments of the award recipients were staggering — from student entrepreneurs and philanthropists to scholars and athletes. These students may be the leaders of tomorrow, but they sure seem like the leaders of right now.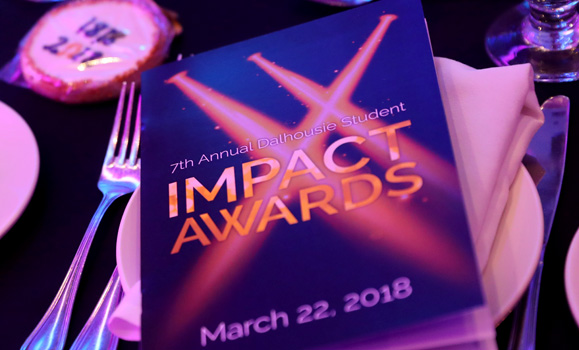 The night had a strong focus on equity and inclusion, and those who are working to achieve it. Incoming DSU President Aaron Prosper started off the night with a land recognition and a call-to-action for taking the recommendations of the national Truth and Reconciliation Commission and embracing them to help make them a part of everyday life.
After welcome addresses from Dalhousie President Richard Florizone and outgoing DSU President Amina Abawajy, hosts Aisha Abawajy and Emilie Barakett kicked off the evening. In total, 52 awards were handed out to individual students, nine more to student societies and clubs, one to a Dalhousie faculty member, and five to the winners of the Board of Governors' Awards — Dal's top award for student life.
Read more: Student leadership that matters: Get to Know Dal's 2018 Governors' Award winners
The event also featured three student performances that entertained the capacity crowd during breaks in the awards: dancer Shaylyn Zubernick, the band Soapbox Opera, and Bollywood dance group Black Illusion.
Listed below are all the award winners.
RESIDENCE LIFE LEADERSHIP AWARDS

Awarded to current residence students in positions of leadership (such as a Resident Assistant) who have best demonstrated an exceptional level of maturity and professionalism. They encourage and empower students to engage in student life, they lead by example and work to improve the life of the residence hall.

Kelly Crowell, Science, Argyle, NS
Jack deGooyer, Engineering, Halifax, NS
Holly Johnson, Science, West Vancouver, BC
Alison MacDonald, Engineering, Halifax, NS
Rebecca Marr, Science, Kingston, NB
Amanda Wheaton, Science, Halifax, NS

RESIDENCE LIFE IMPACT AWARD

Awarded to a current member of a residence hall community who has made outstanding contributions to the life of their residence community, leads by example by encouraging and empowering residents to get involved, promotes respect, and creates opportunities for their peers.

Foroozan Keshava, Science, New Glasgow, NS

MOST IMPACTFUL RESIDENCE COUNCIL

Awarded to the residence council that has demonstrated consistency in event planning and delivery, has high participation and attendance of their membership, and sets an example for other councils. This council also acts as a strong advocate for the individuals it serves.

Howe Hall Residence Council

OFF-CAMPUS LEADERSHIP AWARD

Awarded to an outstanding off campus student leader who has demonstrated significant leadership, commitment, and service aimed at improving their community.

Loran Morrison, Medicine, Truro, NS

MOST IMPACTFUL GENERAL OR SPECIAL INTEREST SOCIETY

Awarded to a student society ratified with the DSU that caters to the general or niche interests of students, and has demonstrated consistency in planning and delivery of programming or events, high student participation and attendance of its membership, and sets an example for other student societies.

Indigenous Health Interest Group

MOST IMPACTFUL SPORTS SOCIETY

Awarded to a student sports society, club, or intramural league. It must demonstrate consistency in planning and delivery of programming or events, high student participation and attendance of its membership, and sets an example for other student societies.

Dalhousie Rowing Club

INTRAMURAL & SPORTS CLUB AWARD

Awarded to an intramural or sports club participant who demonstrates significant commitment to Dalhousie's intramural or sports club programs, exemplifies the role of intramurals and/or sports clubs in developing and promoting student engagement and fun on campus, demonstrates positive leadership, and inspires others to get involved.

Kerry Costello, Engineering, Havertown, PA

VARSITY ATHLETE AWARD

Awarded to a varsity student-athlete who demonstrates significant contribution to the community, has increased awareness at Dalhousie of a given charity or cause, demonstrates positive leadership, and inspires others to get involved.

Adam Spragg, Health, Gilford, ON

STUDENT WELLNESS AWARD

Awarded to a student who best demonstrates leadership in promoting and contributing to a healthy campus, is a role model for health and wellness both in practice and by impacting others to lead a healthy lifestyle (demonstrated through peer-to-peer education, volunteering, service learning, global outreach or any activity that enhances quality of life and development).

Madeline Tweel, Health, Charlottetown, PEI

RISING STAR AWARDS

Awarded to first-, second-, and third-year students who have demonstrated an outstanding level of commitment, leadership, creativity, and initiative to the DSU, as well as to the campus and community at large.

Ali Barnaby, Arts and Social Sciences, Listugui, PQ
Fatima Beydoun, Arts & Social Sciences, Halifax, NS
Kathleen MacMillan, Health, Millerton, NB
Mohamad Zaher, Computer Science, Halifax, NS

MOST IMPACTFUL COMMUNITY-BASED SOCIETY

Awarded to a student society ratified with the DSU that is active in the Dalhousie community and beyond, providing services and addressing issues in the community. It has demonstrated consistency in planning and delivery of programming or events, high student participation and attendance of its membership, and sets an example for other student societies.

Nova Scotia Public Research Interest Group (NSPIRG)

GREEN AWARD

Awarded to a student who has made a significant contribution to improving awareness of sustainability issues at Dalhousie. This person's actions reflect their passion for the environment and inspire others to make positive change.

Stefan Schmidt, Law, Ottawa, ON

MOST IMPACTFUL CHARITABLE SOCIETY

Awarded to a student society ratified with the DSU that has made a significant contribution to a charity and has increased awareness at Dalhousie of a given charity or cause. This society has also demonstrated consistency in planning and delivery of programming or events, fundraising efforts, high attendance of its membership, and sets an example for other student societies.

Islamic Relief

STUDENT ACTIVIST

Awarded to a student who demonstrates passion and commitment to social justice and action, leads by example, organizes students in an inclusive way, acts with integrity, raises awareness, and inspires others to create change.

Tiffany Gordon, Arts and Social Sciences, Kingston, Jamaica

INTERNATIONAL STUDENT OF THE YEAR

Awarded to an international student who has demonstrated excellence in leadership, shown engagement in the community, inspired others, and is a respected voice for international students at Dalhousie.

Lucas Peixoto, Management, Rio de Janeiro, Brazil

MOST IMPACTFUL LEVIED SOCIETY

Awarded to a Type 1 levied student society ratified with the DSU that has demonstrated consistency in planning and delivery of programming or events, high student participation and attendance of its membership, and sets an example for other student societies.

Dalhousie Outdoors Society

STUDENT ENTREPRENEUR OF THE YEAR

Awarded to a student who has demonstrated excellence in generating an innovative idea, concept, or business. The student uses their leadership, vision, and focus to make their ideas come to fruition.

RovBOT (Dhivya Jayaraman, Jeyabalaji Samuthiravelu, Ruhi Madiwale – all Computer Science)

MOST IMPACTFUL CULTURAL/SPIRITUAL SOCIETY

Presented to a student society ratified with the DSU that has raised awareness, engaged students, and increased representation of a culture, religion, or spirituality on campus. It demonstrates consistency in event planning and delivery, high participation and attendance of its membership, and sets an example for other student societies.

Pakistani Students Association

DSU TEACHING AWARD

Awarded to a Dalhousie instructor who has demonstrated a student-centered approach to teaching by going above and beyond for students and encouraging students to push the boundaries of their learning.

Anneke Henderson, Fountain School of Performing Arts

STUDENT EMPLOYEE AWARD

Presented to a student employee who has demonstrated leadership and fostered community spirit in their work on campus. This student will be employed in any capacity on campus and, through their work, contribute to the Dalhousie student experience.

Alexandra Terrell, Law, Toronto, ON

MOST IMPACTFUL FACULTY SOCIETY

Awarded to a faculty society ratified with the DSU that has best demonstrated consistency in planning and delivery of programming or events, high student participation and attendance of its membership, and sets an example for other student societies.

Dalhousie Medical Students Society

DSU DAL-KING'S IMPACT AWARD

Awarded to the King's student who is most highly engaged and takes on a leadership role at Dalhousie. This is the sister award to the KSU Community Engagement Award for Dalhousie students at King's which acknowledges the contribution of a Dalhousie student to the community at King's College.

Joy Ciccarelli-Shand, Arts and Social Sciences, Red Deer, AB

MOST IMPACTFUL DEPARTMENTAL SOCIETY

Awarded to a student society ratified with the DSU that has demonstrated consistency in planning and delivery of programming or events, high student participation and attendance of its membership, and sets an example for other student societies.

IDEAS (International Development Education and Awareness Society)

CERTIFICATE OF DISTINCTION

Awarded to students who demonstrate above-average contributions to campus life over the course of a university career.

Ali Beydoun, Science, Halifax, NS
Robert Dunfield, Medicine, Sussex, NB
Sabrina Jacquard-Doucette, Arts and Social Sciences, Wolfville, NS
Nila Joshi, Health, Bedford, NS
Donald "Michael" O'Leary, Science, Halifax, NS
Meghan Plotnick, Medicine, Windsor, ON
Jennifer Power, Law, Toronto, ON
Brent Young, Medicine, Sydney, NS

STUDENT EQUITY AWARD

Presented to a student who has shown leadership and initiative in advocating or self-advocating for persons with characteristics protected by the Nova Scotia Human Rights Act.

Ben DuPlessis, Science, Dartmouth, NS

DSU GOLD D

Awarded to Dalhousie students to recognize an elite level of involvement and achievement in campus life over the course of their university career. These students have shown outstanding extracurricular contributions in the community.

Kathleen Leaman, Health, Dartmouth, NS
Jessica Pelley, Science, Corner Brook, NL
Mercedes Peters, Arts and Social Sciences, Saint John, NB
Melissa Pike, Law, Sackville, NB
Salman Sajid, Computer Science, Sargodha, Punjab, Pakistan
Mark Saldanha, Science, Halifax, NS

FACULTY LEADERSHIP AWARDS

Awarded to a student in good academic standing in each Dalhousie faculty. These students exemplify the highest level of passion for their discipline, take initiative in creating new opportunities, and encourage their peers to engage in faculty initiatives. Faculty Leadership Award winners positively impact other students in their faculty and the reputation of their faculty at Dalhousie outside of the classroom.

Architecture and Planning
Lina El-Setouhy, Community Design, Cairo, Egypt
Arts and Social Sciences
Christopher Wieczorek, Political Science, Victoria, BC
Computer Science
Brandon Poole, Computer Science, Mount Uniacke, NS
Dentistry
Lindsay James, Dentistry, Halifax, NS
Engineering
Stephen Robinson-Enebeli, Mechanical Engineering, Abbi, Rivers, Nigeria
Health
Samantha Delorey, Nursing, Halifax, NS
Law
Sarah Boucaud, Law, Ottawa, ON
Management
Rebekah Prette, Information Management, Victoria, BC
Medicine
Yaeesh Sardiwalla (medical student), Medicine, Sydney, NS
Emma Finlayson-Trick (graduate student), Microbiology & Immunology, Vancouver, BC
Science
Kasey Moss, Medical Sciences, Toronto, ON

DSU LILLI JU AWARD

Awarded to a student who has exhibited the most significant lifetime achievement of outstanding contribution to university life as a result of their leadership. This will be reflected by a breadth of leadership initatives that have made an impact on the Dalhousie community.

Bai Bintou Kaira, Engineering, Fajara, The Gambia

DSU LEVEL CHAN AWARD

Awarded to a student who has made the most outstanding contribution to student advocacy and academic justice.

Lisa Hackett, Science, Victoria, BC

MALCOLM HONOUR AWARD

Awarded to a student for an elite level of involvement and achievement in campus life over the course of a university career. This student has shown an elite level of consistent campus involvement over the course of their university career and has made outstanding and impactful extracurricular contributions in the community.

Alejandro Gutierrez Ocampo, Health, Cuernavaca, Morelos, Mexico