Many of America's oldest and most elite universities are inextricably tied to slavery — and its effects continue to be felt at those institutions today.

That was one of the key messages delivered by MIT historian Craig Steven Wilder during the first Dalhousie Belong Forum, the kickoff to a series of talks on inclusion being held as part of the "Year of Belonging" to mark the university's 200th anniversary.

In his talk held in the Rowe Building's Potter Auditorium, Dr. Wilder – author of the acclaimed book Ebony and Ivy: Race, Slavery, and the Troubled History of American's Universities – traced the many ways in which the fate of universities such as Harvard, Rutgers and Columbia were tied to the slave economy.

Links between slavery and higher ed in America

Colonial America was largely "a hostile environment" for schools, with 80 per cent of early universities failing. Those that survived had to scramble for funds.
"Early colleges and academies were actually poorly supported," Wilder said. Harvard didn't have any professors until a century after its founding, and "the presidents of colonial colleges lived like itinerants, spending much of the year journeying from town to town, cap in hand… They delivered sermons in churches and at local associations and frequently published them just to raise a little more money through their sale."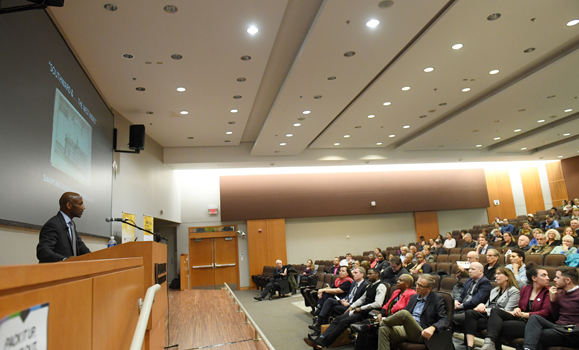 What helped these universities survive? In large part, slavery. They raised funds from slave owners, were tied into the slave-based economies flourishing out of ports such as Boston and, in many cases, owned slaves themselves.

Elite universities remained committed to slavery in the aftermath of the American Revolution (which left many of them in disarray) and even after ownership of slaves became illegal.

"As the United States approached the end of its involvement in the slave trade, college presidents and trustees forged new ties to Atlantic slavery," Wilder said. "After the American Revolution, to rescue themselves, American colleges actually doubled-down on the relationship to slavery. They reaffirmed it. They turned to slavery and the slave trade and tied their fates directly to the Atlantic slave economy. If the economies succeeded, they succeeded, if the economies failed they would fail. And they also became the primary defenders of Atlantic slavery."

Connecting past and present

For Wilder, uncovering this history is more than… well, academic.

He grew up in inner city New York, and began his career as a community organizer in the South Bronx. Today, he continues to be involved in community work, and also works with an organization that helps prisoner earn college degrees. He did his BA at Fordham ("an undergraduate college that was in part funded by the Jesuit sale of 272 people from the Maryland plantations to Louisiana in 1838) and earned his PhD at Columbia ("founded by slave traders").

After his presentation — which was introduced by Dr. Afua Cooper (Departments of History and Sociology & Social Anthropology) following a welcome from Dal President Richard Florizone — Dr. Wilder took part in Q&A moderated by Tom Murphy of the CBC (one of the sponsors of Dal's 200th anniversary celebrations).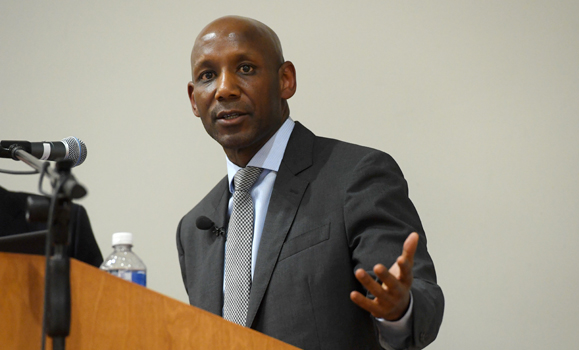 Asked by Murphy if universities are prepared to discuss their legacies, Wilder said, "Yes and no… We get very uncomfortable with any conversation that seems to empower Black people to make claims upon historically white institutions. I don't think we're uncomfortable with what happened in the 17th or 18th centuries. I think we are uncomfortable with the consequences [of those actions] in the 21st century.

"Looking at the past, looking at our history with slavery, is a way of also forcing us to look at labour conditions on our campuses today," he said. "I want my students thinking about who cleans the spaces we live in, and who prepares the food that we eat... and if history is a way of opening up that conversation, then I say let's do a lot of history."

In addition to the Belong Forum, Dr. Wilder spent the following morning (Thursday, March 29) working with students and others in the Dal community to continue to explore these themes at the first Belong Workshops.

The next Belong Forum, on April 17, features Buffy Sainte-Marie. To register, visit dal200.ca.
Couldn't make it to Dr. Wilder's Belong Forum? You can watch the archived webcast at dal.ca/livestream