Graduate students often spend years researching their thesis topics and further time still shaping the results into substantial written work.
The 3 Minute Thesis competition challenges students to reimagine their work from an entirely different perspective: one of brevity.
About 130 daring Dal students faced off in competition this week from Monday to Wednesday as part of the preliminary heats in the university's sixth-annual competition. Of those, 12 have been chosen to move on to a final round of competition Thursday night. (Finalists can be found here in bold).
The model of competition is simple: Students must communicate the core of their research in a compelling way in no more than three minutes with one slide. Judges then choose one winner from each heat to move on to the finals.
This year's crop of competitors impressed with a wide range of research on everything from improving recovery after heart research to materials for thermal energy storage.
In many cases, the students who perform best are those who come up with compelling ways to translate their research for mass consumption.
Zombie caterpillars?

Consider the approach of Dylan Miller, the winner of the Heat 3 competition on Monday afternoon. A graduate student in the Department of Psychology and Neuroscience, Miller's research examines how wasp larvae on caterpillars can control impulses in caterpillars' minds.
To make his research relatable, Miller (pictured below) turned to public's fascination with zombies.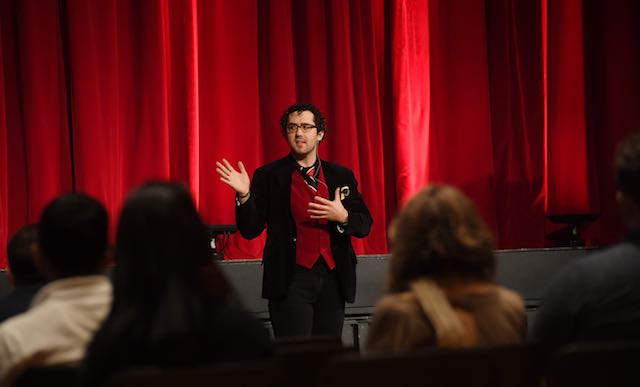 "Have you ever wondered if someone or something other than your self could control your actions? Well, thankfully for humans that's not the case, and the government certainly isn't making me say that. But, for a certain species of caterpillar, becoming a zombie under something else's control is a very real possibility," said Miller during his presentation.
He explained how the hornworm caterpillar, after being infected by wasp parasites, is "completely shut off the caterpillar's feeding behavior," which is done "so [that] the caterpillar won't just eat them off of its back while their developing."
While Miller tells us that science hasn't given him the ability to read caterpillar's minds — yet — he thinks it has something to do with wasps "hijacking an existing response inside the caterpillars … it's possible that the wasp is making the caterpillar feel full all the time so that it doesn't eat anymore."
He said his findings could help provide the ability to modify the nervous systems of animals in a research setting and help better understand how brain changes can affect behavior.
A diversity of research
 
While only a limited number of presentations could be selected as winners, there were many highly interesting presentations from all kinds of different fields and disciplines. Matthew Short, from the Department of Kinesiology developed a medical device to allow victims of spinal cord injuries to increase control over their muscle movements.
"Imagine for a second you've lost the capacity to properly control your muscles. You can't even do tasks as simple as brushing your teeth or combing your hair," said Short. "This is a reality for people who suffer a condition known as conditions such as stroke or spinal cord injuries where they do lose the capacity to perform the simple tasks."


Judges look on during preliminary heat action Monday.

Using functional electrical stimulation, Short plans on designing an instrument that will help patients carry out movement impulses from their brain down towards their muscles. In the end, he hopes the instrument will be "just as, or even more effective than, the other . . . methods … [resulting] in quicker activity and a greater return in the capacity to perform daily activities in living."
From Dal to regionals

The winner of the Dal's competition will be given a $2,000 and be advanced to the next round of competition: the Eastern Regional Competition, taking place at McGill University in April.
Finals competition kicks off at 6:30 p.m. tonight (Thursday, March 8) in the McInnes Room in the Student Union Building. All are welcome.