Close to 200 people from across Dal and beyond packed into the atrium of LeMarchant Place Thursday to mark the start of African Heritage Month with an event honouring Black excellence in higher education.

Wayne Adams, Tetteh Ago and Agnes Calliste were among the community trailblazers fêted at the launch event, which also celebrated some of the Dal-linked pathways programs that have helped support students of African descent to study and thrive at Dal.

And for the second year in a row, the Pan-African Flag was also raised as part of the event in Halifax, and at a separate gathering on the Agricultural Campus in Truro.

It was a fitting kickoff to a month that will feature more than a dozen community activities across Dal, many of them building on the broader province-wide theme to unite, educate and celebrate community.
More details: African Heritage Month events at Dalhousie

"We live at a time when a university's relationship to community is never more important," said Norma Williams, Dal's executive director of diversity and inclusiveness, in remarks on behalf of Dal President Richard Florizone.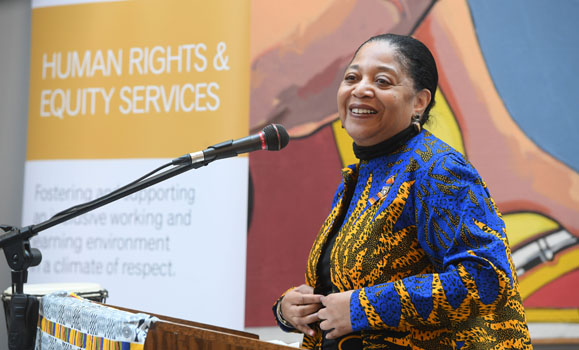 Executive Director of Diversity and Inclusiveness Norma Williams.
"Dalhousie views the presence of people of African descent, our students, staff and faculty as well as African-centred communities worldwide as an important influence and partner in what we are doing and in our success," added Williams.
Legacies that last

Isaac Saney, director of Dal's Transition Year Program and a professor in the Department of History, served as MC for the afternoon, leading attendees through a program packed with speakers and awards as well as live music, dance and poetry.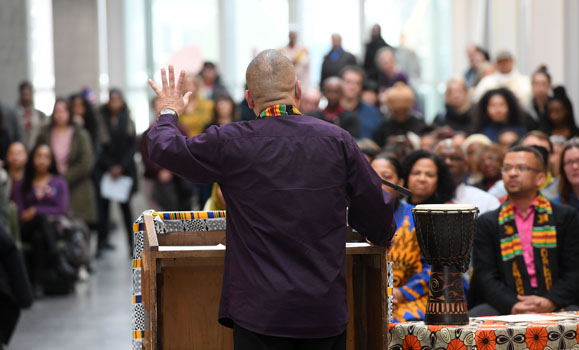 Isaac Saney, MC, addresses attendees.
Mi'kmaq Elder Dan Paul, author of this year's Dal Reads book We Were Not the Savages and a leader in the recently successful campaign to remove a statue of Halifax founder Edward Cornwallis from the city's South End, welcomed attendees to the event, while Dr. Reverend Rhonda Britton, pastor at Cornwallis Street Baptist Church, provided an opening prayer and reflections.

Attendees heard from several individuals during the event including Kevin Hewitt, chair of Dalhousie's Senate, a Physics professor and one of the co-founders of Imhotep's Legacy Academy — a university-community partnership that aims to boost the number of children of African descent entering into STEM (science, technology, engineering and math) fields in Nova Scotia.
Dr. Hewitt spoke briefly about his own experiences navigating the academy as a person of African descent, emphasizing the importance of tenacity and the supportive role of community.

Senate Chair Kevin Hewitt.
"The community itself, of course, is the source of this excellence," he said. "It instilled in me, and in many we are honouring today, a work ethic and . . . a message of resilience to ignore the naysayers that you will meet along the way."

Honouring excellence

Amina Abawajy, president of the Dalhousie Student Union, praised the grassroots leadership of "activists, community organizers, mothers and grandmothers, and everyone in between" in paving the way for progress.

"It is because of their strong commitment, leadership and will that we have been seeing some progress on our campuses and our societies at large," she said.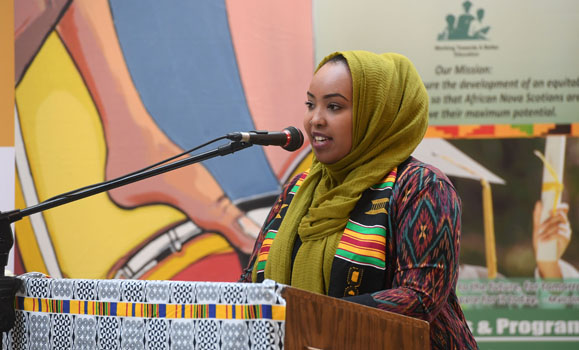 DSU President Amina Abawajy.
And it was to such community trailblazers that the event turned following Abawajy's remarks.

Five of this year's six honourees were in attendance to receive a certificate and memento following a brief highlight of their achievements by Dr. Saney.
Wayne Adams - An entrepreneur, community leader and former Canadian politician who was the first Black Canadian member of the Nova Scotia House of Assembly and cabinet minister.
Dr. Tetteh Ago - Originally from Ghana, Dr. Ago arrived in Canada in 1983 and has worked in radiation oncology in cities across the country since. He has been the head of the Department of Radiation Oncology at Dal for the past 12 years.
Dr. Agnes Calliste - A retired sociology professor from St. Francis Xavier University who was instrumental in organizing social and intellectual events around the issue of race at St. FX and helped put race on the map at campuses across Canada. (Dr. Calliste was unable to attend in person due to health issues.)
Dr. Felicia Eghan - An associate professor in Home Economics at Mount Saint Vincent University who has led the development undergraduate, graduate and education courses in fields encompassing human ecology, family studies and gerontology.
Dr. Tony Eghan - A retired teacher and educator, community-spirited leader and elder in championing immigrant issues in the Halifax Regional Municipality.
Simon Gebremenskel - A PhD candidate in Microbiology & Immunology at Dal who works on developing new and safe anti-cancer therapies.
Five pathways programs were also honoured as part of Thursday's event. In addition to the Imhotep's Legacy Academy, they included:
Culture and community

Attendees also had the chance to hear two powerful spoken-word poems by Abena Green, watch an afro-pop dance by Mulenga Kasutu, and hear Berklee College of Music student Marko Simmonds of Cole Harbour sing a rousing rendition of "Lift Every Voice and Sing" — an inspirational song widely regarded as the Black National Anthem.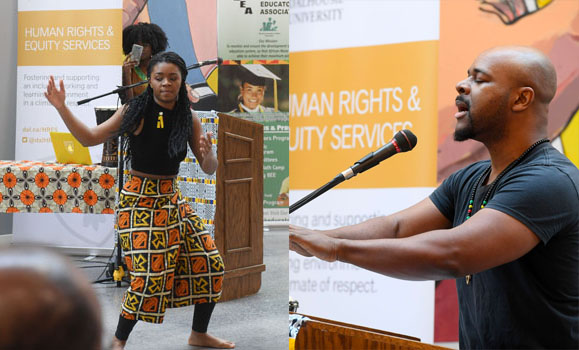 Performances by Mulenga Kasutu (left) and Marko Simmonds.
Following Kasutu's dance, attendees walked outside to the corner of University Avenue and LeMarchant Street for the raising of the Pan-African flag, before returning inside for a buffet lunch and conversation.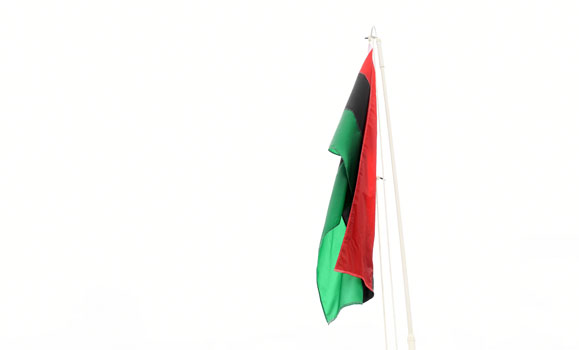 To find out more about this year's African Heritage Month activities, visit the Human Rights & Equity Services website.