Emily Taylor Kelso breaks into a huge smile when she talks about finishing her exams and going home to Norris Arm, Newfoundland.
"I look forward to it more than anything else all year,' she says. "I have the greatest, funniest family in the world."
Emily celebrates Christmas and for her, the holiday break is all about spending time with family. "We visit family and we just laugh. A lot."
Something beautiful

No doubt, there's going to be a bit of singing too. This fall, Emily released her first full-length studio album, Something Beautiful. The record features 10 original country songs and two covers.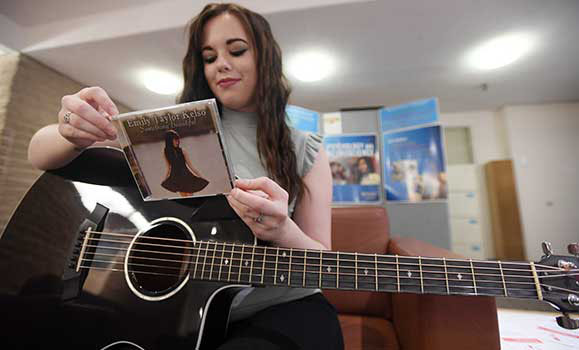 "I started writing the songs in 2013, before I knew I was going to do an album," she remembers. "I was still 16 and I thought it was going to be me writing for myself and getting my feelings out but instead it turned into something really cool."
Emily crowdfunded to raise some of the costs for production and the album took shape this past summer at Groove Den Recording Studio. She says everything just came together perfectly. "I knew it was my last summer living at home and there was this new studio right in my home town, so I went for it."
She worked on the album with studio owner, Michael Kirby. "He got what I wanted and just took it from there," she says. "It was like hanging out with friends and making music at the same time.
Time to think

Though the album has obviously caused some excitement, Emily has a semester left in her Psychology program and is determined to remain focused on school while she's finishing up her degree at Dal. It helps that she's looking forward to her class with Dr. Jennifer Stamp in the new year.
"She is just the funniest person. I don't think I would have gotten through Systems Neuroscience in second year if she wasn't such a great prof," Emily admits. "She's easy to listen to and I just love going to her classes."
Once Emily has graduated, she'll spend some time promoting her music and see where that might take her.
"I'm going to take a year off between degrees because I feel like that will be the best way to figure out exactly where I'm going. I don't want to ever say 'I'm not doing music' but I also know I can't just say 'I'm only doing music'." She's considering Toronto because she thinks it will offer the best opportunities to explore both her interest in psychology and the Canadian music scene. "I could probably get gigs and share my music there."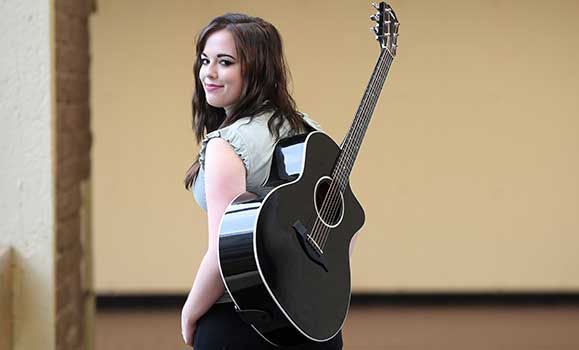 The year off will also give her time to decide which path she wants to follow with her education in psychology. She's considering counselling psychology — it was her high school guidance counsellor that got her interested in psychology in the first place — but she's still exploring her options. "With a psych degree, there are a few ways you can go and I haven't really settled on one direction yet."
When she does decide on a direction, two things are certain: Emily will have her guitar with her and she'll be going home for the holidays.
"Whatever I do, I want to be sure I can make it home. If that means I have to fly home on Christmas Eve and fly back on Boxing Day, I will do it. I just need to be home."