The banners are up, the countdown is on and Dalhousie's 200th anniversary is quickly approaching.
Members of the Dal community got an advance look at several of the events planned for 2018 at the first of four "Sneak Peek" events, which took place Tuesday (Nov. 21) in the LeMarchant Place atrium on Studley Campus.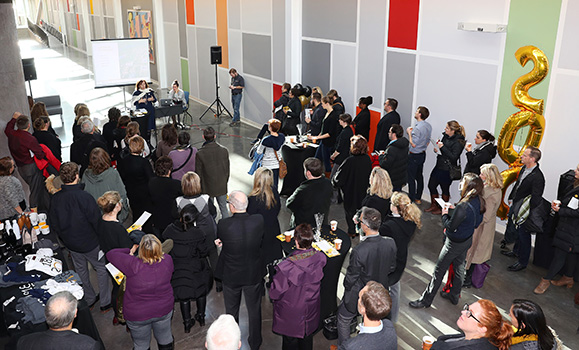 "We're only the second of Canada's major research universities to turn 200… but the number itself is not really what it's all about," said Catherine Bagnell Styles, assistant vice-president of Communications and Marketing, who hosted the event on behalf of the Dal 200 Steering Committee.
"What it's really about is honouring the past 200 years, envisioning what will happen in the future as we go into our third century, and saying 'thank you' — to the people in this room, the people in our community, the people across our country who have helped us reach this milestone."
Updates on Year of Belonging speakers, other signature events

The Sneak Peek events — which continue on Sexton (Wednesday, Nov. 22), Carleton (Tuesday, Nov. 28) and Agriculture (Thursday, Nov. 30) campuses over the next two weeks — feature a photo booth, Dal's 200th anniversary coffee brew ("Rise and Shine"), specially-made cookies and a retail booth hosted by the Dal Bookstore featuring Dal 200 merchandise.
But the main attraction was the opportunity to hear more about some of the events and activities planned for the upcoming year.
These included the first three speakers in the "Year of Belonging" forum series. The Year of Belonging — a concept that developed out of discussions with Dal leaders like Wanda Thomas Bernard, Kim Brooks, Arig al Shaibah and Jasmine Walsh — will feature forums and lectures, workshops, and days of action throughout the year, all centred around the question of what it will take to create a society in which everyone truly belongs.
Read more: Making Dal's 200th a "Year of Belonging" (Dal News - April 27, 2017)
The first speakers in the free, open-to-the-public lecture series will be:

Historian and author Craig Stephen Wilder (March 1), MIT professor and author of Ebony and Ivy, which explores the relationship between race, slavery and higher education in America.
Senator and former justice Murray Sinclair (March 9), chair of the Truth and Reconciliation Commission of Canada (TRC).
Iconic artist Buffy Sainte-Marie (April 17), acclaimed singer-songwriter, visual artist and social activist.
Bagnell Styles said there are three additional speakers confirmed for the Year of Belonging series that will be announced in the new year, with the possibility of more to come.
She also provided details on other Dal 200 signature events like the February 6 Bicentennial Launch (described as "a little bit of the Olympic opening ceremonies meets convocation," which will highlight the 200th anniversary poem written by Parliamentary Poet Laureate George Elliott Clarke); the April 30 Great Debate, hosted by science personality Jay Ingram, at which experts will debate whether the true "final frontier" is space or the ocean; and the Coast-to-Coast Tour, organized by Alumni Engagement, which will bring Dal's 200th anniversary on the road to connect with alumni across Canada.
Attendees at the Sneak Peek also got a preview of two videos in the Dalhousie Originals profile series — the 200th anniversary's signature storytelling project that will celebrate 52 influential Dalhousians — and additional promo clips highlighting the anticipation around Dal's anniversary year.
Bringing it all together

Most of the Sneak Peek focused on university-wide signature events, but Dal's 200th anniversary will also feature dozens more activities and events organized by faculties and units (such as the Fountain School's take on Frankenstein, Drums and Organs, as well as a supersized Three-Minute Thesis competition). Then there are community partnerships bringing events like Doors Open Halifax, Word on the Street, the African Nova Scotian Music Awards and more than 15 major conferences to campus.
It's a suite of activities aligned with Dal's strategic plan, built to highlight its academic community and shaped by consultation across campus. Bagnell Styles said the Dal 200 Planning Committee hosted 45 brainstorming/planning sessions, involving more than 750 participants suggesting upwards of 400 ideas, to come up with programming for Dal's 200th.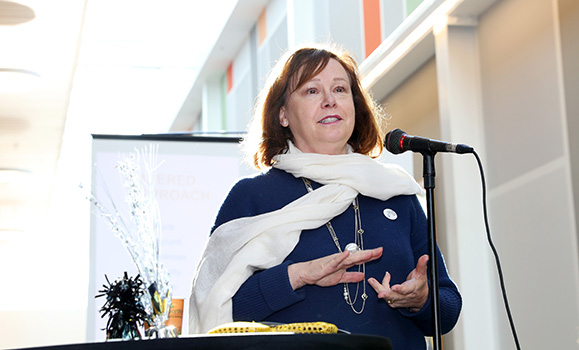 "It is wide and it is deep and it is yours," said Bagnell Styles of the suite of 200th programming, speaking to the shared efforts of individuals and groups across the Dal community. "It's your ideas, it's the hands-on, roll-up-the-sleeves work you've all been doing to pull this together."
Learn more about Dal's 200th anniversary at dal200.ca and look for more features on upcoming events here on Dal News in the coming weeks.
More Sneak Peeks
There are still three more Sneak Peek events left. Don't miss the opportunity to learn more about what's in store for the upcoming year.
Sexton Sneak Peek – Wednesday, Nov. 22, 10:30-11:30am (BMO Community Room, Halifax Central Library)
Carleton Sneak Peek – Tuesday, Nov. 28, 10:30-11:30am (Tupper Link)
Truro Sneak Peek – Wednesday, Nov. 30, 10:00-11:00am (Riverview Room, Jenkins Hall)