As Dalhousie continues to improve its health and wellness resources to students, new and innovative projects are being implemented. The latest is Q-Life, a program designed to teach resilience that started in mid-October.
Resilience is defined as one of the preventive mechanisms to avoid deteriorating mental health. It's thought to be a main component of someone's "grit" and is an important quality for living a healthy, productive life. While some forms of resilience are innate, resilience can actually be learned — which is where the Q-Life project comes in.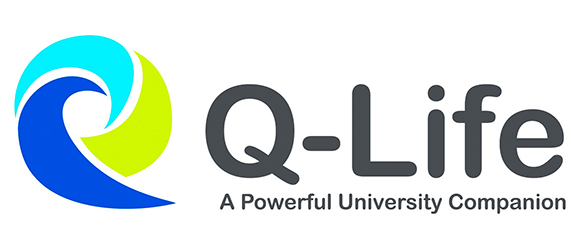 "It's a program that is focused on our students' health and well-being," says Verity Turpin, assistant vice-provost, Student Affairs. "The initiative uses an evidence-based approach to build mental and physical health as well as mental performance. What I really like about this program is the focus on wellness."
Learn more: Q-Life website
A three-component program

The program itself focuses on three components: awareness, learning and action. First, students take an assessment to get their "Q-Life Score." This evaluates their stress, coping, engagement and health, and gives them an idea of what area they need to work on. The program emphasizes that this initial score is just a reflection of one point in students' lives and does not indicate their potential to improve.
Next, students enter a learning phase where they are presented with V-logs (a video series) that help engage them with the material. Finally, the action component gets them involved with their own progress. An online journal and question-based workbook allows students to apply what they have learned to their own lives. The purpose is to help increase their self-awareness to be able to identify problems and, eventually, solutions.
The total time commitment for students is 8–10 hours over the course of nine weeks and, since it's completely online, it's accessible for any student to use anywhere, anytime.
Built on Dal expertise & collaboration

The development of the program and its implementation at Dalhousie is the product of a three-year study conducted by the School of Health and Human Performance and Student Affairs aimed at improving students' resilience. It brought together many realms of the health world including psychologist Bill Howatt, well known for his research on mental health in the workplace. Dr. Howatt is one of the Q-Life co-leaders who guide students through the video series. Darren Steeves, the other co-leader, is an exercise physiologist who works in the field of health and performance and has also been instrumental in developing the program.
Dr. Lori Dithurbide, a faculty member in the School of Health & Human Performance, is the lead mental performance consultant at the Canadian Sport Centre Atlantic and contributed her knowledge to the project as well.
"Resiliency is important for students, for everyone," says Dr. Dithurbide. "It allows for individuals to learn and develop as challenges occur. Stress and challenges will happen throughout a student's time at university. Being resilient helps them manage these stressors, and can lead to greater overall well-being."
A focus on total health

This unique group of individuals brings together Student Health & Wellness with the School of Human Health & Performance and demonstrates Dalhousie's commitment to having different departments working collaboratively to create a total health strategy for students.
"Now more than ever we need to offer innovative approaches to maintaining good health, which includes mental health," says Turpin. "This will be accomplished by offering programs that focus on maintaining health versus programs that are solely focused on treatment."
Learn more: Q-Life website