Mayors, officers and other dignitaries from more than a dozen cities from around the world were on campus Wednesday morning to learn about research and innovation at Dalhousie, with particular emphasis on the energy sector.
The occasion was the Core Energy Conference hosted in collaboration with the World Energy Cities Partnership (WECP), a multinational partnership comprised of 19 of the world's leading energy capitals. The WECP's member cities include Canadian hubs like Halifax, Calgary and St. John's alongside international cities like Rio de Janerio, Brazil; Cape Town, South Africa; Doha, Qatar; Houston, USA; and Daquing, Doha and Karamay, China.
Established in 1995, the WECP is dedicated to "uniting the cities that collectively drive and shape the global energy sector." And it has a familiar face as its current president: Halifax Mayor Mike Savage, who enthusiastically welcomed conference attendees to his alma mater on Wednesday.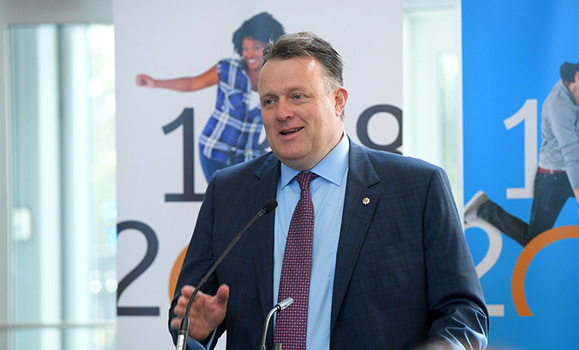 "Dalhousie is the biggest university in Halifax, and this university is changing Halifax for the better, in so many different ways," said Mayor Savage prior to introducing Dal President Richard Florizone.
"Human development needs reliable, affordable and clean sources of energy," said Dr. Florizone. "And of course the way we collect, store and use that energy has tremendous impact on both the planet and its people… it's one of the top issues facing the world."
Pushing forward in research

The Dal visit, held in the atrium of the Steele Ocean Sciences Building, included a short presentation from Dr. Florizone and Mita Dasog. Dr. Dasog, a faculty member in the Department of Chemistry who recently was named one of the top 150 Canadian women in STEM (science, technology, engineering and mathematics) by hEr volution, is working to develop materials to convert sunlight into chemical fuels.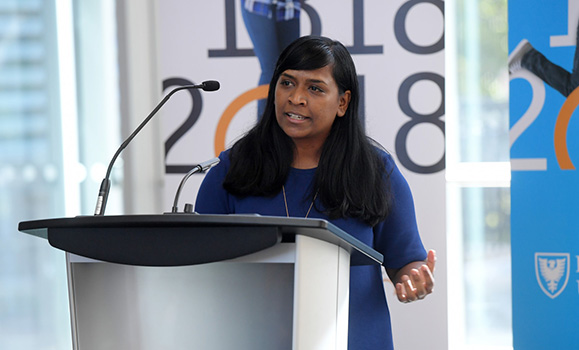 "We receive an entire year's worth of energy on earth's surface just in 80 minutes," said Dr. Dasog. The challenge, of course, is how to covert that into energy that can be stored and utilized. Dr. Dasog's lab focuses on a sort of "artificial photosynthesis" that could one day enable carbon-neutral production of fuel.
Hers was not the only research on display Wednesday. Filling the back of the atrium were posters from students and postdocs from several different labs on campus. These included Grant Wach's Basin and Reservoir Lab, which is is establishing Dalhousie as the beacon for petroleum geoscience research in the Maritimes; and the lab of Mark Obrovac, whose research team focuses on developing advanced high energy Lithium-ion batteries and "beyond Lithium" metal-ion battery chemistries.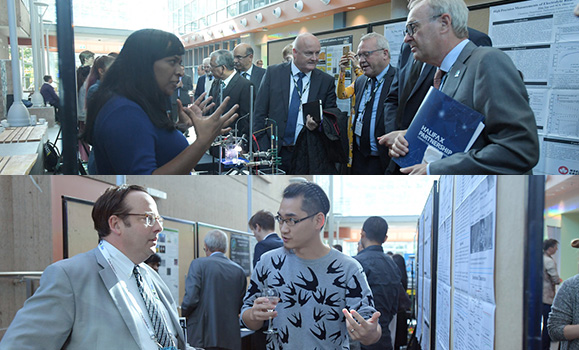 Following the presentation, dignitaries had the opportunity to tour the exhibits and speak with researchers prior to returning to the rest of their day's agenda.
Considering the future

In his remarks, Dr. Florizone also spoke of several other prominent Dalhousie research and innovation collaborations currently underway, including the world-leading, $225-million Ocean Frontier Institute and the Emera ideaHUB, the new incubator space being developed as part of the IDEA Project revitalization of Dal's downtown Sexton campus.
Dr. Florizone also looked further into the future. He noted that as part of the Universities Canada #MyCanada2067 campaign, he'd been asked for his views on what Canada might look like in 50 years.
His answer: a Canada that is intelligent (developing the ideas, knowledge and talent to build a better country and world); inclusive (creating communities where all truly belong, drawing on the diverse strengths of all peoples and reconciling with the past); and inspiring (built on creativity, courage and compassion, serving as a beacon for the world).
He felt these ideas — which he later shared on his Twitter account — offered important guideposts for the energy sector.
"I encourage you to continue to build an intelligent industry, based on the best research and talent to deliver reliable, affordable, and clean energy to the world," Dr. Florizone told attendees. "And make it inclusive — both in your employment practices, but also in building respectful partnerships with Indigenous peoples. If you do that, the global energy industry will be an inspiration — a beacon — for others."