This article is part of an ongoing series highlighting plans in the works for Dalhousie's 200th anniversary celebrations in 2018. For more features, visit our archives and learn more about Dal 200 at dal200.ca.

For Dal's 200th anniversary next year, the Faculty of Management's four schools — Information Management, Public Administration, Resource and Environmental Studies and the Rowe School of Business — are collaborating on projects that will shape the landscape of our campus and explore how they've helped shaped our country.

A living legacy

Led by urban forest researcher Peter Duinker, one initiative will see 200 trees planted around campus in partnership with HRM, Facilities Management, and the Office of Sustainability.

"We want something that future Dalhousians will be able to celebrate at our 300th anniversary, so we'll be selecting trees that are expected to do well through a changing climate," says Dr. Duinker. He is considering long-lived species such as sugar maple, eastern hemlock, white pine, black cherry, yellow birch, red spruce and ironwood.

The trees will range from seedlings (easily planted by volunteers) to balled and burlapped trees (better planted by professionals). Planting locations will be determined by Dr. Duinker and Facilities Management staff.

"It would be favourable to try to find places where small copses of mixedwoods can be established around the Halifax campuses, rather than just place single trees far apart in rows," says Dr. Duinker. "We will try to use these plantings as living laboratories where students and others can learn about the Acadian forest of Nova Scotia without leaving the campus."

Students, alumni, faculty and staff will be helping with planting, which will take place in May and June 2018. A call for volunteers will be issued in March.

Looking back and forward

Students have been busy interviewing alumni for the Going Public project, which will culminate in a retrospective that tells the story of how Faculty of Management graduates have shaped Canada's public service in all of its forms.

Masters of Public Administration (MPA) students from the first year Human Resources class and second year Ethics class, led by Danielle Léger and Nicole Saulnier, talked to recent and more seasoned graduates, about what it means to be a public servant.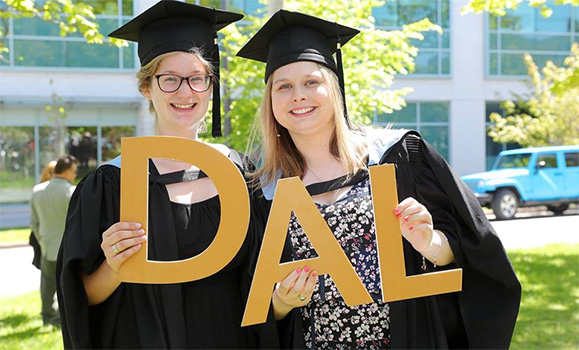 Faculty of Management grads Danielle Léger and Nicole Saulnier.
For alumni, it's a chance to connect back to the program and reflect on their careers. For students, it gives a glimpse of where they're headed.

"A lot of grads said that everyone in their year ended up being employed, many of them helping their communities," says Léger, who helped put students in touch with alumni and has been reviewing the submissions. "For second years about to be launched into the world, and first years about to begin their internships, it was great to hear that the degree was worth it."

Students talked to people in a variety of fields: advocacy, lobbying, non-profit work, law and government employees working on a range of files including public park service, cannabis and the long gun registry.

"The public sector may seem narrow," says Léger, herself now a graduate working in gaming policy for the Province of New Brunswick, "but it's not."
Whether planting living laboratories for future generations, or capturing the way in which Dal graduates are shaping society through public service, the Faculty's anniversary activities shine the spotlight on past accomplishments and future possibilities.