Moving from coast-to-coast can be an adventure in itself, but for 21-year-old Rebekah Bailey, it was only the beginning.

A third-year International Food Business student from British Columbia, Rebekah had the opportunity to spend her second year of study at Aeres University of Applied Sciences in the Netherlands. This dual degree program allows Rebekah to obtain two degrees: a Bachelor of Business Administration from Aeres University and a Bachelor of Agriculture in International Food Business from Dalhousie.

"If you travel and immerse yourself in other cultures it is hard to not change," she says. "I question the things I do and have a more rounded perspective. This education has been practical and useful and I can take it anywhere I go and in any career I choose."

Agriculture and farming is a lifestyle with which Rebekah is all too familiar.  Growing up in the Okanogan Valley, British Columbia, Rebekah's family owns a cherry orchard. As a child she was surrounded by the natural beauty of her small town; mountains, water and the sweet smell of cherries. But Rebekah knew, beyond the valley, something lied ahead, waiting for her to discover.  

Finding her way back to agriculture

She thought that discovery was going to be in dance. Having studied ballet for 14 years with hopes to becoming a ballet teacher, Rebekah was offered a spot in the Teacher's Training program with the Royal Winnipeg Ballet. However, due to heath issues, Rebekah made the difficult decision to decline the offer. Instead, she travelled abroad for a year of self-discovery.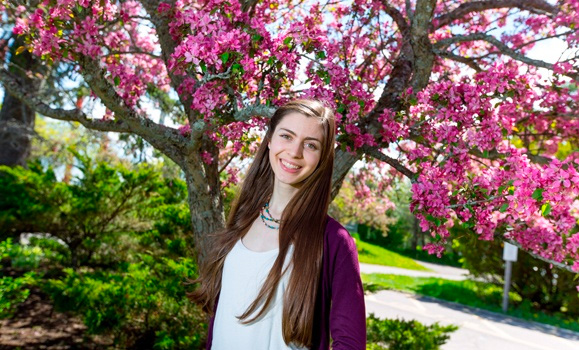 Rebekah soon found herself drawn back to the world of agriculture. She knew she wanted to continue her international experiences and decided the International Food Business program at the Faculty of Agriculture was the right fit for her.

"Agriculture is a lifestyle that is unique, like nothing else," she says.

And her background in dance has not been in vain: it has taught her the discipline and determination it takes to be a successful.

"There have been up and downs, but ultimately by sticking to it I have proven the strength I have in myself. I have learned so much and have had so many opportunities I would not have had otherwise."

More international adventures

Rebekah's latest adventure will take her to Ethiopia for the summer through the International Office on the Agricultural Campus.    

"I was looking for a summer internship because it is required in my program to have one," she says. "When I stumbled upon this opportunity I thought it would be a great fit! Also, it will be an amazing chance to learn new skills and be further exposed to new cultures."

Rebekah is travelling to Ethiopia for the summer through the Agricultural Transformation Though Stronger Vocational Education (ATTSVE) project. This is a partnership with Dalhousie University, McGill University and agricultural college's in various cities of Ethiopia. During the internship she will be conducting case studies and documenting the success of partnering colleges.

Rebekah will return to campus this fall for her final year of study. She has not yet decided fully what her plans are after graduation but she has found a passion for food science and international relations. She hopes to one-day work in policy and is eager to see what exciting opportunities the future holds.

"Agriculture is a lifestyle all its own and the passion and care that people put into their work is what I have always known and loved," she says.