This article is part of a series on graduates of Spring Convocation 2017. Read more grad profiles or, to learn more about the ceremonies, visit the Convocation website.
A combined honours in Music and in Environment, Sustainability, & Society (ESS) may sound like an odd pair to many — but not to Jack Bennet. He saw it as an opportunity to combine two of his greatest passions, which in turn, led him to be one of the driving forces behind the Halifax community choral event known as The Big Sing.

The Big Sing is a no commitment, drop-in signing event for anyone who enjoys singing. The core team behind it include Jack, who is responsible for selecting the music for each event, envisioning harmonies, and conducting during the event; Dalhousie alum George Woodhouse, who accompanies on guitar and co-hosts the event with Jack; and Seth Levinson, operations manager and the visionary behind bringing this type of event to Halifax after being inspired by Choir! Choir! Choir!, a Toronto-based drop-in choir of the same vein co-founded by Dal alum Nobu Adilman.

Jack describes The Big Sing as a great, accessible platform for community music-making.

"It is low-commitment and low-intensity, while delivering an enriching experience," says Jack. "My grandfather, Jim Bennet, who co-hosted the CBC television series Singalong Jubilee, inspired me while I grew up by sharing his music-making and by teaching us that 'If you can't sing good, sing loud'… It's pretty special to be able to come to an event, get energy from the crowd, and feel connected to Halifax through collective song."
Creating shared experience


Jack adds that the goal of The Big Sing is to foster a good feeling for everyone who comes out, to have fun and joke around in a casual environment.

"We encourage the folks that are there to make mistakes and to sing out. We know we've been successful if at the end of the night everyone feels a sense of excitement and love in the space. The note perfection and singing in tune is really a secondary goal. As long as folks are having a good time then we know that the event has gone well."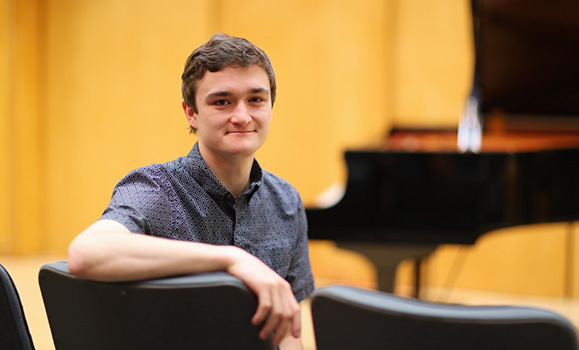 The Halifax native, who participated in music programs throughout his school years, had originally planned on studying Environmental Science at Dal. After a gap year between high school and university, which included working at choir camps, traveling and working abroad, Jack felt inspired enough to change his degree plans to continue his education in music while fulfilling his desires to engage in environmental studies.

The combined honours program allowed Jack's non-traditional interests in the field of music to focus on a wider variety of courses and musicology rather than on one specific instrument. He found the ESS program to be one that is innovative and accessible to a wide number of students.

"To be in classes with students from across a vast number of programs created a learning environment where diverse perspectives and opinions had space to be voiced, and the students I found myself engaging with were inspiring in their own right," says Jack.
"The [ESS] program fosters critical thinking skills as well as different ways of learning and knowing, and it engages the students together through many group projects."
Finding new ways of looking at the world


Jack adds that over his four years at Dal, the ESS program has offered him new ways of the looking at the world and at populations, and has increased his ability to understand and consider social problems. Musically, he says he's been able to hone his craft and feel comfortable with the skills that he needs to be a conductor (arranging songs, sight-reading music, playing piano, etc.). He has also seen in himself significant growth in his capacity to work well with a team but also on self-directed projects.

Jack notes his good fortune of having had professors who have supported his non-traditional interests in the field of music. His favourite project was his directed study through the College of Sustainability, which he completed in his third year and was supervised by Jacqueline Warwick, director of the Fountain School of Performing Arts, and Steven Mannell, the director of the College of Sustainability. The study focused on the impact of community choirs on the sustainability of Halifax society.

"There was a lot of pressure involved in the credit," recalls Jack. "It was also pretty intimidating to be supervised by the heads of my two programs! But having that intensity and having supervisors who believe in my potential to complete something meaningful and significant was an empowering feeling, and having the flexibility to shape the project based on my vision was also really exciting."
Finding the meeting point


Among his other endeavours, Jack's directed study project was directly related to his work in coordinating The Big Sing. The first event took place this past January, and it's been happening regularly ever since, gathering an audience of about 130 people at each event.

Following graduation, Jack will continue to foster his interests in sustainability, community development and music. He and his girlfriend have plans to travel through South Asia where they will volunteer, farm and travel for the better part of the summer before returning to Halifax. Jack will then resume his duties with The Big Sing. He will also resume another role that he's held since last fall as the artistic director for the choir programs for Phoenix Youth Halifax, an agency that supports at-risk homeless youth.
 
Jack adds: "So now I find the meeting point of music and sustainability mixed with elements of social work and supporting vulnerable populations."