This article is part of a series on graduates of Spring Convocation 2017. Read more grad profiles or, to learn more about the ceremonies, visit the Convocation website.
On Wednesday, Kristin Kaupp (BScPharm'17) and her 85 classmates will cross the stage, becoming Dalhousie's newest Pharmacy alumni. As she prepares to start a one-year hospital residency program at the QEII, Kristin traces her success in Dal's intensive Pharmacy program back to a decision she made in first year.

"I decided to run for social director of the Dalhousie Student Pharmacy Society (DSPS)," she says. "Getting involved socially, really made my university experience."

Her first role in the DSPS helped Kristin get to know her fellow students and the faculty and staff that support the tightknit community. After her stint as a social director, Kristin took on the vice-president role and has just wrapped up her term as president.

And while she had many great experiences with the DSPS, it's an effort she led as vice-president that might be most noteworthy: leading the charge to reimagine an event hosted at pharmacy colleges across the country that seemed increasingly out of step with the times.

Building Canada's Next Top Pharmacist

"Mr. Pharmacy was held at each of the 10 Pharmacy schools across Canada as a fundraiser and social event," she says. "The winner from each school received financial support to attend the national pharmacy student conference where they competed in a national version of the event."

Feeling that the event was dated — not just in its focus on male students, but its pageant-style format — Kristin and classmate Natalie Scholten worked with College administration, Dal's equity officer and the DSU to design a new version: Dalhousie's Next Top Pharmacist. Styled more as a game show, the refreshed event is gender neutral and has an added pharmacy skills component.

When a female student won the competition in its first year, Kristin and Natalie knew they had to take their approach national: they petitioned the Canadian Association of Pharmacy Students and Interns (CAPSI) to update their event. As a result of their advocacy, the national competition was opened up to female students and rebranded as Canada's Next Top Pharmacist. To date, six universities across the country have adopted the revised event.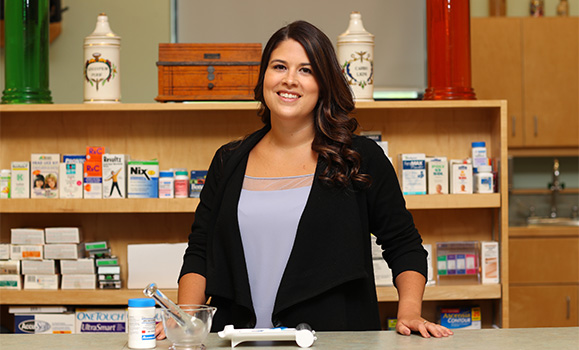 "It has been really rewarding to see the other pharmacy schools follow suit and adopt the revised event," she says. "I hope the event continues to be successful."

After her experience in the DSPS, Kristin sees a lot of merit in volunteering professionally and hopes to get involved with the Pharmacy Association of Nova Scotia.