This article is part of a series on graduates of Spring Convocation 2017. Read more grad profiles or, to learn more about the ceremonies, visit the Convocation website.
By the time she was six years old, Cinera States knew what she wanted to be when she grew up: a doctor.

"My mom took me to see a pediatrician, Dr. Sharon Burey, in our hometown of Windsor, Ontario," recalls Cinera, who graduates from Dalhousie with her medical degree this week, along with five classmates who share her African heritage — the largest-ever group of medical students of African descent to graduate from Dalhousie in the same year.

"What struck me about this doctor was not only that she was female, but that she was also a person of African descent. Seeing her that day opened my eyes to opportunities for myself that I had not yet imagined."

Cinera's mother is from North Preston and her father is from Windsor, N.S., so family connections drew her back east to pursue her dream at Dalhousie. During her undergrad — a double major in Biology and Psychology — Cinera volunteered with Dal's Imhotep's Legacy Academy, a university-community partnership for African-descended youth to become involved in science, technology, engineering and math.

"During my time as a mentor with Imhotep's Legacy Academy, I learned more about the challenges these kids face in school, because of negative stereotypes and stigmas that limit their ideas about what they can accomplish," Cinera says. "I realized I had an opportunity to be an inspiration to them, the same as Dr. Burey had been to me."

Cinera (left) with fellow grad Stefan Allen

Her entire family is returning to Nova Scotia to see Cinera receive her medical degree. Her mother, Cindy Simmonds, is particularly overjoyed — not only because she is tremendously proud of her daughter, but because this time last year, the family was not certain she would be alive to see this day.

"My mom was diagnosed with cancer last year and spent a lot time in the hospital in Windsor, Ontario — including weeks on life support in the intensive care unit," Cinera says. "This time was extremely difficult for me… I doubted my ability to continue and succeed with my medical training and considered taking a break. But going through this illness alongside my mother not only exposed my weaknesses, it revealed my strengths. Despite everything, I have completed medical school and cannot wait for my mom to watch me cross that stage!"

PLANS for supporting African-descended students

Cinera and the five other medical students of African descent graduating with her today have been helped along the way by PLANS (Promoting Leadership in Health for African Nova Scotians).

Launched in 2013-14 with two years of initial funding from Nova Scotia's Department of Labour and Advanced Education and Department of Education, PLANS provides ongoing support to African Nova Scotian/Canadian students in the faculties of Medicine, Dentistry and Health Professions. Based in the university's Global Health Office, PLANS is run by an advisory committee and program manager, in consultation with African Nova Scotian communities across the province.

"We help students gain entry to health professional programs—by assisting them with their applications and making them aware of potential sources of financial support—and advise and advocate for them on their way through their programs," says PLANS program manager, Michelle Patrick, who works closely with advisory committee members Dr. David Haase (Medicine), Dr. Barbara Hamilton-Hinch (Health Professions) and Shawna O'Hearn (Global Health).

"That could involve academic guidance, help with housing and other practical issues, connecting them with mentors in their fields, and just being here to listen and provide information."

For Cinera, PLANS provided much-needed moral support as she struggled with doubt during her mother's illness.

"I will never forget how Dr. Haase took the time out of his busy schedule to call me and answer all my questions and concerns about my mother's care," she says. "He even emailed me research articles to help answer some of my questions. This alone speaks to how devoted everyone at PLANS is to their students."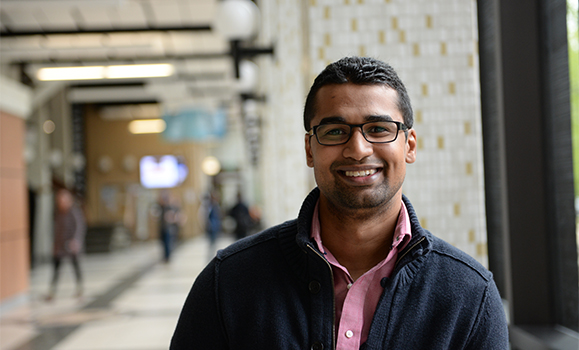 Dal Medicine graduate Stefan Allen.

For fellow medical graduate, Stefan Allen, PLANS was also an important source of support.

"They provided us with so many resources, as well as friendly, supportive communication and many opportunities to meet in person," says Stefan, who has also earned a master's degree in Community Health and Epidemiology. "Michelle is superb, very approachable, and Dr. Haase will make himself available even after hours. They've shown great interest in me and helped me tremendously along the way."

Overcoming doubts and obstacles has been a consistent theme for Stefan as well.

"Throughout my entire path to becoming a physician, there were countless moments when persevering through challenges was crucial," he says. "My advice for students, especially those of African descent, is to not let setbacks or disappointments define you… if you can develop the mindset to persevere, you will be so much stronger in the future!"

Preparing a new generation of health professionals

While PLANS works behind the scenes with current students in health professional programs, its most visible program is the African Nova Scotian Health Science Summer Camp.

Designed to interest young African Nova Scotians in the possibilities of health science careers, the camp started at Dalhousie in 2014, with 15 junior and senior high school participants. This year, PLANS camps will run at Dalhousie, Cape Breton University and St. Francis Xavier University, with 70 or more campers expected to attend.

"The camps focus on fun and discovery, to light a fire in the minds of these young students," says Michelle, adding that African-descended students in the three health faculties lead the camps, providing relatable role models and youthful energy to the programs. "We're tracking the academic trajectories of our participants and are seeing some members of the first cohort now entering undergraduate programs in nursing, psychology and kinesiology."

This year, for the first time, PLANS is also offering the PLANS Prep Institute, to help students develop the practical academic skills they will need to succeed in their final years of high school and pursue university programs in the health sciences.

Stefan (left) and Cinera (right) with PLANS Program Manager Michelle Patrick.

While government funding helped get PLANS on its feet and running, the program is now moving forward with help from the U.S.-based Johnson Scholarship Foundation, which seeks to educate, empower and employ people from disadvantaged backgrounds. The foundation has provided $1 million over five years to Dalhousie initiatives aimed at attracting and retaining African-descended and Indigenous students into health professional programs. In turn, Dalhousie is matching these funds with donor gifts to the tune of $200,000 per year.

"Donors are responding very positively to our outreach on behalf of programs that support both African-descended and Indigenous students," says Victoria Hamilton, development officer for Dalhousie's health faculties. "We are seeking to build an endowment fund that will allow us to provide scholarships and bursaries in perpetuity."

The importance of role models and community

Stefan Allen and Cinera States both cite childhood experiences with excellent doctors as their inspiration to pursue careers in medicine. So does Martina De Sousa, another African Nova Scotian medical graduate, who overcame numerous rejections before finally being accepted into — and excelling at — medical school.

"It was so important to me, as a kid, to see a doctor who looked like me," says Cinera. "Last year, when I was on an elective rotation at the Windsor Regional Hospital, it was amazing to be reunited with Dr. Burey again. She was thrilled to learn she'd been such an inspiration to me and I was pleasantly surprised to learn that she is also a graduate of Dalhousie Medical School!"

Immediately in line behind this year's six African-descended medical graduates is another cadre of six.

"We have a growing community now, with more and more opportunities for young people to be connected with role models, mentors and supports," says Dr. Haase. "This, combined with leadership, resources and momentum, will allow us to address the historic underrepresentation of African Nova Scotians and African Canadians in the health-care system."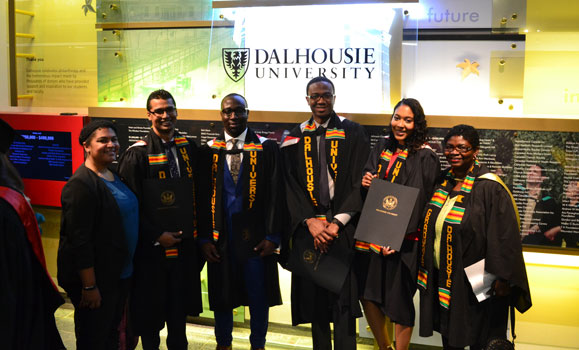 PLANS Program Manager Michelle Patrick (far left) and Dal Black Student Advisor Ronke Taiwo (far right) pose with Medicine grads (left to right) Stefan Allen, Yaw Amoako-Tuffour, Imhokai Ogah and Cinera States after Friday's ceremony. (Photo by Matt Reeder)