An epic 150-day sailing journey from Toronto to Victoria via the Northwest Passage in celebration of Canada's 150th birthday will include participation from Dalhousie University and the Ocean Frontier Institute (OFI), one of the world's most significant ocean science research collaborations supported by the Canada First Research Excellence Fund.

There are a number of Dal connections associated with the expedition. Boris Worm, a professor in the Department of Biology, and Heike Lotze, Canada Research Chair in Marine Renewable Resources, are hiking across Baffin Island to meet the ship in Qikiqtarjuaq, Nunavut. Dr. Worm will use his eight days onboard to survey seabirds and whales.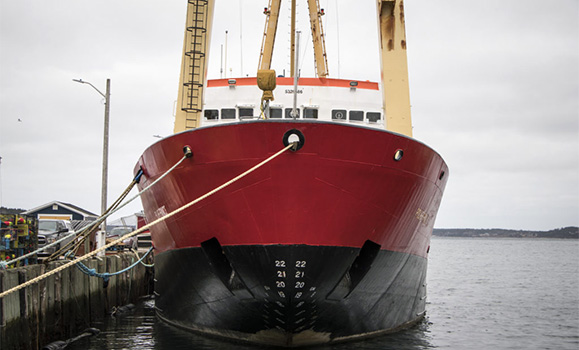 Dr. Caroline Fox, a Killam Postdoctoral Fellow in the Department of Biology will be also be conducting research while onboard, and Jessie Jawanda, a Marine Biology student, will take on the role of Youth Ambassador. 

One of Dalhousie's new sea-going, mobile laboratories — the brainchild of Doug Wallace, Canada Excellence Research Chair (CERC) in Ocean Science and Technology — will go the entire distance, serving as the ship's principal research centre for the entire expedition and supporting a pioneering cooperative effort to examine Canada's marine microbial diversity. The microbial work will be led by Julie LaRoche of Dalhousie's Biology Department.

"We're very grateful for Doug's contribution of his brand new lab for the voyage," says Geoff Green, Founder, executive director and expedition leader of the Students on Ice Foundation and Founder and expedition leader for Canada C3.
"It is essential for the work on board and allows us to keep the science work separate from everything else that will be going on during the voyage. The big plus is that it will also support a truly coast-to-coast-to-coast research cooperation".

Sturdy support

Dal's mobile laboratory is ideal for the voyage because the 20-foot long container is designed to withstand extreme weather and wave conditions and is certified for use on exposed decks. Its sturdy structure means scientists — and their sensitive and valuable equipment — are protected while working during inclement weather.

Canada C3 — named because it will travel along the Atlantic, Arctic and Pacific coasts —will celebrate our environment, share the stories of coastal communities and connect Canadians from coast to coast to coast.

Honouring the past and looking towards the future, Canada C3 will explore the four key themes of Canada 150: Diversity and Inclusion, Reconciliation, Youth Engagement and the Environment. Local heroes, innovative projects and close-knit communities across the country are undertaking creative initiatives within these four themes and actively building a prosperous future for Canada. Canada C3 will showcase these inspiring heroes, projects and communities from Atlantic to Arctic to Pacific.

The vessel being used is the Polar Prince, a 220-foot former Canadian Coast Guard ice breaker that has been specially retrofitted in Lunenburg, NS for the voyage. The C3 voyage begins officially in Toronto on June 1 and will visit Charlottetown, PEI on Canada Day. The Polar Prince will dock in Halifax, NS on July 3 before heading north and west, through the Northwest Passage and Bering Strait, wrapping up in Victoria, BC on Oct. 28.

Dal currently has two mobile laboratories that are usually stored in a custom-built hall in the Steele Ocean Sciences Building. They were built by CTS Containers Ltd. in Dartmouth, NS with financial support from the Canada Foundation for Innovation and the Nova Scotia Research and Innovation Trust. The labs support the research efforts of Dal's CERC and the Ocean Frontier Institute.
The other container recently departed for Galway, Ireland, on its maiden voyage onboard the Irish research vessel Celtic Explorer, to support climate change research across the North Atlantic. Within one year, Dalhousie's laboratories will have been deployed in three different ocean basins.