Like many international students, Bai Bintou B. Kaira had to make some weather-related adjustments when she came to Canada from Gambia, a small country on the western coast of Africa. Aside from the climate, however, the fourth-year Chemical Engineering co-op student says her home country and the one she's adopted for her education share important similarities.

"Apart from looking at the weather forecast and overdressing or underdressing, I enjoy Halifax," she says. "Growing up in a small country next to the water, there's a lot of things I can relate to such as being able to recognize many faces around the city or on campus."

Bintou's perspective on student life is certainly distinctive — for a variety of reasons.

"Being among the tallest females on campus gives me a unique view of people and places from above," she says.

On-campus leadership

Bintou decided to cross the Atlantic Ocean for her post-secondary education based on research she'd done on Canadian universities and recommendations from Dalhousie alumni in her family and social circle. While her long-term goal is to study medicine and become a surgeon, she chose engineering for her undergraduate degree in order to keep her options open.

As she works toward her goals, Bintou has also volunteered her time helping others to achieve theirs. She is president of the Dalhousie African Student Association (DASA), which aims to foster a sense of togetherness among students of African descent while providing a cultural education for the broader community.

"We make students feel at home. This sense of family makes us strong in facing the ups and downs of life," Bintou says.

Bintou credits her "wonderful" executive team for collaborating on social and educational events like the one DASA has planned to mark African Heritage Month. A panel discussion, co-hosted by Dal After Dark and titled "Roles of Black Women in Socio-Economic Development," takes place Friday, February 17 at the Collaborative Health Education Building.

Commitment to others

Leading a student society is just one of many examples of Bintou's work in the community. She is also a Medical First Responder Volunteer with Dalhousie Medical Campus Response Team; a division of St. John's Ambulance and in her first year served as a liaison between engineering students and faculty.

Among all of her activities, Bintou singles out her experience helping other students as a special point of pride. Since 2014, she has been a mentor and tutor with Imhotep's Legacy Academy (ILA), working with high school students of African descent to improve performance in science and mathematics. She also helps her fellow Dal students in a similar capacity with the Black Student Advising Centre (BSAC).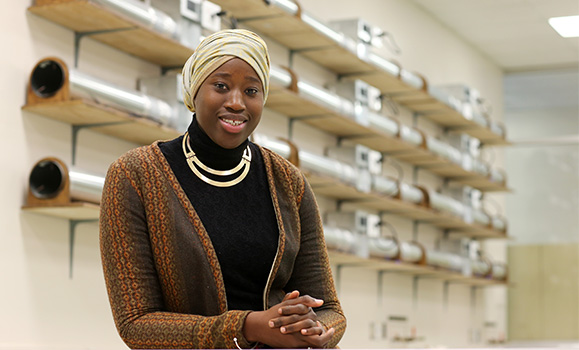 For Bintou, whose academic, professional and extracurricular goals are all tied to improving the lives of others, acting as a tutor and role model has made a positive difference in her own life.

"Giving back by mentoring students has been a life-changing opportunity."