As faculty and students returned to campus earlier this month, Dr. Afua Cooper was making her way to Scotland.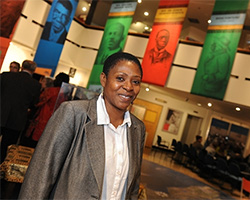 There, together with researcher and Dal Law alumna Jalana Lewis, Dr. Cooper (left) is visiting Dalhousie Castle, working in the National Archives of Scotland, and digging through various collections. The point of their trip: research for a scholarly panel on George Ramsay, ninth Earl of Dalhousie and Dalhousie University's namesake, and his relationship to slavery, racism and the African Nova Scotian community.

"The purpose of the trip is to look at these imperial connections between Canada, Scotland, the Caribbean, Lord Dalhousie and Nova Scotia," says Dr. Cooper. "At the centre of our inquiry will be Lord Dalhousie himself — looking at Dalhousie University's founding, but also learning as much as we can about him as a noble, as a member of his class and the connections of this class to the new world economy and society."

A scholarly inquiry

The scholarly panel was first announced last March by President Richard Florizone and Senate Chair Kevin Hewitt. Its mandate is to gather the historical facts regarding Lord Dalhousie's statements and actions related to slavery and race. It will then interpret those facts in light of their past and present contexts, and recommend actions Dalhousie could take to respond to them.

The panel's report is expected by August 2017.

Terms of Reference: Scholarly Panel to Examine Lord Dalhousie's History on Slavery and Race [PDF]

"Building a strong future requires reconciling with our past," says Dalhousie President Richard Florizone. "By examining Lord Dalhousie's views on slavery and race, and interpreting those views in their historical and modern context, the work of this panel will help us build a stronger, more inclusive university that accurately reflects our history, our values and our aspirations."

Alongside Dr. Cooper, who is the James R. Johnston Chair in Black Canadian Studies at Dal, as its chair, the panel consists of eight additional members (clockwise from upper left):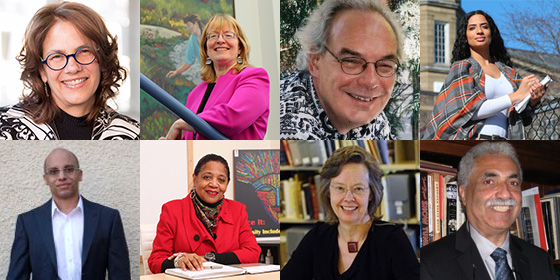 Françoise Baylis, Canada Research Chair in Bioethics and Philosophy, Dalhousie University
Camille Cameron, dean, Schulich School of Law, Dalhousie University
Paul Lovejoy, Canada Research Chair in African Diaspora, York University; fellow in the Royal Society of Canada and Distinguished Research Professor
Dominique Oliver-Dares, student, Schulich School of Law
David States, an independent historian (formerly with Parks Canada) specializing in African Canadian history and Maritime Provinces genealogy.
Shirley Tillotson, professor, Department of History, Dalhousie University
Norma Williams, executive director of diversity and inclusiveness, Dalhousie University
Harvey Amani Whitfield, associate professor, Department of History, University of Vermont, Dal alumnus (PhD'03) and historian of slavery in the Maritimes.

The panel's scholarly contributions to the topic at hand are many. A few examples include: Dr. Whitfield's recent publication, North to Bondage, the first book on slavery in the Maritimes; Dr. Lovejoy's edited collection Repercussions of the Atlantic Slave Trade; and Dr. Cooper's The Hanging of Angelique: The Untold Story of Canadian Slavery and the Burning of Old Montreal.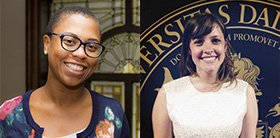 Alongside the panelists, Jalana Lewis (JD'13), whose past research has explored critical race theory as well as African Nova Scotians and the law, is supporting the panel as its lead researcher, while Master's of History student Kylie Peacock is its research assistant. 

Sparking a conversation

Dr. Cooper says the scholarly panel is timely for a number of reasons, including what's happening at other institutions.

"We see schools all along the east coast of North America taking a hard look at their pasts, their relationship to slavery," she says. "Every day it's a new revelation."

Indeed, many of North America's most iconic universities like Harvard, Yale, Princeton, Brown and others have histories that are inextricable from slavery and its legacy. In Dalhousie's case, documented comments from George Ramsay, its founder and namesake, express disdain towards Nova Scotia's Black population, most famously in an archived letter to Lord Bathurst.

"It's just kind of 'there' as this sore that stands out," says Dr. Cooper of that letter. "Everybody knows about it, and when you talk to African Nova Scotians, especially, about Lord Dalhousie, they bring it up. We'll be celebrating the university's 200th anniversary next year, and the last thing we need is to have something like that there, glaring, without talking about how we address it.

"It's not that we're going into this process to bash the Earl," she adds, "but to say, 'We're opening our books. This is the good, this is the bad, this is the ugly. Because he did a lot of good things, too.'"

Learning from others

As noted, Dalhousie is not the only university sparking discussion about linkages with race, slavery and segregation in its history. In fact, Dal recently joined a new consortium called Universities Studying Slavery (USS). This consortium is dedicated to collaborative research on the history of slavery and racial domination at universities, the more recent legacies related to that past, and to learning from one another about how best to address reconciliation and repair in the 21st century.

Led by the University of Virginia, membership in the USS includes Georgetown University, the University of South Carolina, the College of William and Mary and nearly 20 other institutions. Dalhousie is the consortium's first Canadian member university, and Dr. Cooper plans to take part in its next biannual conference in April.

Kevin Hewitt, Dal Senate chair and co-sponsor of the scholarly panel, says Dal's membership in the consortium is about learning from and sharing insights with other universities going through similar processes.

"I think it's about lessons learned from what those other schools have done, but also understanding how their communities have responded to recommendations," he says. "There's sometimes fear, uncertainty, doubt in exploring such a sensitive topic. But by learning from their experiences, we can proceed more efficiently and effectively with our work."

Leaving a legacy

Dr. Cooper says an important part of the panel's contribution will be to not only detail Lord Dalhousie's connections with race and slavery, but to suggest legacy initiatives that could help achieve reconciliation and repair depending on what the panel's research uncovers. These might include an ongoing lecture series, or a formal exhibition, alongside other suggestions.

In the immediate future, ahead of its report, the panel is planning to host public forums, the first likely in February or March. Dr. Cooper says these will be about inviting both the Dal community and the broader community to learn more about the panel and have input into its work. It's part of what Dr. Cooper hopes the panel, more broadly, will achieve: sparking important conversations about the links between race and education.

"One of the things I'd like people to think about, especially in light of what's happening in the Nova Scotian Black community, is for people to think critically about this issue of marginalization and how education, or lack thereof, can contribute to it," she explains. "There is so much denial — not only in Nova Scotia, but in Canada — when it comes to discussion about race and racism. This could help to facilitate an honest discussion about marginalization of particular communities."