What does Pride mean to you?

It's a question that doesn't necessarily have a simple answer. After all, over the decades, Pride rallies and celebrations have evolved as the society and structures they responded to have shifted. And the experience of an LGBTQ+ individual in Canada today has changed in many respects from what it was in 1987 when Halifax hosted its very first Pride March.

Today, Pride events have become large celebrations that attract allies, community leaders and thousands of onlookers. But there are continued reminders that Pride is about more than just a big party, be they reminders built on action (such as recent concerns raised by #BlackLivesMatter Toronto) or weighted with agony (the Orlando nightclub shootings).

Dalhousie is a familiar participant in the Halifax Pride Parade — last year even winning best non-profit float — and this July the university will take part in Truro's first ever Pride Parade. For 2016 the Dal community has also come together to organize the first Dalhousie Pride Week: a series of events and community activities designed to spark discussion and reinforce the importance of building welcoming, safe and inclusive communities.

Parades, panel discussions and more

Events scheduled for Dalhousie Pride Week (July 15-23) include Pride flag raisings in both Halifax and Truro, a panel discussion on LGBTQ+ perspectives in post-secondary education, a community art project hosted by Get REAL! and a Bechdel Test Film Festival hosted by South House. In addition to Pride parades in Halifax and Truro, there are also affiliated events put on by local organization Our Resilient Bodies.

Full schedule: Dalhousie Pride Week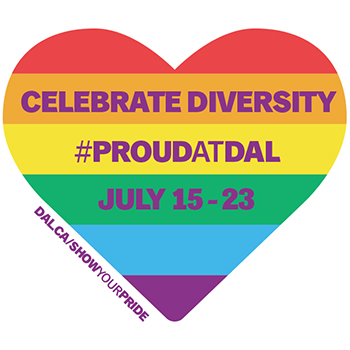 "The more people we talked to in the Dal community, the more different ideas there were about how people wanted to celebrate Pride, about the dialogues they wanted to have around LGBTQ+ topics and issues," says Nicole McKeever, advisor with Dal's Office of Human Rights, Equity and Harassment Prevention (HREHP) and chair of the Dalhousie Pride Week committee. "So the idea was to try and support as many of those initiatives as possible."

Groups involved in planning Dalhousie Pride Week include HREHP, the Dal Student Union (DSU), student societies, Student Affairs, Dalhousie Athletics, Facilities Management, Dal Security, the President's Office and others.

"Pride is an opportunity to come together in celebration of our diversity, and a meaningful reminder of the ongoing movement to make our communities more welcoming, safe and inclusive," says Dal President Richard Florizone. "It's great to see such enthusiasm for Pride on our campuses, and we hope to see as many people as possible out at the various events."

Pride in all forms

Norma Williams, Dal's executive director of diversity and inclusiveness, says Pride reinforces the importance of the freedom to be one's self, and the need to not just express but actively demonstrate support and solidarity with LBGTQ+ persons within and outside of the Dal community.

"The theme of Halifax Pride is This Is Why, and part of that 'why' is that LGBTIQ+ communities are not faceless and nameless," she says. "LGBTIQ+ communities include people of colour, persons with disabilities and transgender individuals, amongst others, and it is the responsibility of everyone to support not only the triumph of LGBTIQ+ rights but also to join the journey so that together we jointly address things that matter."

Rhiannon Makohoniuk, the DSU's vice-president internal, echoes that sentiment. Rhiannon says Pride is inherently political, and notes the need to ensure that issues like anti-blackness, racism, islamophobia and other oppressive structures are considered under the Pride banner, especially given that Pride has always been informed and led by queer and trans people of colour.

"Dalhousie is hosting its own set of Pride events because queer issues and trans issues are inherently student issues," says Rhiannon. "We have a diverse campus, and programming during Pride is a great way to showcase this. Students, staff, faculty and community members should come out to Dal Pride events to view what is happening on their campus, learn about the LGBTQ2S+ movement and celebrate LGBTQ2S+ members of our campus community together."

In addition to the Dal Allies program — which works with students, staff, and faculty to provide programs, services, training, support, referral and resources on "Rainbow" issues — there are many different organizations and offices on campus that play a supportive role for LGBTQ+ individuals. Among them are the South House Sexual and Gender Resource Centre, Get REAL Dal, the Dal OUT society, OUTLaw and others.

Pride in Halifax and Truro

Pride has a particular significance for Dal's Agricultural Campus this year, as the Town of Truro is hosting its first ever Pride Parade on Saturday, July 16.

"It's wonderful to see the energy and enthusiasm behind it," says Keltie Jones, assistant dean, students & academic administration in the Faculty of Agriculture. "This formal celebration of Pride reflects the quiet support that has existed in our community for many years and affirms that the Truro area is welcoming and inclusive. As an important part of the community, our campus is very proud to be celebrating the LGBTQ+ community with local businesses, organizations and community members."

All in the Dal community are invited to attend or take part in the parade, which starts at 2 p.m. Those interested in joining the Dal contingent can meet at Victoria Square (at the corner of Prince and Willow Street) at 1:30 p.m. T-shirts will be provided (limited number available).

Other Pride Week events on the Ag Campus include the flag raising ceremony (Friday July 15, 12 p.m., outdoor amphitheatre) and a panel discussion on the importance of campus allies (Tuesday, July 19, 12 p.m., Haley 116). A light lunch will be provided at the panel, and there will be ceramic tiles available to be painted with images reflecting individuals' experience of being out, being an ally and/or supporting equality.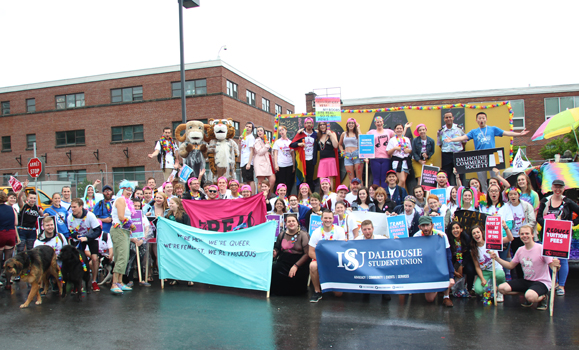 For those in Halifax, the Pride flag raising ceremony will take place on Monday, July 18 at 3 p.m. in the Carleton Campus Quad. As for the Halifax Pride Parade (Saturday, July 23), those interested in being part of the Dal contingent can meet at 12 pm in the parking lot at 2240 Valour Way (just past the Casino) or you can join the Dal Cheering Section in front of the Architecture Building (5410 Spring Garden Road, next to the Halifax Central Library). T-shirts will be provided (limited numbers available) and there will be free freezies and button making at the Dal Cheering Section. (The Pride Week committee is also looking for assistance the day of the parade; those interested please email Nicole McKeever at nicole.mckeever@dal.ca.)

Can't make the Halifax parade but still want to contribute? You can contribute a message of support on the large "DAL" letters that will be part of Dal's float from 11 a.m. until 2 p.m. on Tuesday, July 19 on the Studley Quad.) The letters will also be at Community Day on the Ag Campus for individuals to sign on Thursday, July 21.

For more on Dalhousie Pride Week, dal.ca/showyourpride