Every future student's first point of contact with a university is going to be slightly different. For some, the bulk of their quest to find the ideal school takes place online. Others may first learn about the university through a friend or family member who went there. Some students don't really get a sense of campus life until they have the opportunity to visit themselves.

Chances are, though, the majority of high school students thinking about coming to Dal will at some point get their hands on a viewbook. The publication is a key tool for Dalhousie's team of recruiters as they travel to high schools and university fairs across Canada and, increasingly, around the world.

"It's often the first piece a prospective student, parent or guidance counselor will pick up when researching the university," explains Adam Robertson, associate registrar and director of recruitment.

"It's meant to inspire and inform: showcase life at Dalhousie but also cover the things a prospective student needs to know when considering the university, including program and admission information."

Yes, even in the digital age, print still has a prominent and important place in universities' recruitment and marketing mix. The university is printing 60,000 viewbooks this year to start and, if last year is any indication, all of those and then some will find their way into the hands of those looking to learn more about Dal.
A new look viewbook

Each year's viewbook goes through tweaks and changes, but the 2015 edition represents a whole new look, feel and (most importantly) vision for the publication. According to June Davidson, the university's director of marketing, nearly everything has been re-thought — from the content, to how it's displayed, to the style of photography being used.

"A lot has changed in the past few years: how we're recruiting, where we're recruiting, what students are looking for and, in some ways, Dal itself," she explains. "We wanted a viewbook that reflected all that, telling Dal's story while distinguishing us in the field."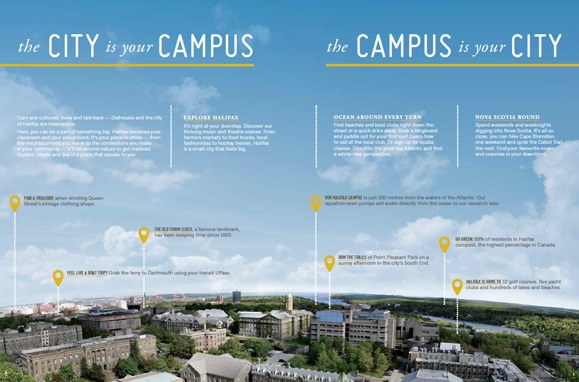 So how does Dal go about rethinking one of its most well known publications? It starts with research: insights from recent reputation research undertaken by Communications and Marketing, along with consultations with both Dal's recruitment team and prospective and current students. It means examining the viewbooks of competitor universities (particularly those in the U15) to see how Dal could distinguish itself. It also involves partnerships — not only between Dal's recruitment team (part of the Registrar's Office) and Communications and Marketing, but with NATIONAL Public Relations, who led the redesign of the publication.

"We wanted to have a beautiful aesthetic and also present information in a way that's relatable — but it's really about the overall strategy of how to best represent what Dal has to offer in a very competitive recruitment environment," says Robertson. "NATIONAL demonstrated a great understanding of what Dalhousie represents and is working towards, as well as a keen grasp of the audience we're working to connect with. They've been wonderful partners on this project."
Considering "citizenship"

To achieve the viewbook's look, photographers shot campus in new ways: wide angles that have never been used before; more tight-focus shots of students for a different take on familiar campus spots; macro photos with tiny details you can only see up-close. The text was also re-thought, from the infographic-style fast facts near the front to more short paragraphs and bulleted information.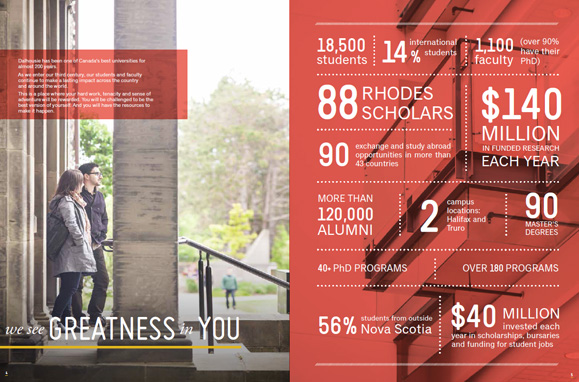 "Some viewbooks used to read more like academic calendars, dense with information," explains Robertson. "But now, with our program pages on dal.ca, and more detailed information living online, the viewbook doesn't have to be all things to all people. It can focus more on its primary role: to be an engaging, exciting introduction to Dalhousie."

The viewbook's front cover reads, "Become a citizen of Dalhousie," a phrase that Davidson and Robertson say reflects the engaged nature of Dal's student community.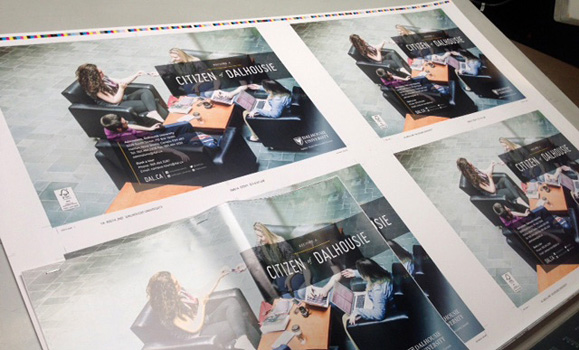 "Students aren't just coming here to spend all their time sitting in classrooms; Dalhousie is much more than that for them," says Davidson. "They're passionate about getting involved, whether on campus or in the community. And we know Dalhousie has this lasting impact on people, so simply inviting students to 'come to Dalhousie' or something along those lines doesn't tell the whole story; students become something here.

"That phrase, 'citizen,' speaks to that idea of a community, one that enriches you and is enriched by your involvement."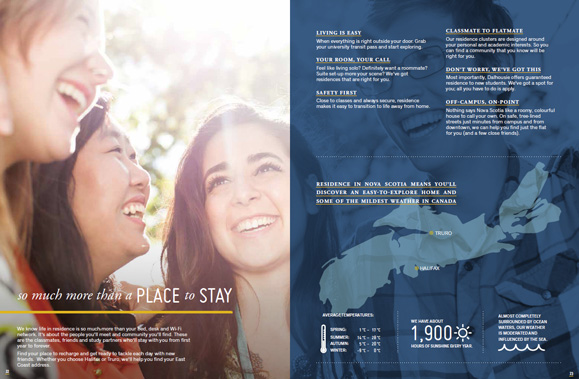 The viewbook is also the first look that many will get of certain elements of a refreshed brand for the university, including some slight changes to the university's logo. (See "A refresh for Dal's brand" below for more on the new Dalhousie Brand Guide.)
On its way to readers

The first run of viewbooks is due back from the printer later this week, but recruiters who've already gotten a look at it have given the revamped publication rave reviews.

"Its points reflect the Dalhousie I fell in love with, the school I am proud to have graduated from," says recruiter Kelly Truslow. "Best of all, these points are well-represented in a viewbook that invokes the right mix of feelings of excitement and is inspirational for students who aspire to great things in life."

In addition to the domestic viewbook, Dalhousie is also nearing completion of a companion viewbook exclusively focused on the Agricultural Campus, as well as an international edition of the main viewbook. Those will be in the hands of recruiters in the coming weeks.

The new viewbook will be available online in the coming weeks. If you know someone considering Dalhousie, they can order a physical copy from dal.ca or pick one up at an upcoming visit from Dal's recruitment team. (Learn more about applying to Dal at dal.ca/admissions)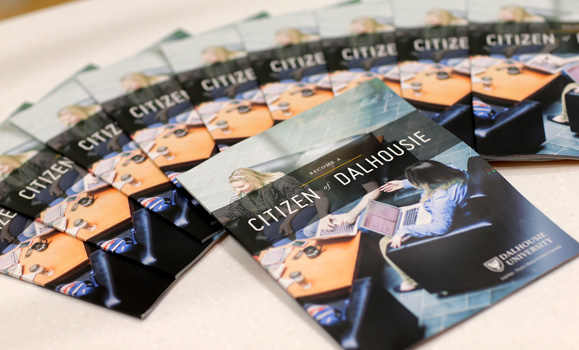 A refreshed brand for Dal
By Catherine Bagnell Styles (Assistant Vice-President, Communications and Marketing)

The new student recruitment campaign is one of the first examples of how Dalhousie's recent reputation research project is informing what we do.  

Higher education is a competitive sector: Dalhousie competes with universities across Canada and around the world for students, faculty and staff as well as for funding, support and partners. Our reputation is not only key to our success in these areas, but also influences our performance in university rankings (which in turn, influences our reputation). To help us truly take our place nationally and internationally as one of Canada's top-tier universities, we need to focus our efforts on building and enhancing our reputation.

The research project provided insights on the university's opportunities and challenges in the competitive post-secondary landscape, as well as our current reputation and key drivers of reputation. It also outlined areas where we can improve and enhance our reputation.  

These insights have helped inform both 100 Days of Listening and Dal's new Strategic Direction, and have also been key to informing our refreshed brand standards.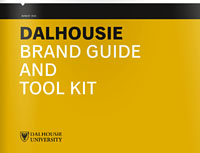 All of us play a role in building Dal's reputation: it's built in the classroom, online, in the street and in our interactions with each other. It's also built in our reports, presentations, brochures, advertising, websites, etc. To help our materials be recognized and enhance Dal's reputation, we have introduced a Brand Style Guide and Tool Kit.

The guide outlines the brand model and details how to incorporate Dalhousie-specific messages, look and feel into our communications, while respecting and representing the many unique and diverse stories we have to tell. The new brand guidelines add a breath of fresh air to Dal's communications and provide guidance to help make our efforts more distinct, effective and efficient.

We're excited about this refreshed look and feel: it helps differentiate Dal and will play a key role in enhancing the university's reputation.

You can check out the new Brand Guide and Tool Kit online. Staff looking for guidance on using the guide can contact Creative Services. Find out more about reputation in Chapter 8 of 100 Days of Listening.

If you'd like someone from Communications and Marketing to present the reputation research results and outcomes to your group, please contact commark@dal.ca