How do we interact on social media and what is its impact on our society? These are the questions that brought nearly 200 researchers and professionals to Dalhousie University for the Social Media and Society Conference earlier this September.

The conference, hosted by Dalhousie's Social Media Lab, offered an impressive two-day program comprised of over 60 presentations and panel discussions covering wide-ranging social media topics. The speaker line-up included over 90 researchers and practitioners across several fields and disciplines from over 60 institutions in 15 different countries. The attendees explored social media in academia, politics, marketing, organizations and journalism, and looked at ideas such as online communities, engagement and identity.
 
The conference originally started in 2010 as a half-day event limited to the Dalhousie and Halifax communities. Now, it's a two-day, international event, with buzz that began building on Twitter as far back as this spring.
 
Throughout the conference participants interacted with each other using the #SMSociety13 hashtag, sharing and discuss all the ideas being presented in various sessions to those who weren't able to be in the room. The tweets using the conference's hashtag were streamed in the lobby of the Rowe Building all day.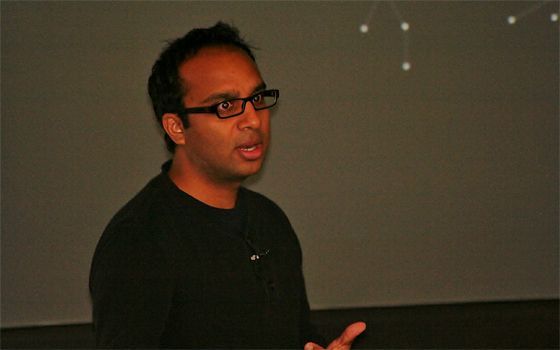 Keynote speaker Sharad Goel, a senior researcher at Microsoft.
The conference also gave Dalhousie students and junior researchers a chance to learn. Sarah Visintini is a research assistant at the Social Media Lab, pursuing a Master of Library and Information Studies. She said the conference offered her unique networking opportunities and a chance to learn about other research that may well give her an advantage in the job market.
Social media as academic tool

Xiao Hu, a professor in the Faculty of Education at the University of Hong Kong, traveled to the conference from China to learn about engagement on social media and new methods that will help her in her research.
 
Dr. Hu's presentation explored social media as an academic tool for her students while on their internships. Dr. Hu's students are required to write about their experiences on a mini-blog site or on Facebook throughout the duration of their work terms. She said her students contributed to the blog everyday and wrote longer reflections than on Facebook, where they didn't post as much but did interact with each other much more frequently, "liking" and commenting on their peers' statuses.
 
Dr. Hu said this collaboration is positive for the students, who would otherwise be asked to hand in a journal at the end of their internship — an isolating experience, she said, compared to the interactions on social media.
 
Addressing the conference, Dalhousie President Richard Florizone said now when he meets new people, it is not like a first conversation anymore, but a third one because they have already established a relationship with each other through social media. Dr. Florizone, for example, uses Tumblr to connect with the Dalhousie community during his 100 Days of Listening campaign.
 
In a presentation about distance learning and digital dualism, Jeffrey Keefer noted that our digital interactions are just as valid as our physical ones: a significant progression from using nicknames to remain anonymous on the Internet and how interacting with someone online wasn't considered "meeting them." Today, Dr. Keefer points to all the social media we use to interact and collaborate with new people around the world: Twitter, Facebook, Skype, direct messaging, G-chat.

"We no longer have online or offline experiences," says Dr. Keefer. "They are just experiences."
#NSPoli and the election

What's keeping the social media lab busy this time of year? Election season. The lab is studying interactions about the current Nova Scotia provincial election using the #NSPoli hashtag.
Lab Director Anatoliy Gruzd touches the computer screen, so massive it takes up the entire wall, his movement causing the colour cluster of dots and lines to become more detailed. These dots and lines represent the online interactions of twitterers on the #NSPoli hashtag, which the lab has been tracking since July, well in advance of the election.
Dr. Gruzd explains the Social Media Lab has been tracking the hashtag, examining who is using it, what are they tweeting about and how often they tweet, etc.
What has the team found? Interactions happen less frequently on weekends, and increase when big announcements like the budget are being discussed. Interactions show tight-knit communities that are often connected by journalists. The @NSNDP, @Premierdexter and @marklaventure, a NDP political staffer, are the most talked about twitter handles. The NDP generate the most conversation on Twitter, although Dr. Gruzd warns this does not predict an outcome, pointing to the last federal election where the Liberal party was very popular on Twitter but most of the interactions were unsupportive of the party.
It is too early to predict the outcome of elections using social media data, says Dr. Gruzd, since research in this area is relatively new. However, the lab is still making important discoveries and observations about political engagement, political polarization and people's interactions on social media.