Undergraduate Studies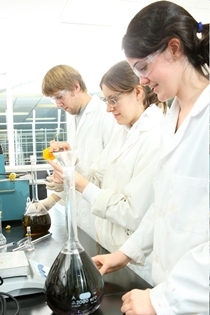 What is Chemistry? It is...

Making new spage-age materials

Understanding how DNA works

Making new compounds to help cure diseases
Helping to save the environment
Welcome to Undergraduate Studies at Dalhousie.
A chemistry degree involves considerable breadth of training in all of the major branches of chemistry. Students who successfully complete a chemistry degree will also have acquired a range of skills, from organizing large bodies of information, to quantitative analytical skills. Successful chemists need to be comfortable with computers and with the fundamental aspects of biology, mathematics, physics and statistics. They must describe their work clearly, both orally and in writing. They need to be able to generate data reliably, to assess their results and to compare these critically to results from other laboratories.
The Honours BSc or Advanced Major is the expected professional requirement for a chemist. Chemists with these degrees are employed in widely differing areas in industry and government. These degrees will provide a background for further graduate work in chemistry or in such diverse areas as medicine, law, business administration, biochemistry, oceanography and geology. A postgraduate degree is essential for independent original research in industry or for an academic career.