Marine Biology
Biology (BIOL) and marine biology (MARI) are the two subject areas offered for majors and minors in the Department of Biology.

Generally, all BIOL and MARI majors must take introductory biology and all six of our core 2000-level courses.

BIOL majors may then meet their BIOL credit-hour requirements with 3000- and 4000-level BIOL courses, BIOL-equivalent courses, and MARI courses. MARI majors must meet their MARI credit-hour requirements with 3000- and 4000-level MARI and MARI-equivalent courses.
There is some variation in requirements for the different degree options (double major, honours, etc.) in both subjects.

For details of the requirements for specific programs, please see the Degree Checklists page of the Department of Biology website.
Help conserve the oceans. Gain a greater understanding of marine life. Research everything from giant whales down to molecular realms. If your passion is the sea, Dalhousie University is one of the best places in the world for you to study.
Research Faculty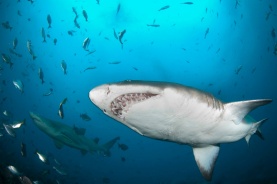 Here, you will find world-renowned faculty who love to teach, superb facilities for education and research and incredible hands-on opportunities. more...