News
»
Go to news main
A unique perspective: MPA grad Chris Fernandes takes his talent to Infrastructure Canada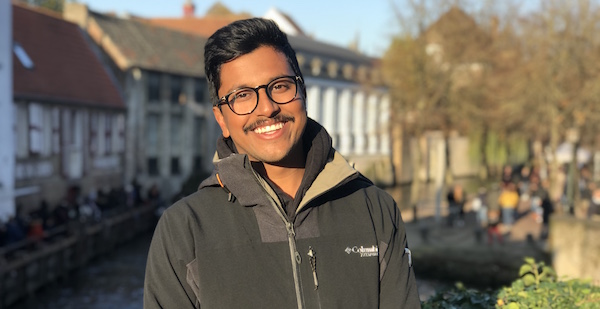 A week after Chris Fernandes completed his Master of Public Administration (MPA) degree, he accepted a job at Infrastructure Canada in Ottawa. He'd already done his internship there, working with a team on the Investing in Canada Plan. "It's an envelope of $188 billion spent on different kinds of infrastructure," Fernandes explains. "We don't determine how the money is allocated; we do the policy work on evaluating the program, the economic and financial analysis work. Fourteen different government departments work on it."
"It was the first interview I had, my first government job, and I felt really good coming out of it."
That feeling turned out to be mutual. In March, Fernandes received word that a position was opening up on the team. "I finished Dalhousie and the next week I was working full time. I am so appreciative."
Originally from Brampton, Ontario, Fernandes earned a Bachelor of Arts (Honours) in political science with a major in social justice and peace studies from King's University College at Western University in 2017. During his undergrad, he took part in research projects in both Ethiopia and Rwanda focusing on post-conflict studies and international political economy. Fernandes's honours thesis on how sports played a role in pre- and post-genocide Rwandan society grew out of his own love for athletics.
"During my undergrad, I worked for a couple of years for a major bank, and that's where I thought I was going to end up," adds Fernandes.
But the east coast beckoned. "I chose Dal before the program," explains Fernandes. "I'd lived my whole life in Ontario, and I didn't have a lot of Canadian travel experience. Many of our classes were well integrated with provincial and local politics, and since I'd never been to the east coast before I came for school, I didn't know the nuances of maritime politics. You get a unique perspective when you do your education in this region."
Fernandes is happy to start his career with Canada's public service. "There's not always that Atlantic Canadian perspective at the table. It changed the way I think about policy development and implementation." He also hopes to take part in leadership development programs within the Service.
A highlight of the MPA program was the exchange program to Lille, France, in the fall semester of 2019. "I was fortunate to go with a colleague from the MPA program, and last year we had a student from Lille at Dal, so I already had a friend there. We got to meet a lot of people, and see a lot of different countries and cultures. The school there primarily focuses on international relations, but we studied public opinion, security and development and the politics of happiness."
Fernandes keeps in close touch with his graduating class during the COVID-19 crisis, and his classmates take turns hosting a weekly online trivia night, even capturing a class photo on their most recent video call. "The person most upset about not having a convocation was my mom," laughs Fernandes. "She loves Nova Scotia, and was excited to come back and visit."
Even though the school year had an unexpected ending, Fernandes has nothing but good things to say about his time at Dal. "Big thanks to the school, and a huge shout-out to MPA Program Manager Krista Cullymore and secretary/receptionist Dolene Lapointe. They held the school together and they held me together!"