News
»
Go to news main
Staff profile: Dolene LaPointe
Posted by
Nicole Maunsell
on September 4, 2018 in
News
Staff profile: Dolene LaPointe, Secretary/Receptionist, School of Public Administration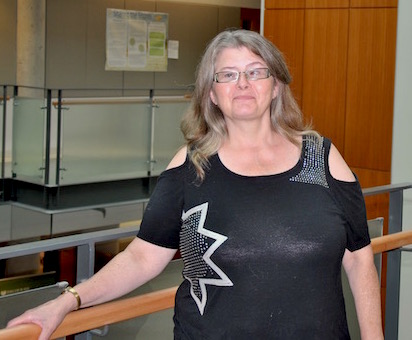 If you've spent any time in the School of Public Administration, you know Dolene. From new student admissions to alumni relations, she welcomes people at all stages of their MPA career, and she never forgets a face. You can find Dolene at the front desk of the SPA office or reading in the lounge on her lunch break.
What was your first job at Dal?
I started in November of 2000, and I've been with Public Administration from day one. We were in the old building [on Coburg Road, where the Mona Campbell is now], in the newer part on the 6th floor, which was the coolest place (temperature-wise at least!). It was the same job I have now, but it's really evolved over the years.
What is your typical day like?
Coffee and email first thing! Then it depends on the time of year.
I deal with all the admission files, mid-term exams, final evaluations. I also support the internship program. I liaise with employers, help students apply for positions and keep track of who goes where—I'm the one steady link for everyone involved.
In the summer when there's more time, I try to update our alumni list, track down where they're all working. It's not easy; people change their name and the farther back you go the harder it is to find anyone.
What is your favourite thing about working here?
The students! I was really introverted when I started. Over the years I've gotten out of my shell and that's because of the students.
Least favourite thing?
I'm not a morning person. 
What do you like to do outside of work?
Read. I read a lot of paranormal romance. It's a popular genre and it's grown a lot over the last 10-15 years. I read for an hour on the way home from work every day; I read while I eat at lunch and supper. I can read three books in a week easily.
I also like doing things with my family. I became a grandmother for the first time last year. I love to travel—I went to Cuba by myself in 2016.
What's something about you that your coworkers would be surprised to hear?
I don't know, we talk about everything. I like a lot of music. I don't like jazz or Beethoven and stuff like that: no elevator music.
Do you have a favourite memory that stands out?
I remember one student, years ago. We were printing nametags, and he said, deadpan: "you forget the l in public." He was joking, but it's definitely not something you forget!