About us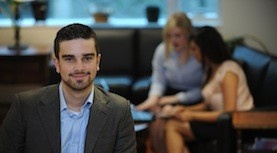 The School of Public Administration provides strong foundational training in all aspects of public management and policy making, which fosters the development of future public sector leaders. Learn more about our School.

Management News from Dal News
How this professor's online organizational behaviour course became a hit with students
The Faculty of Management's Dana Kabat-Farr totally reimagined her organizational behaviour course when she took it online this summer, with a great response from students. Here's how she approached it.

How to get abandoned, lost and discarded 'ghost' fishing gear out of the ocean
An enormous amount of fishing gear is cut loose in the ocean each year. The losses cut into fishers' profits and kill marine wildlife. Now, Dal researchers are part of a new project that aims to get ghost gear out of the ocean.

A promising future
The program, launched by the Faculty of Management, will provide financial aid, paid work experience and personalized academic and career mentoring to Black and Indigenous students, with a preference for African Nova Scotian and Mi'kmaq students and additional priority given to first-generation university students from low-income backgrounds.

View more Dal News
Alumni