About us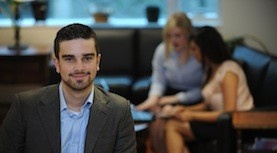 The School of Public Administration provides strong foundational training in all aspects of public management and policy making, which fosters the development of future public sector leaders. Learn more about our School.

Management News from Dal News
Wild horses or pests?
Horses roam free around the world. In the Alberta foothills, their management has become contentious, writes SRES prof Tony Walker.

Confusion at the fish counter: How to eat fish responsibly
Consumers are increasingly concerned about the sustainability of their fish, writes PhD candidate Jenny Weitzman. Here's her advice on how to navigate the sometimes murky waters of responsible fish consumption.

Grad Profile: A degree for all fields
Amy Hak, a grad of Dal's Master of Information Management program, is already putting her new knowledge and skills to work in her role as a forensic officer at the International Criminal Court in The Hague, Netherlands.

View more Dal News
Alumni