About us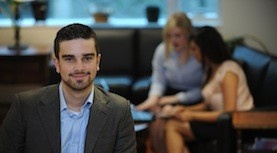 The School of Public Administration provides strong foundational training in all aspects of public management and policy making, which fosters the development of future public sector leaders. Learn more about our School.

Management News from Dal News
Founding a business, finding herself
Vanessa Hamkens decided to study Commerce because she thought it could open the most doors. But it wasn't until her courses in marketing inspired the creation of Me Before You Clothing Co. that she truly knew where she was headed.

Dal researchers receive $2.4 million in funding from SSHRC
A dozen Dal researchers were part of last week's announcement of $158M of grants from the Social Sciences and Humanities Research Council (SSHRC), leading projects to help provide a greater understanding of the world around us.

Grads profile: Double duty
Students come to study at Dal from all sorts of places — even just down the hall. Science PhD grad Jennifer Frail-Gauthier and MLIS grad Brian Lesser reflect on their experiences completing graduate degrees while simultaneously working at the university.

View more Dal News
Alumni