About us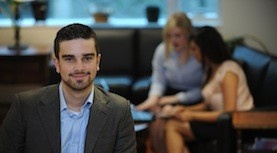 The School of Public Administration provides strong foundational training in all aspects of public management and policy making, which fosters the development of future public sector leaders. Learn more about our School.

Management News from Dal News
Learning to expect the unexpected
Tyler Lightfoot's background in English and Psychology gave him the foundation to hit the ground running with a Library and Information Studies master's degree at Dal and turn it into a new career as a data analyst.

The Conversation: How to clean up our universal plastic tragedy
We're drowning in plastics, writes Dal prof Tony Walker. With governments setting un-ambitious targets, corporations are now listening to consumers who are demanding less plastic packaging and food containers.

Protecting Canada's coasts
New funding from the Government of Canada will support Dal researchers in protecting and restoring coastline habitats in Nunavut.

View more Dal News
Alumni