Bachelor of Management Internship Program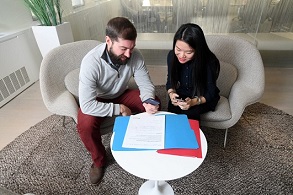 Participating in the Bachelor of Management Internship Program, students are able to gain eight or 12 months of valuable full-time work experience.
The internship will begin after your third year in the program and apply as six credit hours towards your Bachelor of Management degree-plus when doing an 8-month internship you can still graduate on time. The internship option is viewed as a career investment, to build upon skills, professional experience and connections, and enhance employability after graduation.
Did you know...
Most students who complete the 8-month Internship Program graduate with their Management degree in 4 years. 
Internship students have worked in a wide variety of roles and industries, and in locations across Canada and internationally.
Internship students receive training on job search and workplace success through in-class seminars, one-on-one coaching, and ongoing support throughout the work term. 
Benefits
Gain valuable and relevant work experience and 1-full credit towards your degree
Finance your education (and/or reduce your debt)
Develop transferable skills and be more competitive in the job market
Make connections and build referrals (network with professionals)
Explore career interests by assessing job role, organization and/or industry
Eligibility to Apply
Bachelor of Management students who are in the second year of the program are eligible to apply to the Internship Program. To be eligible to participate in the internship program, a student must successfully complete 12 core Management courses in addition to MGMT 3602 (Professional Communications Skills).  The internship prep seminar, MGMT 4895, must also be successfully completed prior to the internship. The internship can begin in either May or September.
For more information about eligibility and/or your program schedule with the Internship option, contact the Undergraduate Academic Advising Office at uao@dal.ca.
Recommended Program Schedule (with Internship)
 
FALL
(Sept - Dec)
WINTER
(Jan - Apr)
SUMMER
(May - Aug)
YEAR 1
Study Term
Study Term
Free
YEAR 2
Study Term
Study Term
1 course
(can be online)
YEAR 3
Study Term
+ MGMT 4895:
Internship Prep Seminar
Study Term
+ Apply for Internships
INTERNSHIP
+ 1 CLASS
(online)
FINAL YEAR
INTERNSHIP
+ 1 CLASS
(can be online)
Study Term
May graduation
The above schedule is based on an 8-month work term. Interested students may wish to review the recommended program schedule [PDF 295 KB] for this cohort.
Qualifications for Program Acceptance
Acceptance to the Bachelor of Management Internship Program will be determined according to the following criteria:
The completion and quality of your application form, including your resume and statement of intent.
GPA of 2.70 or higher in the two terms preceding the submission of your application, or a CGPA of 2.70 or higher. Provisional acceptance may be granted pending achievement of a GPA of 2.7 or higher in Fall and Winter semesters of the application year, or a CGPA of 2.7 at the conclusion of the application semester. 
Positive recommendations from references.
Interview with Management Career Services.
Cost
Students participating in the Bachelor of Management Internship Program will be charged a fee of $318.00 to cover the administrative expenses and services offered by Management Career Services.
Application Process and Deadline
Internship applications open in January until early February.

When submitting your application, please read carefully through the following instructions before applying.
1. Prepare your documents for application.
a. Statement of Intent The one page Statement of Intent letter should indicate your interest in the Bachelor of Management Internship and why you would like to participate. Include details about the job, organization, and/or industry in which you would like to do your internship. 
b.Resume
Resources to help you create an effective resume include pages 24-29 of the Bachelor of Management Internship Program Orientation Workbook which can be found in the "Resources" section of myCareer under Management Career Services.
c. List of References
List at least two references (preferably one academic and one from an employer or volunteer supervisor). Please include the following details: Reference's name, job title, organization, phone number, email address, how long you have known each reference, and describe your relationship to each reference in less than 100 words.
2. Complete the online application form which can be found on myCareer.  
a. Login to myDal and access myCareer from the "Quick Links" section on the right hand corner.
b. Once logged on to myCareer, select Management Career Services and scroll down to the bottom of the page.  Click on the "2023 – Winter – BMgmt-Management Internship" to apply. 
Please monitor your Dalhousie email account as all correspondence from our office will be sent to that address.  Those students selected for an interview will be contacted in February.
Students accepted into the internship program must attend a mandataory orientation session.    
Should you have any questions, please contact Jennifer Coombs at or jennifer.coombs@dal.ca.
About the Internship Prep Seminar
Students accepted into the Internship Program will participate in a weekly Internship Prep Seminar (MGMT 4895) during the fall of their 3rd year. Over the course of 10 classes, the seminar allows students to learn the techniques required for their internship (and future) job search success. The course is very practical in its approach and will cover a variety of topics such as skill identification, resume and cover letter preparation, job search strategies, interviewing, workplace professionalism, and more. During the winter semester, students will receive private coaching appointments to help progress their job search.
Here's what some of our Internship Program graduates had to say about the preparation and support they received:
"The coaching in particular was of great assistance as it gave you the tools, knowledge, and experience to actively network, tailor your resume and cover letter, and use multiple job search platforms to find relevant opportunities
- Jaiden Winsor, BMgmt Internship Student
"Job searching is intimidating and having someone there to help you navigate is invaluable"
– Alyssa Copp, BMgmt Internship Student
The prep was great and it helped me build a LinkedIn profile while also learning how to properly hold informational interviews"
- Shanley McCrann, BMgmt Internship Student
If you have any questions or comments about the Bachelor of Management Internship Program, please contact Jennifer Coombs at Jennifer.Coombs@dal.ca.
More Information
Curious? If you have any questions or comments about the Bachelor of Management Internship Program, please contact Jennifer Coombs at Jennifer.Coombs@dal.ca.
What Management students said about their internship job search and work experience...