News
»
Go to news main
Class of 2022: Committed to giving back
Posted by
Kathy MacFarlane
on April 25, 2023 in
News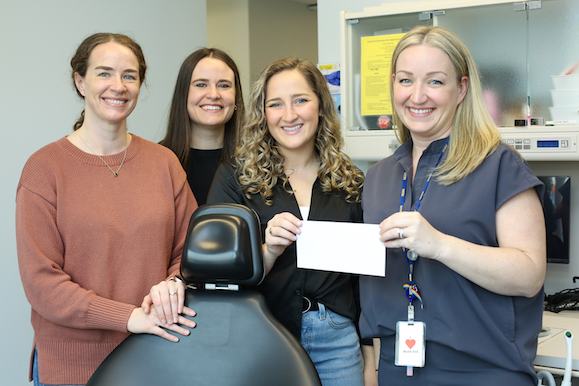 l to r: Drs. Catherine O'Neill, Claire Boileau, Amy Young, and NECHC clinic manager Francine Leach  (Bruce Bottomley photos)

After four years of fundraising and a successful graduation dinner left the DDS Class of 2022 with a healthy balance in their student bank account, they had to decide what to do with the funds.

A list of great suggestions was compiled, and the class executive decided that a donation to the North End Community Health Clinic (NECHC) would go a long way to support both the dental clinic and its patients.  

'It was an opportunity to give back to our community and help ensure that the NECHC can continue to provide safe and accessible dental care to those who seek it," says Dr. Evan Mercer (DDS'22).

During their final year of dental school, students have the opportunity to work at the NECHC where they gain valuable experience treating patients who might otherwise find it difficult to access care.

The power of community health care
Dr. Kathryn O'Donnell (DDS'22) recalls: "My experience at the NECHC was incredibly eye-opening. It showed me the power of community health care and the important role that organizations like the NECHC play in providing access to health care and dental services for underserved populations."

The donation will be used to replace equipment in one dental operatory which is currently used only for extractions. Updating high-speed and low-speed handpieces, air/water syringe, HVE and saliva ejector, and the foot pedal will make the room fully functioning again. The clinic will also have more flexibility when scheduling patients and be able to treat more people who are in need of fillings, which is the majority of the patient work.

The other two operatories will also receive updated/replaced hoses and suction attachments, new overhead light shields and, if enough funds remain, a new ultrasonic for the sterilization area.

"Replacing or updating old equipment is necessary and it makes a big difference in how the clinic operates," says dental clinic manager Francine Leach. "It can be stressful for the students and our patients when equipment is not working properly. When the equipment is maintained and in good working order, our days run smoother."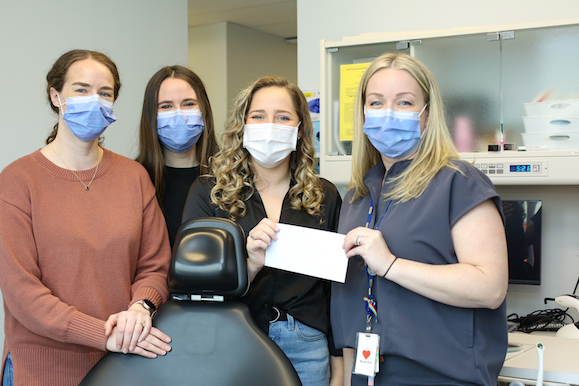 An inspiring gift
Dr. Amy Young (DDS'22) says, "I think it becomes easy to get caught in our own little bubble of day-to-day dentistry. I hope that our class's contribution will help shed some light on how a simple donation can make a significant impact on our community."

The Class of 2022 is proud to make this donation and believes that it will have a lasting impact on both the community and oral health students. They also hope that future classes and practising dentists will think about how they might be able to support their neighbours and contribute to programs such as the NECHC.

The NECHC Dental Clinic is grateful to the Class of 2022 for the donation and is confident that it will have a positive impact on both patient care and student experiences.

"The long-standing partnership between NECHC and Dalhousie Dentistry is the key to our success," says Leach. "The students who come here become leaders in their own communities and the high-quality care they give our patients has a lasting impact on the overall health of the community we serve."

Many dentistry and dental hygiene alumni return to the Dental Blitzen as volunteers. If you are interested, please contact Francine Leach at dental@nechc.com.