News
»
Go to news main
Meet Dr. Tammy Wright, associate dean of clinical affairs
Posted by
Jane Doucet
on April 18, 2023 in
News
(Bruce Bottomley photos)
As a child, Dr. Tammy Wright had an insatiable curiosity – so much so that when she visited her grandparents' farm in rural Alberta, her entertainment was reading their copies of Encyclopedia Britannica. That led to an interest in Trivial Pursuit, Scrabble and the TV show Jeopardy!.

"I've always wanted to know more about everything," says Wright, the Faculty of Dentistry's associate dean of clinical affairs. What she didn't know when she was young, however, was that she'd end up working in the same field as her father, and following in his footsteps in more than one way.

Dr. James Wright completed his dental degree through the Canadian Armed Forces, then worked as a periodontist within the Canadian Armed Forces Dental Corps for 33 years, retiring in 1986. After, he became head of the Department of Stomatology, associate dean, and then dean of the Faculty of Dentistry at the University of Manitoba, until his second retirement in 1996.

In high school, Wright knew she was headed toward some sort of medical career, but she had no interest in becoming a dentist. Instead, she set her sights on the veterinary program at the University of Guelph. When that plan fell through, she earned a BSc there and discovered an interest in anthropology and human biology. A professor advised her to pursue an MSc in anatomy, which she earned at Queen's University, working as an autopsy technician at Kingston General Hospital to help pay the bills. When the MSc was finished, she found herself at a crossroads.

"No one was funding research in anthropology, and I didn't want to spend the rest of my life in a dark room looking at dusty files," says Wright. The then 22-year-old decided to take a dental aptitude test. She did well and applied to dental school at the University of Manitoba.

Mixing dentistry and the military
From 1984 to 1990, Wright was a dental officer in training with the Canadian Armed Forces, and she stayed in the military until 1994. A private practice specializing in periodontics in Belleville, ON, came next, along with a one-day clinical teaching gig at the University of Toronto's Faculty of Dentistry. Then, in 2008, she learned of an opportunity at Dal.

"I knew they were looking for someone to teach periodontics, and I knew Drs. Debora Matthews and Terrie Logue who worked there," says Wright. "I had met people from Dal at dental conferences, and they always hung around together and seemed to really like each other. I'd always wanted to live in Halifax because of its laid-back culture and its music, arts, and crafts scenes. It seemed like the right fit for all of those reasons."

When Wright moved to Halifax, she practised part-time and taught part-time. Then her teaching course load started growing, and a full-time opening came up. In 2013, she joined the Faculty of Dentistry as associate professor and head of the Division of Periodontics. "I really liked the administrative side, of being able to have some say in how things were organized," she says. "It goes back to how I've always wanted to know more about everything."

Becoming associate dean
In July 2021, Dr. Blaine Cleghorn, who had been one of Wright's professors at the University of Manitoba and was Dal Dentistry's associate dean of clinical affairs, asked if she'd be interested in the associate dean role. "At first I said no, but then I thought about my different experiences and skill sets, and I realized they had prepared me for a position like this," she says. "I applied, but with no expectation of getting it."

Although she assumed the role in the middle of the pandemic, Wright felt prepared, thanks to Cleghorn's mentorship. The role encompasses all Faculty of Dentistry undergraduate and graduate clinics, overseeing budget, staff, student concerns, policies and procedures, and materials and equipment.

"Across Canada and outside of Canada, people say Dal has the best clinical experience of any dental school in Canada, and now I understand firsthand why it has that reputation," says Wright. "I'm very proud and privileged to work here. The faculty is like a family, and the atmosphere is positive, collegial, and nurturing. There's a continual desire to do better, and that comes from our dean."

Challenges and rewards
Of course, there are also challenges, the COVID-19 pandemic being at the forefront. There were everyday crisis-management challenges throughout that time, such as securing the right PPE and coming up with safety protocols. "The clinic is a very big entity with lots of moving pieces that affect each other," says Wright. "But I like challenges, and my goal is to always be working to improve things, not just in a crisis but in general."

Over the next year to 18 months, Wright and her colleagues will continue to work toward converting all clinic paper charts to electronic files, to ensure they're keeping up with the standards for the profession. "That will help move us forward so our students will be exposed to more digital processes and be better prepared for the future," she says.

When Wright reflects on the parallels between her career and that of her father, who died in 2017, she points to a framed picture of him on her office wall behind her desk. "He was a big influence on me," she says, "and I know he was proud of me."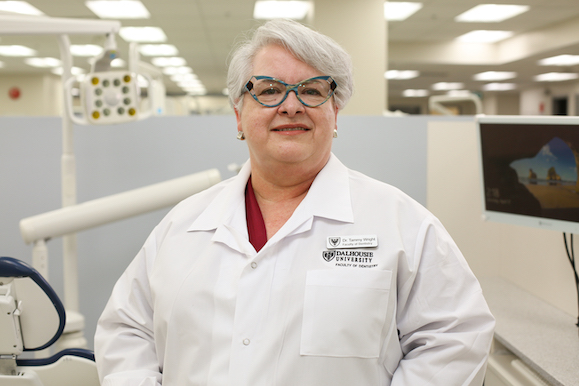 Q&A
What do you do in your own time for fun?
Over the years, I have done charcoal drawing, oil painting, folk art painting, stained glass, glass bead making, as well as beading jewellery and three-dimensional beaded pieces. I have even taken a few classes in basket weaving and knotting kilim rugs. I also find cooking and making bread relaxing, and I started making my own bread as an undergrad (and, yes, I made a sourdough starter during the pandemic!).

April is Oral Health Month – what would be your main message?
That oral health is part of overall health. Hopefully the recently announced federal oral health funding will help Canadians who have been unable to afford dental treatment to achieve better overall health through improved oral health.

What would you do for work if you had to choose an alternative career?
I would have liked to have become a veterinarian. I've always enjoyed working with animals, starting with horseback riding and volunteering at a riding stable, then through part-time jobs in high school working in a veterinary clinic and on a dairy farm.

Do you have a hero or role model you look up to?
I've been fortunate in having many role models and mentors, including my parents and several teachers, professors and graduate supervisors. My hero as far back as I can remember is David Suzuki. I admire his passion for environmental causes and his ability to teach others about issues important to the health of the planet.