News
»
Go to news main
Faculty spotlight: Pierre‑Luc Michaud
Posted by
Cheryl Bell
on February 21, 2023 in
News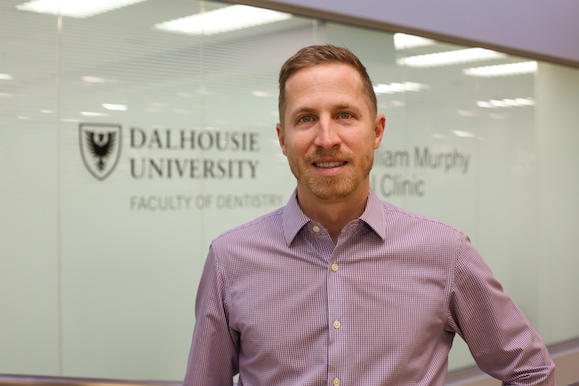 Dr. Pierre-Luc Michaud teaches prosthodontics in the Faculty of Dentistry. In 2021-22 he spent a sabbatical year on an oral oncology/maxillofacial prosthetics fellowship at the University of Texas MD Anderson Cancer Center, Department of Head and Neck Surgery, in Houston. Now he is one of only three maxillofacial prosthodontists in Atlantic Canada. Here he talks about what he learned and what he brought back to Nova Scotia.

Could you please talk about your education and career to date?
After primary and secondary school in Northern Quebec, followed by CEGEP, I went to the Université de Montreal for dentistry, where I discovered that I was good at and interested in prosthodontics.

What appealed to you about prosthodontics?
I had sculpted and painted my whole life up to that point. I was always in the woods and taking a piece of wood and making something with it. I knew I wanted to work with my hands and to interact with people, so dentistry was a good choice for me. In dental school I knew I was interested in teaching, so I wanted to pursue a specialty, and prosthodontics was a natural fit. After a GPR in Toronto, I returned to the Université de Montreal to study for an MSc in prosthodontics.

How did you find your way to Dalhousie?
I initially went to Vancouver for the mountains and the outdoors, but the timing was bad and I could not get a full-time faculty position at UBC. Then I heard about a position at Dal. All I knew about Halifax at that time was that it was a military base. But when I arrived here in 2012, I found that it was a smaller city and close to nature, which I liked. So I stayed.

What led to your next step?
Over the 10 years I've been at Dal, I've been doing more and more removable prosthetics and becoming increasingly interested in it. Two part-time faculty members did some presentations on maxillofacial prosthetics, and I found the subject interesting. I also thought that they will retire one day and there will be no trained maxillofacial prosthodontist east of Montreal to care for these patients. My next step was to apply to the MD Anderson Cancer Centre at the University of Texas.

What was special about the program in Texas?
The MD Anderson Cancer Center is one of the most renowned cancer hospitals in the world. Every single patient we saw there had cancer. It was so much more than removable teeth. We were seeing patients who received chemo, radiation, and other treatments to stop metastases or bone cancer, and all those treatments have implications for the mouth, such as osteonecrosis, even though the cancer is not necessarily head and neck.

Of course, we also saw head and neck cancer patients. Before surgery, we would take impressions and fabricate appliances that we would place during surgery so that patients could still eat, swallow, and speak after surgery because often there would be a big hole from the mouth to the nasal cavity. Later, we would make the prostheses more permanent. We also made facial prostheses, including noses, cheeks, eyes, ears, and lips.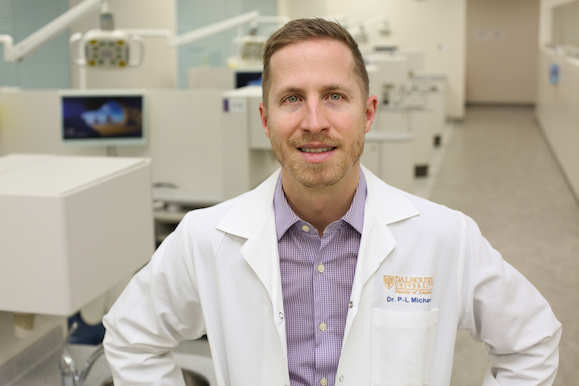 What was a typical day like?
We normally had a lecture at 7:00 AM, followed by clinic to see between seven and 20 patients, and then we wrote our notes. We would then do a variety of things, such as presentations and literature reviews, but the bulk of each day was treating patients.

What did you enjoy the best?
I learned a lot about the mechanisms of action of different cancers. The medical side was all new to me. Making the prostheses was definitely interesting, particularly the prostheses that can help patients speak again. I also enjoyed seeing patients who were missing large parts of their faces because a prosthesis enables them to look and function more normally again and this is very rewarding.

We had many short rotations to expose us to different conditions, some of which were very, very rare. But this was the place where people with unique conditions would go, so that was the great advantage of being there.

What was it like living in Texas?
It was definitely an interesting time to be there. At the time, there were 16,000 cases of COVID-19 per day in Houston. But for political reasons, in some places you didn't feel safe putting on a mask.

Here in Canada, we might know about amber alerts for missing child or a white alert for an elderly person who is missing. But in Texas I learned about the blue alert, which is when police get shot. Those happened much more frequently than I would have liked.

There was also the price of food, which was very cheap. There you could buy 10-pound packages of chicken legs – that was the smallest quantity I saw – for $3. It was a bit of a shock when I got back, particularly with the recent inflation.

What have you brought back to Dal from your experience?
I certainly know a lot more about cancer, which I am sharing with my students. Of course, I intend to see more patients with cancer and help them during their cancer treatments.

I also noted a lack of innovation in the field of facial prosthetics and the frustrations experienced when prostheses don't work. I could see there was a big problem in the way the bonding of prosthesis materials is currently done. That's something I will be working on with a couple of my colleagues here at Dal.

Would you do it all again?
You'll have to ask me that question in five years. It cost a lot of money to go there, but if I'm able to see and treat patients with some of the conditions I learned about in Texas, then it will be worth it.