News
»
Go to news main
Dr. Ahmad Hussein: Green, clean, and community focused
Posted by
Cheryl Bell
on March 29, 2022 in
News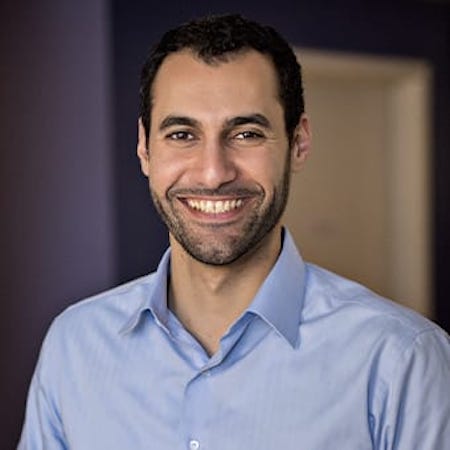 Dr. Ahmad Hussein (DDS'13) worked in Dr. Song Lee's lab in the Dentistry Building as a microbiology and immunology student at Dal, researching infectious diseases and microbiology related to oral diseases. But the idea of being a dentist didn't cross his mind.

It was only after graduating with his MSc from Dal and was working as a research scientist with Dr. Scott Halperin at the Canadian Centre for Vaccinology that a conversation with a relative planted the idea of dentistry in his head.

"It was not an immediate aha moment," says Hussein, "but it made sense." He enjoyed lab research, but he also craved human interaction. So he applied to Dalhousie to study dentistry.

Many irons in the fire
Not knowing if his application to dental school would be successful, Hussein explored options with a consulting company that helps green technology companies plan their businesses. Intrigued the practical application of green technology to solve problems in a commercial way, Hussein worked with the consulting company "for fun", just in case dental school didn't work out.

When he began studying dentistry at Dal, Hussein assumed that his exploration of green tech was over. After all, his life was suddenly very busy with his studies and working as a researcher on the microbiology related to oral diseases.

Hussein also found that the green tech consulting company "wouldn't let him go". His new life involved traveling on the weekends for work and studying dentistry during the week. By the time he graduated from dental school, he had acquired the rights of an agricultural technology that would enable him to operate his own green technology company.

"It was a lot of risk taking and pressure to meet my own personal demand to become a better dentist and also to succeed in something I have a passion for, which is green energy and renewable resources," explains Hussein. "Finding a way to do both things was a highlight of dental school for me."

Despite a tempting offer to join a practice in Florida, Hussein decided to stay in his home community of Halifax. He joined Drs. Sathyasai Murty (DDS'99) and Mary-Anne MacDonald at Scotia Dental, a dentalcorp practice. He says he didn't initially understand what working for dentalcorp would entail, other than that the company looked after all the aspects of running a business that dentists frequently find a burden, like accounting, IT, marketing, and procurement.

"What I didn't realize was dentalcorp's capacity to increase our knowledge base in the business of dentistry, including time management and leadership, as well our dentistry skills," says Hussein. "It's built into the system."

Hussein was selected as one of seven newly qualified dentists across Canada to join dentalcorp's Associate Development Program, which is aimed at creating new leaders who will execute the company's vision of dramatically improving patient care. He was able to take advantage of specialized courses and to work with mentors on areas of dentistry that interested him, including endodontics, laser technology, and the advanced surgical techniques.

Going green with Nile fiber
In parallel with his blossoming dentistry career, Hussein's green technology company was taking shape.

Nile Fiber Atlantic Canada grows inexpensive biomass that replaces trees in the fiber industry. "The material can be used in anything a tree can be used for," Hussein explains. "But it can be grown in a way that does not compete with the production of food, such as on reclaimed surface mining sites."

Since it was formed in 2014, the company has received major grants, establishing partnerships, and signed large volume contracts (brokered by Ekman & Co AB) to provide energy pellets to Drax in the UK. IKEA will use Nile Fibre technology and the military is considering using it to produce a clean jet fuel.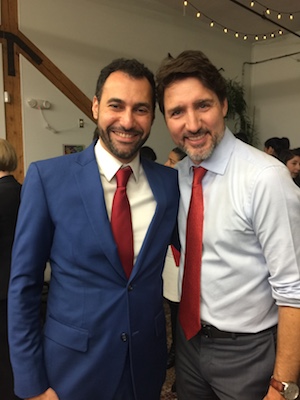 With Prime Minister Justin Trudeau at The One North End
Giving back is ingrained
Despite his many interests, Hussein still finds time to volunteer. "Giving back is ingrained in my core," he says, "from my family, my culture, and my religion. The idea of taking and not giving is almost seen as taboo."

As a dental student, Hussein learned about the volunteer efforts of Drs. Archie Morrison and David Precious, who travelled yearly to Vietnam to perform cleft palate surgeries, and saw the efforts of Dr. Tom Boran to foster and support outreach clinics in the Halifax region.

"It made me realize that being trained as a dentist goes beyond just being a dentist," he says. "It means taking my training and what I'm passionate about and applying both together to do something positive for my community here in Halifax."

Four years of mentorship from Dr. Scott Maclean (DDS'91), a committed volunteer, particularly with organized dentistry, helped inspire Hussein to say yes to serving on the Faculty's Dentistry Alumni Committee, where he looks for mentorship opportunities for current students and seeks to strengthen alumni ties with the Faculty.

Hussein serves on the boards of Feed Nova Scotia and One North End (The ONE) and chairs the board of the Ummah Mosque and Community Centre, roles that have found him working closely with community leaders and politicians at all levels.

Focused on Nova Scotia
Hussein believes he is well-placed to bring about positive change in Nova Scotia, working with the provincial government on policies to help newcomers feel at home and to attract green-based businesses and manufacturing that will make NS a global leader in the sector. Professionally, he intends to work with government to create free dental health-care programs for seniors and incentives for clinics to see children to ease the burden on the IWK.

It is no surprise that Hussein was named one of East Coast Experience's most inspiring immigrants in the Maritimes in 2020.