News
»
Go to news main
Winning DDS research poster examines gender‑based income disparity
Posted by
Cheryl Bell
on January 30, 2020 in
News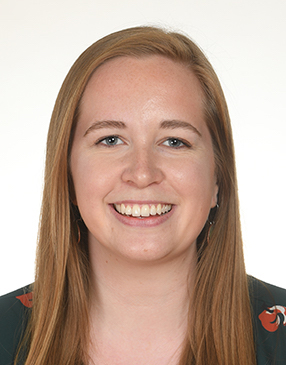 "I've always been interested in feminism and women's rights, so I knew I wanted to explore some aspect of the role of women in dentistry for my research project, says Paige Conrad, this year's winner of the DDS3 research poster competition, held on January 16.  

The win means that Paige will take her research to the CDA conference in Winnipeg in April, where she will compete against dentistry students from across Canada.

Paige's topic, "Exploring income disparity between genders amongst Nova Scotia dentists", focuses on the average daily billing gap between male and female dentists. The results, she says, surprised her "a lot".

Discovering that little research had been carried out on this topic, Paige began with a survey. "There are around 450 dentists in Nova Scotia, which gave me the perfect sample size," she says. She began distributing her survey last spring at continuing education courses and through NSDA channels. She received 158 responses, well over her target of 100.

In her survey of 17 questions, Paige was careful to focus on "the facts" and eliminate bias. "I asked about the urban/rural environment, whether they had dependent children, which procedures they did the most, and whether they billed above or below the fee guide."

The findings
Even though male and female dentists work roughly the same number of hours each week, Paige found that the difference in the average gross daily billing was over $400 day more for men. When she separated the results between dentists who had been in practice for over 20 years compared with those who had been working fewer than 20 years, the results were more dramatic. The difference in daily billings for dentists practising under 20 years was only about $50 a day. But when she looked at the results for the dentists who had been practising over 20 years, the gap "skyrocketed" to over $800 per day, with more men billing above the fee guide and more women billing below it.

Understanding the results
Paige suggests that one potential reason for the difference at the upper end of the scale is that there may be a cultural expectation for women to be more compassionate and help patients who need dental work but are strapped for cash. Among men, she says there may be the sense that they deserve to charge more, particularly if they have taken several CE courses and have modern equipment in their practices.

For dentists who have been practising under 20 years, one reason that the pay gap is relatively low could be that more younger dentists are female. Paige points out the male-female parity among dentistry student numbers at Dalhousie was reached in 1997, similar to other dentistry schools.

Next steps
Paige plans to carry out further research in a series of one-on-one interviews, which she hopes will help explain why dentists choose to bill above the fee guide.

Even though preparing the poster and practising her presentation took a lot of time and effort, Paige says that she really cares about her topic and enjoyed working on it. "I also think it is information that a lot of dentists would wish to know."

Paige, Moe Alshateel, and Devon Horton presented their posters to judges JC Doucet, Heather Doucette, Mark Filiaggi, and Pierre-Luc Michaud.  
Moe's topic was "Burnout amongst dentists: prevalence, consequences and coping mechanisms" and Devon's project title was "An investigation of emergency types referred to the dental service from the emergency department of a tertiary care pediatric hospital".
All three research posters will be presented again at the 50th Annual Student Table Clinics on March 27, 2020, 5:00-9:00 PM, in the McInnes Room, Dalhousie Student Union Building, 6136 University Avenue.