News
»
Go to news main
Following in the toothsteps of North Preston Dental Clinic
Posted by
Melanie Bremner
on August 27, 2019 in
News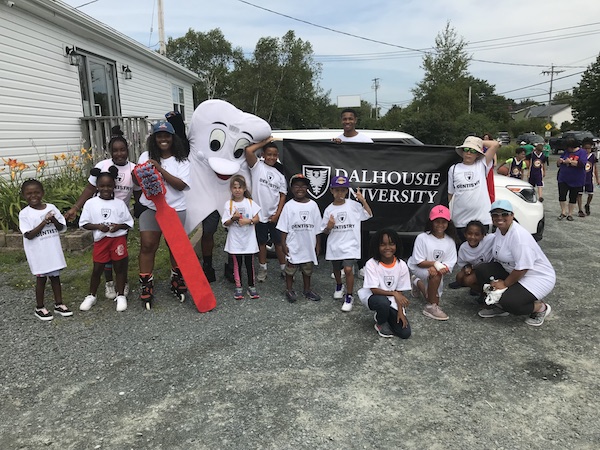 On a sunny August 10, a group of excited children, parents, Faculty of Dentistry staff, and a popular giant tooth mascot took their place in the Preston Township Homecoming Parade. Many participants were young patients of the North Preston Dental Clinic, which is located in North Preston's Nelson Whynder Elementary School.
Johnathan Eder, a student at the school and a clinic patient, helped distribute 150 Colgate toothbrushes and toothpaste care packages to parade watchers. Johnathan is not afraid of attending dental appointments. "I like coming to the dentist so I can have a healthy mouth and healthy teeth," he says. "I leave happy because at the end I get a care package to take care of my teeth and a toy and everyone is nice."
The North Preston Dental Clinic is a joint effort by the North Preston community, the Dalhousie Faculty of Dentistry, and the Halifax Regional School Board. Dalhousie University dentistry and dental hygiene students provide oral health care to the children during the school year under the guidance of faculty members and clinic coordinator Juliette Thomas.
"Participating in the Preston Township Homecoming Parade shows that we are engaged in our community and we recognize that we serve a large population in the Preston area. We can't wait to do it again." says Juliette, who is also a dental assistant at the clinic.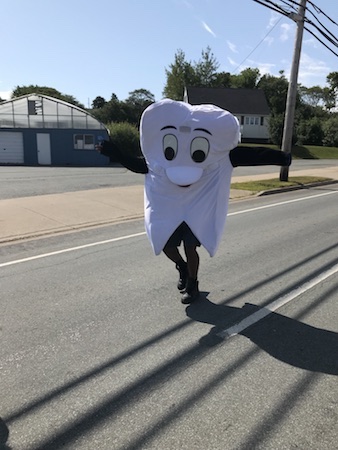 Mataeio Clayton-Gray, who walked in the parade, is a current Dalhousie student and was once a patient of the North Preston Dental Clinic. He credits the clinic with inspiring him to become a dentist one day.
"It was all interesting to me, wondering what they were doing in my mouth. I got nothing but encouragement from Mrs. Juliette to pursue my goal and stick to it, so if it wasn't for her and the dental clinic I probably wouldn't be trying to pursue a career in dentistry. I'm very grateful for that."
The North Preston Dental Clinic has been supporting patients in North Preston for the past 23 years. Appointments will begin again when the school bell rings in September.