News
»
Go to news main
The winners of the 48th Table Clinics and dental hygiene presentations


48th Table Clinics and DH presentation winners and sponsors

The 48th annual Table Clinics and dental hygiene presentations took place on Friday, January 26 in the Collaborative Health Education Building with 47 dental students and seven teams of dental hygiene students competing.

Over 250 people attended the event, making it a festive evening. Many alumni were there to reunite with classmates and get valuable CDE credits. For the students, it was an evening of nerves, elation, and, at the end, croaky voices.

As Dr. Mary McNally, assistant dean of research says in her introduction to the Table Clinic booklet, "The presentations demonstrate a broad spectrum of student interests, ranging from innovations and technologies in dental biomaterials, to etiological and epidemiological evidence reviews, oral disease treatment challenges, determinants of health, and health services, as many as many other novel topics."

A huge range of topics
Dentistry student posters ranged from topics such as Ramneek Khatter's "Antibacterial nanoparticles in endodontics" and Mahdis Maleki's "Resistance to fracture of teeth undergoing chemical or thermal sterilization processes for educational use" to Krissy Singh's "Green dentistry", Olufemi Disu's "Referral of patients from general dental practitioners to dental specialists in Nova Scotia – patterns and influencing factors: A study design", and Keegan Ezekiel's "Barriers to accessing dental care for patients with autism spectrum disorders".

The seven dental hygiene presentations covered topics, such as "Silver diamine fluoride", "The use of lasers in non-surgical periodontal therapy", and "The natural path: complementary and alternative therapies for oral health".

It was a tough job for the 22 dentistry judges and six hygiene judges, who diligently did the rounds of posters and presentations, but at 9:00 PM, the following winners were announced: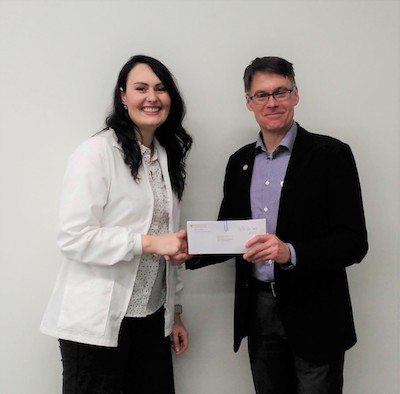 Dentistry, First Place, Research – Kellie Zelmer "Investigating noise-induced hearing loss in dental education and dentistry"
Advisor: Dr. C. Andrews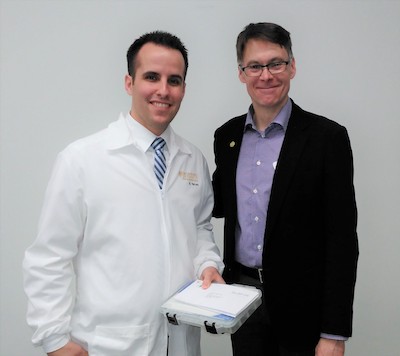 Dentistry, First Place, Clinical – Bryce Yates "Partial extraction therapy: A novel approach to preservation of the buccal plate"
Advisor: Dr. N. Hamdan

Dentistry, Second Place, Clinical – Danial Shirvani "Opioids and dental extractions"
Advisor: Dr. J. Brady

Dentistry, Third Place, Clinical – Denim Arnoldson "Myth vs. fact: Probing around dental implants."
Advisor: Dr. N. Hamdan

Dentistry, Fourth Place, Clinical – Jakob Nickerson "Regenerative endodontics: A review of pulp revascularisation."
Advisor: Dr. I. Mello
 
Dentistry Immediate Clinical Application – Ahmad Alqalaf "Management of patients on direct oral anticoagulants undergoing minor oral surgery"
Advisor: Dr. J. Brady

Dentistry Creativity – James Baradoy "The perils of do-it-yourself orthodontics"
Advisor: Dr. L. Erickson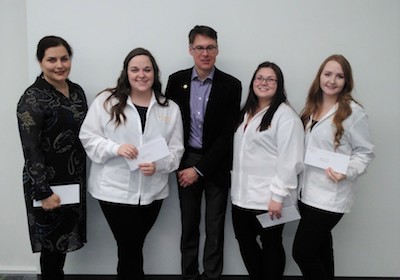 Dental Hygiene 1st Place: "Handheld X-ray devices: The pros, the cons & the safety"
Advisor: Prof K. Haslam
Haley Benoit
Pamela Stone
MacKenzie Beaton
Mahshid Alami-Harandi
 
Dental Hygiene 2nd Place: "To polish or not to polish"
Advisor: Prof H. Doucette
Katelyn Moore
Lauren Ferguson
Lindsey Foote
Laura McCloskey
 
Dental Hygiene 3rd Place: "The impact of mental illness on oral health"
Advisor: Prof R. Sampson
Cassie Cook
Jill Russell
Shianne Ferguson
Victoria Huestis

Kellie Zelmer will go on to present her poster at the Canadian Dental Association conference in Charlottetown this summer.  

Dedicated sponsors and judges
"I want to extend my congratulations to all students who participated and thank them for their hard work and professionalism during the presentations," said Dr. Ben Davis, dean of the Faculty of Dentistry. "Such impressive research would not have been possible without the dedication of our faculty supervisors."

Dr. Davis also commended the sponsors for contributing the awards that the students receive. "We could not have such prestigious Table Clinics without them, and we are very grateful for their continued support.