News
»
Go to news main
Karen McLean: From white coat to black gown
Posted by
Cheryl Bell
on June 3, 2016 in
News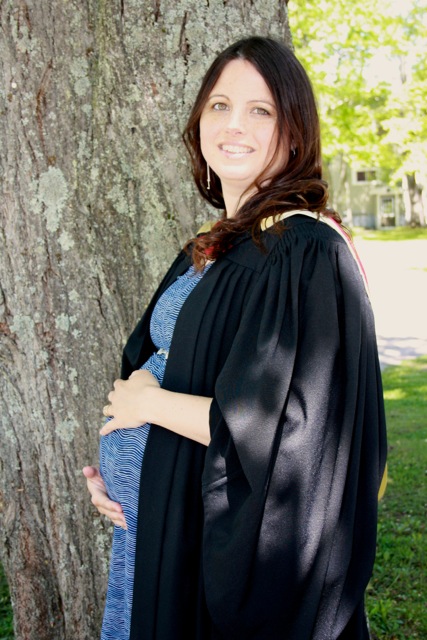 Karen McLean walked across the stage and graduated with her DDS degree on June 2, in much the same way she participated in her white coat ceremony four years ago – heavily pregnant.
Karen arrived at the Faculty of Dentistry in August 2012 expecting her second child, a son who arrived on October 1. She also had a three and half year old daughter at home.  "I came to school the day I went into labour and I only took a week off after the birth. It was tough and I couldn't have pulled it off without my husband, who took paternity leave."
As determined as she was to doing the program, first and second years of dental school were made even more challenging by the deaths and illnesses of friends and relatives. Most devastating, however, was when her newborn son contracted e-coli septicaemia when he was just two weeks old. "It was really scary. He was on IV antibiotics and had a number of spinal taps." Luckily, her baby was in the IWK, just across the street from the Dentistry Building. "I went over every lunch hour to feed him. I slept there and studied there. It was the most difficult time of my four years in dental school."
Karen and her husband Everton, who works in communications, moved from Moncton so that Karen could study dentistry.  She comes from a military family, which meant moving a lot. One year as a child she went to three different schools. "You learn to adapt," says Karen, "which is a good skill, and you also learn that home is where you make it." When she joined the military herself, the rigour and pace of basic training prepared her well for dental school. "It gives you physical toughness."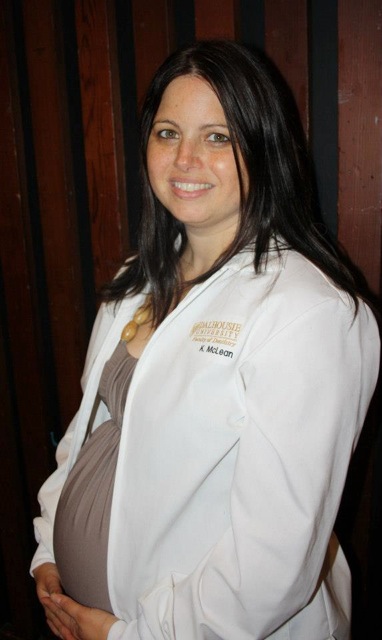 Pregnancy is not only book-ending Karen's journey through dental school, it also prompted her meeting with fellow student Reem Rostom during their first week in the Dentistry Building. "She spotted that I was heavily pregnant and came to talk to me. We've been friends ever since: we live near each other, we've carpooled, and we've looked after each other's children." Reem and Karen also started the Halifax Dental Students Society for Refugees, which is raising money to bring refugees to Nova Scotia.
Karen and her family are finalising their move to Charlottetown, where Karen will start work on August 8. The baby is due June 26, so it doesn't give her much time off, but it seems generous compared to the one week off she had in first year. "When you take away the coursework and the studying, having just a job and family doesn't seem that hard," says Karen. "Although those four years are tough at the time, you truly appreciate and feel great satisfaction in knowing that Dalhousie has prepared you well to be the dentist you are about to become."