News
»
Go to news main
Dental hygiene students take on "sugar monsters" at local elementary schools
Posted by
Katie Ciavaglia
on June 15, 2015 in
Community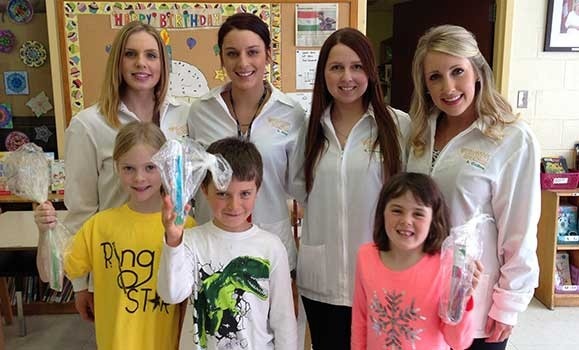 A group of second-year dental hygiene students saved the day at Grosvenor-Wentworth Elementary School this past April. How you ask?
They rid the place of all the sugar monsters.
Second-year Dental Hygiene students Amanda Collins, Samantha Cicciarella, Katherine Allan and Megan White visited the school as part of their Population Health course. The course focuses on the promotion of oral health and the prevention of oral diseases, and what students can do to improve the health of certain population groups.
"We know that childhood caries is something of significant prevalence in today's world, and we wanted to do something fun yet educational to get the message out to children," says Collins.
The group packed up their toothbrushes and floss and headed over to Grosvenor-Wentworth Park Elementary School where they were met by 86 eager Grade 1 students.
The Dental Hygiene group decided to start with some educational information about "sugar monsters" (representing acid in the mouth) and how they cause cavities. Drawing happy and sad teeth on the board, they asked the children to identify different foods and explain why they were good or bad for their teeth.
Next up was the sugar raid — a surefire way to get rid of the sugar monsters. All of the kids took out their snacks and held them high in the air and were asked if they were snacks that the sugar monsters would like, or snacks that would make the sugar monsters run away.
"It was really fun to do it this way because everyone got to participate and have a hands-on experience learning about this, rather then just being told," says Collins.
The final activity of the day was getting the kids in groups and giving them a cardboard plate with foods cut out from flyers. They had to make a healthy meal out of the food in their baggie — foods that sugar monsters wouldn't like. The kids seemed to love this activity and the students were surprised how well-made their "plates" were.
Natalie Lord, the first grade teacher in charge of the event really enjoyed the hands-on learning aspect of the presentation and thought the dental hygiene students did a great job.
"I love having the Dal students in; this is the second time and it's great," says Lord. "The Dal students bring their advanced knowledge to the class and I would welcome working with them in the future to collaborate on activities best suited for young children."
What did the Grade 1 students themselves have to say? "I love my new toothbrush!" said one. "I had fun making a healthy meal with the flyers."
The dental hygiene students also enjoyed the experience and welcomed the opportunity to make a difference in these children's oral health care.
"The kids were so excited about the activities and were so eager to learn," says Collins. "It's important to have activities like these, because it engages their attention more than just an educational lecture would. It also helps get the message across about these sugar monsters and the little things they can do to prevent cavities."