News
»
Go to news main
Dental hygiene students help Nova Scotia's immigrant population
Posted by
Katie Ciavaglia
on April 24, 2015 in
Community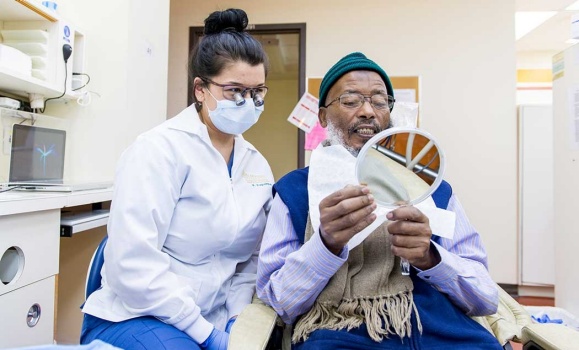 A program for Dental Hygiene students at Dalhousie Dentistry is helping provide them with access to more complex cases while teaching them about giving back to the community.
In 2012, Heather Doucette, assistant professor in the School of Dental Hygiene, worked with her colleagues to develop a partnership with the Immigrant Services Association of Nova Scotia (ISANS), a community organization that provides assistance and services to the province's new immigrants.
"I thought treating patients from ISANS would be a good learning experience for the students for developing skills, plus it would serve an underserved population," says Prof. Doucette. "This was a great learning opportunity for the students to be exposed to patients who have a tremendous need for oral health care."
Thanks to generous donor support, the program is now running year-round and is able to accommodate more patients.
Meeting a community need
Prof. Doucette held a screening session at ISANS office to determine if patients met the proper requirements to be treated. She remembers thinking that there wouldn't much turnout at the initial screening.
"It was February, freezing cold and there was a bus strike," she recalls. "I thought there was no way there would be many people showing up since they have no means of transportation. However, when I arrived there were 50 people in the waiting room all hoping to be seen. I was totally shocked!"


Most of the prospective patients were from Bhutan and Nepal and resided in Clayton Park. They had walked in -20 degree weather to the Mumford Road location for a chance to possibly be chosen to receive care. Many had been living in refugee camps for years and had never received oral health care. Prof. Doucette even saw some patients who had serious oral lesions, which can lead to oral cancer.
"No one had ever looked in their mouths, so these lesions would have gone undetected for years," says Prof. Doucette. "If it wasn't for the program, they may have never received treatment."
Opportunities for students
The students are required to read about the patient's culture and research the challenges they have faced prior to each appointment. However, there are still many barriers to work through, and the program provides a learning curve for students in more ways than one.
"It's been difficult to communicate with the patients about their diagnosis and teaching proper brushing and flossing techniques," says Michelle Robichaud, a second-year Dental Hygiene student.
"Even simple tasks such as asking them if they are in pain or booking the next appointment have been challenging."


Although it may be difficult to communicate, the results have been rewarding for both the patients as well as the students.
"I was treating a timid elderly lady who was a refugee patient from the Republic of Congo and she didn't understand any English," says Robichaud. "When the appointment was over I gave her a mirror to look at her teeth. While she was looking in the mirror she had the biggest smile and nodded her head and said thank you in her language. It was a really great feeling to know how much she appreciated her hygiene appointment."


Prof. Doucette is pleased with the program and what it has given not only to the patients, but also to the students.
"I'm hoping this experience doesn't just provide students with clinical skills, but instills compassion and encourages them to give back to their community by seeing a need and using their profession to fulfill it," says Prof. Doucette. "Maybe when they go out in private practice they can devote a morning a month to treat patients that don't have a means of accessing care."