»
Go to news main
Here We Code celebrates first Tech Career Fair success
Posted by
Aishwarya Shrestha
on November 6, 2023 in
Here We Code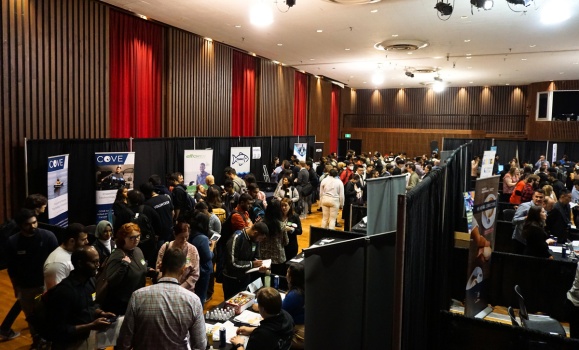 On September 27th, the first-ever Here We Code Tech Career Fair was held on Dalhousie University's campus, marking a significant milestone in the university's commitment to nurturing the next generation of tech leaders. 
The event was a testament to the growing significance of fostering a robust tech talent pipeline. With a remarkable turnout of 42 employers and more than 800 enthusiastic students from all over the province, the event emphasized the necessity for academia and industry to collaborate in cultivating a skilled workforce for the tech sector.
Here We Code's Vision
 
The Tech Career Fair falls under the Here We Code initiative that originated in 2021 as a digital movement to celebrate the growth of the tech sector in Nova Scotia. This movement is about collaboration between industry, schools, businesses, government, and Nova Scotians to build a prosperous economic and social future for all communities in our province by fueling the tech talent pipeline.  
"The true measure of a professional program is how well it places its students in industry relative to their personal goals," says Dr. Andrew Rau Chaplin, Dean of the Faculty of Computer Science. "The Faculty of Computer Science supports an active approach to Career Development in which students are offered continued opportunities to understand career paths, develop soft skills, interact with industry leaders, and participate in high-quality paid work integrated learning programs and internships with industry."
Event Highlights
 
The day started off with the opening ceremony followed by an employer pitch where a select number of employers had the opportunity to come on stage and promote their company in under two minutes to further entice the students in the crowd to come visit their booths. 
"The event was tremendous, and we were so happy to meet with so many students and members of the tech community," said Jennifer Porter, Admiral employer and pitch participant. 
The bustling venue was alive with anticipation as students from various universities and colleges flooded the booths of renowned global tech giants, startups, government organizations, and innovative local businesses, such as Cognizant, CGI, ReelData, Public Service Commissions of Canada.
"Wow, what an event - one of the largest, most energized crowds I've seen at a career fair," said Nathan Laid, Program Manager at Halifax Partnership.
Fueling the momentum
 
The fair not only provided a platform for students to explore potential job opportunities but also facilitated meaningful interactions with industry professionals, fostering a spirit of mentorship and guidance. 
The Here We Code Tech Career Fair highlighted the growing tech scene in Nova Scotia, stressing the importance of working together to strengthen the province's tech sector. With the event's impressive success, the aim is to host the fair every year, increasing its influence and audience annually, and driving the industry ahead.