»
Go to news main
Grad profile: Shaping her path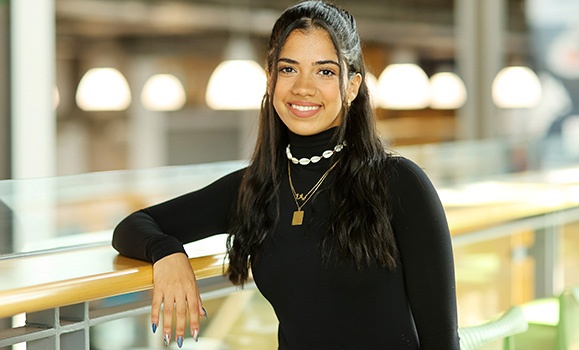 Yara Ahmed had a bittersweet moment walking across the stage during her Fall Convocation ceremony earlier this month. Reflecting on her last four years with the Faculty of Computer Science, she came to the realization that these have been some of the most memorable and cherished years of her life.
"These past few years have been honestly the best four years of my life and whoever gets to pursue a degree with Dalhousie's [Faculty of] Computer Science is someone who's very lucky and I hope that everyone gets to have as great of an experience as I did," says Yara.
Her journey towards computer science was never a question; she always knew the STEM field was right for her.
"I've always known STEM was for me but specifically, computer science. I think it's a very empowering field to be in because you learn skills that can solve any problem," says the Bachelor of Applied Computer Science grad.
"I loved my program because it combines the management and the technical side of things, it helped me develop my soft skills and my interpersonal skills, which I think is really valuable in the tech scene today."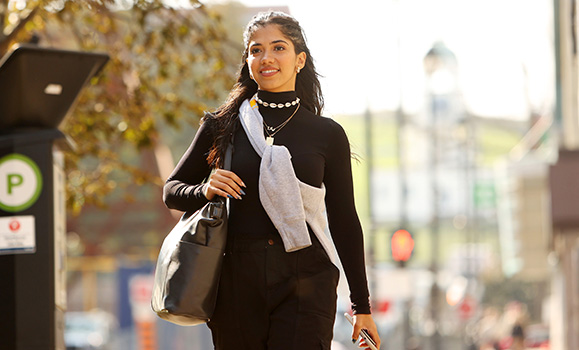 A journey of ambition, growth, and connection

Between Yara's course load, completing three co-op placements with SimplyCast and Global Relay, a part-time job funded by the Faculty through the generous support of the Leacross Foundation, and active participation in multiple societies, it's safe to say that Yara demonstrated remarkable ambition.
Now that Yara is graduating, she emphasizes the impact her experiences at Dal have had on her, shaping her path toward her professional journey.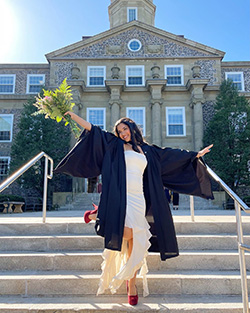 "I'm really grateful for all of the connections that I was able to build through all my experiences with the faculty, I was able to build and foster new connections."
Yara believes that her active participation within the faculty forced her to grow in ways she'd never expected. Receiving one of the first computer science student positions through the Leacross Foundation was one of Yara's biggest contributions to her growth.
"I'm so grateful to receive one of the first computer science student positions through the Leacross Foundation. I've really grown so much from that job," says Yara. "The position was consistently putting me in so many uncomfortable positions until I was forced to grow and come out of my shell. I feel like the person that I am today is the opposite of who I was in the beginning of my university career."
Pursuing dreams in the tech world

Much like her immersive experience within the Faculty, Yara's post-graduation plans are to jump headfirst into her dream job. Her vision involves relocating to Toronto, Ontario, where she plans to further develop her skillset in software development and automation work.
"I really enjoyed the automation work that I did with a Global Relay, so I'm interested in pursuing that with a focus on the DevOps realm," she explains. "My ideal career would be something in tech consulting or technical sales, where I get to work with clients while also using my technical knowledge."
While Yara's destination remains uncertain, she's confident her degree has laid a strong foundation for her future success.
"Tech is everywhere, anyone can get a job in computer science that will fuel your passions through other industries," says Yara. "By the end of this degree, I feel very qualified to be in this field and I'm excited to embark on that journey."