»
Go to news main
How I spent my summer: Computer Science student learns from 'some of the best' during summer software gig
Posted by
Andrea Hart
on September 12, 2023 in
Students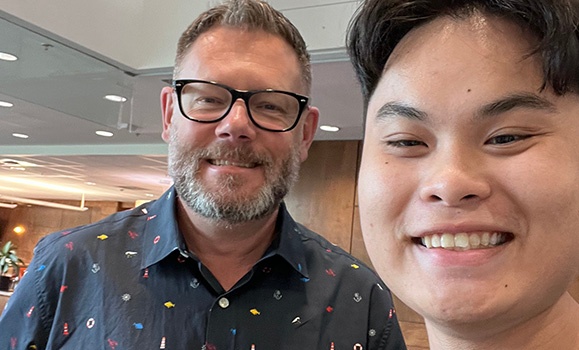 This article is part of How I Spent My Summer, a series of articles showcasing what students got up to over the past few months — from work-intergrated learning to mini-courses and more.
Internships offer valuable experience to students as they prepare to embark on their careers. For Computer Science student Dave Chuck, a summer gig with Bell Canada was just the ticket to kicking off his own professional journey.
The internship program allowed Dave to learn valuable lessons and provided hands-on experience working with leading industry companies. 
"I was able to apply what I learned within the classroom to real world situations and absorb lessons from some of the best in the world," says Dave, a fourth-year student who worked as a full stack software developer intern.
Although the well-established brand was enough to attract Dave to apply for the internship, it was Bell's outstanding internship program that captivated him the most. The program also provides the  perfect opportunity for students to get into Bell's award-winning Graduate Leadership Program after graduation, setting new grads up for success right out of university. 
Needless to say, Dave was ecstatic when he was offered the internship position at Bell. 
The transformative power of internships

You could say Dave felt at home with Bell. Right off the bat, J. Geoff Moore, Dave's director, treated him like he was a part of the team. Moore (Eng'97), a Dal alum, supported Dave and allowed him to take on large projects like rebranding an internal tool and preparing presentations for senior architects, developers, project managers, and senior managers to receive feedback. 
Dave's approach was well-received, and Bell is now hoping to scale the product throughout Microsoft Teams within the company.
Taking on an internship during summer break isn't an easy decision for students, but Dave highly recommends it. He firmly believes that this opportunity not only fostered his professional development but also enriched his personal growth.
"It allowed me to take initiative especially as an intern to go against the status quo by being autonomous in driving change within the team," he explains. "At the same time, I was learning to work with multiple people from vast backgrounds and in different time zones, which not only allowed me to improve my time management and organization skills but also get a broader perspective on how everyone's story and path to success is different."
He believes everyone should take the leap and venture outside of their comfort zone with an internship because it allows you to grow and build connections that could forever impact your life.
"I'm grateful I did because you never know who you share similar interests and backgrounds with," says Dave. "I didn't even know my director is an alumnus of Dalhousie."