»
Go to news main
Halifax researcher seeks COVID‑19 long haulers to study effects of virus on brain
Posted by
CBC News
on August 23, 2023 in
Research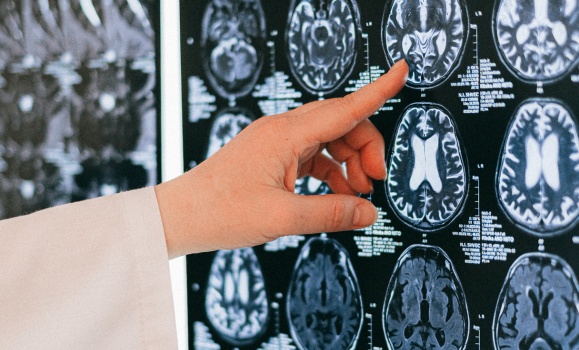 Carter Warrington says living with long COVID means he's constantly battling brain fog — memory loss and trouble concentrating that makes something like watching a TV series difficult.
"I like mysteries. But I'm like, 'If you don't remember the previous episode, you can't watch the next one …  it's a waste of time,'" he said from his home in Eastern Passage, N.S.
Warrington says he was hospitalized for four months and in a coma for one month after he contracted COVID-19 in January 2021. Ever since, he's had a litany of persistent symptoms consistent with long COVID.
There is no cure for the condition which has over 100 reported symptoms, and there are more than 1.4 million people in the country living with it, according to Canada's chief science advisor.
Carter Warrington says the brain fog he experiences after contracting COVID-19 in 2021 can take hours to lift. (Brian MacKay/CBC)
Dr. Carlos Hernandez is an assistant professor in Dalhousie University's faculty of computer science. He hopes to contribute to long COVID research in collaboration with scientists at Western University in London, Ont., and the National Autonomous University of Mexico in Mexico City in a multi-year study assessing cognitive damage caused by the condition. 
But there's just one issue: He needs more participants in the Halifax area.
"The main problem here is that many people don't know that these studies are happening right now," said Hernandez. 
He also said it's becoming more difficult to connect with recently infected people living with severe reactions because of the success of vaccination campaigns. 
"At the same time the people that got infected in previous years for example, now the symptoms have started to go down," Hernandez said.
The team plans to take MRI brain scans of people who have been infected with the virus in the last six months and are now living with long COVID and specifically symptoms of foggy thinking.
Hernandez and his colleagues are looking to assess the MRI scans of hundreds of people. (Galen Mcrae/CBC)
"We have functional imaging that basically measures the brain activity. So we can analyze the pattern of brain activity and then compare that to healthy controls. And in that way, we can see if there is any parts of the brain that are working differently."
They will check on participants over a two-year time frame, and are looking for at least 50 people to participate. In total, the research group would like to analyze hundreds.
Each person would also go through a battery of computer tasks that test their memory to see whether long COVID has impaired their brain function. 
Hernandez is keen to explore how the cerebellum, the part of the brain that controls coordination, language fluency and memory, is affected by long COVID. 
"There are many different studies going on around the brain and COVID-19.… The concern is would it sort of cause more neuro-degenerative issues of the brain, we can't really answer that right now, but there are many studies going on," said Dr. Angela Cheung, a senior physician scientist at University Health Network in Toronto who has done extensive work looking into the long-term effects of COVID-19.
Dr. Angela Cheung co-leads a study into long-term effects of COVID-19 on more than 1,300 patients. (University Health Network)
Cheung says there are a number of challenges to studying long COVID and brain fog.
"Some people are not even aware that they have worse cognitive function because of COVID," Cheung said. "There is also no sort of comprehensive test for this brain fog. We can do cognitive testing and there are many of them …  but I would say that there aren't really very comprehensive testing."
There's also the mystery of how exactly the brain is affected, she says, which could be caused by a number of factors, including an inflammatory response in the brain or nerve cells damaged by the virus.
"There are many different sorts of reasons why people may have their brain function affected by long COVID or by SARS-CoV-2," Cheung said.
A 2022 study in the U.K. analyzing brain scans of more than 700 participants found that there was "a greater reduction in global brain size" in patients who contracted COVID-19 compared to people in the control group who were not infected.
Cheung says at this stage in this area of science it's important for researchers to build on existing knowledge.
"The more that we understand a certain disease in terms of the pathways and mechanisms the more that we can have targeted therapies."