»
Go to news main
AI mental health app being developed by Dalhousie research team
Posted by
SaltWite
on July 27, 2023 in
Research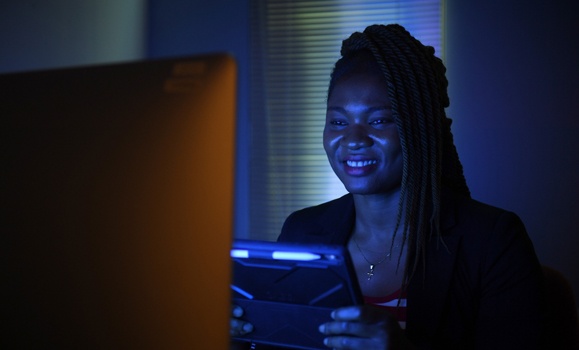 HALIFAX, N.S. — A team of researchers at Dalhousie University is developing an app that uses artificial intelligence (AI) to assist people with their mental health.
Dubbed Recilify, the app uses journal entries and responses to assess what struggles a person might have. It then offers them interactive solutions to help with depression, grieving, trauma, anger, and other mental health issues.
Four years in the making, Rita Orji, director of Dalhousie's Persuasive Computing Lab, said the idea behind the app was to use emerging AI technology not just as a gimmick, but to help people.
"Advances in technology are great, but how do you actually harness it for public good and social good?" she said. "That is where our motivation lies."
The small team working on the app includes Oladapo Oyebode, a PhD candidate studying human-computer interactions, and Sanjit Jeevanand, a master's student at the Indian Institute of Technology Kharagpur. Jeevanand is working on the project as part of the Mitacs Globalink Research Internship program, a Canadian non-profit that offers research opportunities to students around the world.
Oyebode is responsible for the research and data side of the project. Jeevanand, who has more experience with video game development, learned to work with app development and programmed more than 50,000 lines of code in under three months.
"It was hectic work, but I enjoyed it a lot and got to learn a lot," Jeevanand said.
The inner workings of Recilify are complex. The app's AI creates a profile of the user, learning from input, responses, and behaviour patterns. The more someone uses the app, the better the AI can understand and respond to their problems.
Context is important for the AI. Someone with a family of four who is working five days a week will get different suggestions than someone in high school who plays sports and video games in their free time.
"[The app] is not only about the technology; it is the fact that it is evidence-based. It is not some random thoughts. It is based on validated techniques and strategies that work," Orji said.
There are no plans to monetize the app or its features, meaning everything will be free to use. To keep people coming back to the app, users will be reminded about daily journal entries and mindfulness exercises.
Orji compares the app to Pokémon GO, which uses daily challenges to ensure users return frequently. Jeevanand called it "game-ification" of human health.
Users can unlock more exercise varieties with points earned by using the app frequently. According to Oyebode, this gives users incentive to complete daily mindfulness exercises and integrate the mental wellness work into their routines.
"If we give [the games and exercises] to you all at once, you may not appreciate it," he said. "You go 'wow, I would like to experience more,' but no, you must do your job first!"
Currently, the team is working on a beta test for the app, hoping to launch it later in August. Anyone interested in testing the app is asked to contact Orji directly at contact.ritaorji@gmail.com.