»
Go to news main
Embracing change: Big Data Alliance of Nova Scotia's closure results in a $50,000 Gift to Dalhousie University's Faculty of Computer Science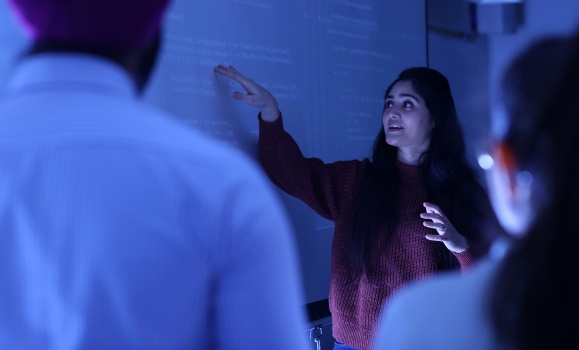 In an era driven by data, organizations and institutions have recognized the profound impact of big data and machine learning on various industries. Nova Scotia's tech industry has experienced unprecedented growth in recent years, fueled by innovative ideas and a rapidly expanding workforce. 
However, with great achievements come evolving needs, and the Big Data Alliance of Nova Scotia (BDANS) has recognized its time to gracefully bow out as the tech industry thrives. This decision is not a failure, but rather a testament to their resounding success and the significant awareness they have brought to the field of data science and machine learning.
"After 8 years, the BDANS board of directors have decided that it's time to wind-down the organization," says board member, Mike MacPhail. "I think it's fair to say, it has succeeded in its mission to raise awareness and the market opportunity for Big Data in Atlantic Canada."
BDANS recently announced its final act of support for the community by providing Dalhousie's Faculty of Computer Science with a generous donation of $50,000. This funding will provide Dalhousie's Faculty of Computer Science with $50,000 to support one graduate student with a bursary working in the area of data science and machine learning in their full first year. This act of philanthropy highlights BDANS' commitment to nurturing talent and advancing the frontiers of knowledge.
The former Dean of the Faculty of Computer Science, Dr. Michael Shepherd, played a pivotal role in driving the development of BDANS. His active involvement inspired the title of the bursary, the Michael Shepherd and BDANS Bursary in Data Science and Machine Learning.
"The establishment of the BDANS Bursary in Data Science and Machine Learning in honor of Dr. Michael Shepherd recognizes their significant contributions to the congress's success and impact on the community and establishes a positive legacy by supporting deserving students in this field." Says MacPhail.
Learn more about the Michael Shepherd and BDANS Bursary in Data Science and Machine Learning.
BDANS' journey to success
 
The journey of BDANS has been nothing short of remarkable. It began as a visionary initiative aimed at creating a platform for collaboration, knowledge sharing, and driving innovation in big data and machine learning. Over the years, BDANS has played an essential role in connecting academia, industry, and the government to foster a thriving data ecosystem in Nova Scotia.
Through their efforts, BDANS has successfully raised awareness about the power of big data and machine learning and their potential to transform industries. They organized conferences, workshops, and seminars, attracting leading experts and professionals from around the globe.  
"The congress created a robust community of professionals, researchers, and business leaders committed to advancing the big data and AI industry in the region," says MacPhail.
The rise of digital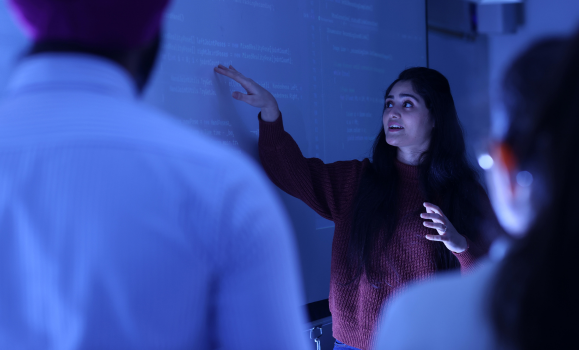 The impact of BDANS is undeniable. Their unwavering dedication to promoting data science and machine learning has accelerated the growth of Nova Scotia's tech industry. They have spurred the creation of numerous start-ups, attracted investment, and created a vibrant environment for innovation.
BDANS' efforts have not only benefited the tech industry but have also influenced government policies. By championing the adoption of data-driven approaches, they have enabled businesses and organizations across Nova Scotia to thrive and adapt to the demands of a rapidly evolving digital landscape.
Created in 2021 from the rise of big data and machine learning, initiatives such as Here We Code would not be possible without BDANS. The Here We Code movement aims to create awareness around Nova Scotia's ecosystem and how it extends far beyond a computer lab. Computer science intersects with industries spanning from education to agriculture, ocean tech to healthcare and more. As the digital economy continues to thrive, the movement continues to grow.
A shifting landscape
 
The decision of BDANS to close its operations should not be viewed as a sign of failure but rather as a reflection of a maturing industry. Nova Scotia's tech sector has experienced unprecedented growth, attracting talented individuals and significant investments. The awareness of big data and machine learning has permeated various sectors, and businesses are now equipped with the knowledge and resources to navigate the data revolution independently.
As BDANS gracefully closes its doors, we celebrate their achievements and recognize their immense contribution to the development of a tech-driven province. Their success story stands as an inspiration to future endeavors in the field, leaving behind a legacy of innovation, collaboration, and the power of data.
In addition to the Dalhousie's Faculty of Computer Science gift of $50,000, BDANS is extending its support to two other institutions that prioritize computer science. Acadia University (Daniel L Silver scholarship) and the University of New Brunswick (Geoff Flood Atlantic Big Data Congress Scholarship).