»
Go to news main
Women in STEM unite on International Women's Day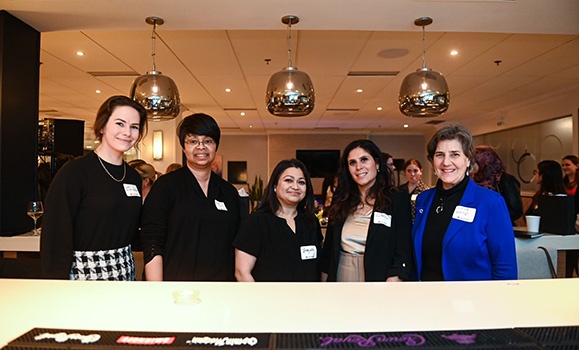 In celebration of International Women's Day, a global day recognizing the achievements of women, Dalhousie's Faculties of Computer Science, Engineering and Science hosted the fifth annual Women in STEM Networking Event on Wednesday (March 8).
Members from the Dalhousie community filled the Canvas Lounge, and together they shared an intimate discussion on women working in the fields of Science, Technology, Engineering and Math (STEM).
Five female leaders from their respective STEM fields participated in a panel discussion. Each panellist shared their experiences, perspectives and what motivated them to pursue a career in STEM.
The panel included: 
Dr. Anya Waite (BSc'85) is the associate vice-president research (ocean), scientific director and CEO of the Ocean Frontier Institute.
Dr. Sophia Stone is a professor and chair in the Department of Biology. She is also the associate dean of Graduate Studies and Global Relations at Dalhousie.
Sreejata Chatterjee (BScCS'07) is co-founder at Leadshift and product lead at Foundry Intent in Halifax.
Zana Fares Choueiri (BEng'06) is vice president of construction with WM Fares Group in Halifax.
Sarah van den Heuvel, a Dal Engineering alum and climate change engineer at CBCL Limited, moderated the event and facilitated an engaging discussion with the audience. The conversation focused on personal challenges, opportunities and recent advancements in their respective fields – they also shared thoughts on what the future looks like for the next generation of women in STEM. 
Chatterjee, a Computer Science alum, explained the positive changes for women in STEM.
"The landscape has definitely changed. There is a lot more awareness and support for women in STEM, but we need reasons for women to invest and to stay," said Chatterjee.
A theme throughout the event was the importance of work-life balance. Dr. Stone explained the importance of 'taking a break.' Who worked seven days a week when she completed her PhD. She also recommended stepping away from mobile devices outside of work hours. 
The discussion closed with inspirational advice to young professionals who asked questions related to 'the keys to success' and strategies on how to advance in their careers.
To learn more about upcoming Women in STEM initiatives, please visit the Dal Women in STEM Society @wistem.dal on Instagram.