»
Go to news main
CSS Snowball Awards Celebrate Outstanding Achievements in Computer Science Community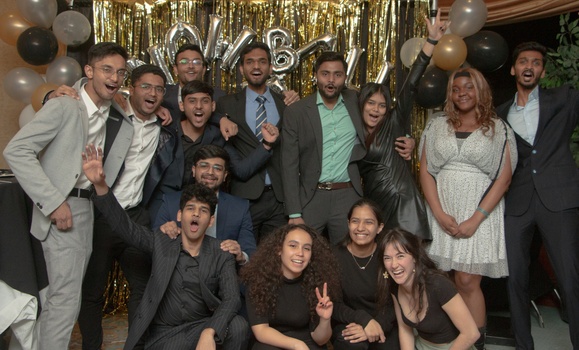 The Faculty of Computer Science's Computer Science Society (CSS) recently held their annual Snowball awards ceremony, a highly anticipated event that brought together students, staff, and faculty members to celebrate and recognize the outstanding achievements within the computer science community. The atmosphere was filled with excitement as everyone gathered in person at a local venue in Halifax for the first time in three years, marking a significant milestone for the community.
The event kicked off with the Dean, Dr. Andrew Rau-Chaplin, welcoming everyone and expressing his excitement for the event's return in person. This year's snowball was a collaborative effort between two student societies: Computer Science Society (CSS) and Women in Technology Society (WiTS). The ceremony featured three inspiring keynote speakers, including Dr. Angela Siegel, who emphasized the importance of education and how access to it is critical for everyone. Dr. Raghav Sampangi shared valuable lessons about realities and hope, and Dr. Rina Wehbe spoke about the importance of finding one's passion.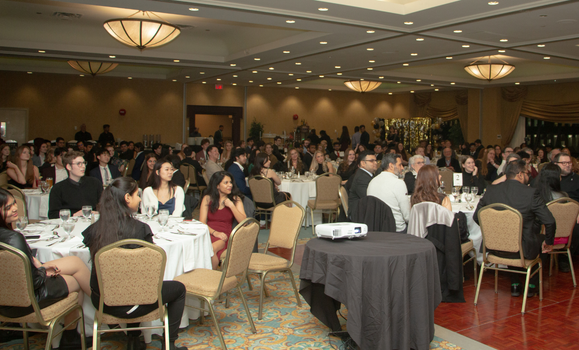 Dr. Angela Siegel shared her personal experience with the importance of education and the barriers that many individuals face in accessing it. She touched on her upbringing and background in Minnesota which inspired the audience, as she shared how her dreams of attending a university like Dalhousie University seemed impossible at first. However, through perseverance and determination, she overcame these barriers and achieved more than she ever imagined. Dr. Angela Siegel's message was clear - education is a fundamental right, and everyone deserves the opportunity to pursue it.
Dr. Raghav Sampangi's speech focused on inclusive computing. In his speech, he emphasized that inclusion and belonging are words we hear everywhere these days, but the important question to ask is, what does it mean to actually feel like you belong? In this talk, Dr. Raghav Sampangi talked about exploring some of the realities in relation to inclusion and belonging and discussed opportunities that give us hope for the future. 
Dr. Rina Wehbe rounded out the evening's keynote speeches with a moving speech on the importance of finding one's passion. She shared how the journey to finding one's true calling may be long and winding, with many twists and turns, but to trust yourself to find your way. It is never too late to find your passion, and with determination and hard work, anything is possible.
After the keynote speeches, Dean, Andrew Rau-Chaplin congratulated the award winners and spoke about the numerous opportunities available to students in the faculty. He highlighted the faculty's commitment to supporting and helping students succeed and encouraged them to become leaders with an impact in the tech world. 
The Faculty of Computer Science recognized 19 individuals who have excelled in the community during the past year. The event was a huge success, bringing together individuals from all backgrounds to celebrate and recognize excellence in the computer science community. It was a powerful reminder of the importance of education, well-being, and pursuing one's passion.
2023 Snowball Award Winners  
Leadership Awards: Brij Vaghani and Nupur Gaikwad
Citizenship Award: Manar Elgamil
Ada Byron Award: Bimpe Ayoola
Dr. Arthur Sedgwick Award: Thien Nguyen
Dr. Morven Gentleman Award: Sofia Jia, Bachelor of Applied Computer Science Student
Bruce and Dorothy Rossetti Scholarship Bronze Award: Jonah Barrington, Mahdeen Abrar, Ben Lee
Bruce and Dorothy Rossetti Scholarship Silver Award: Hanqing Bi
Bruce and Dorothy Rossetti Scholarship Gold Award: Xiaoting Wu, Benjamin Farquhar, Gobind Singh, Kanav Bhardwaj, Erin Schultz
The Srini Award for Teaching Excellence: Dr. Angela Siegel and Dr. Qiang Ye
The Staff Appreciation Award: Angie Bolivar
The Best TA Award: Robert Smith