»
Go to news main
Dal spotlights triumph of latest U SPORTS Academic All‑Canadians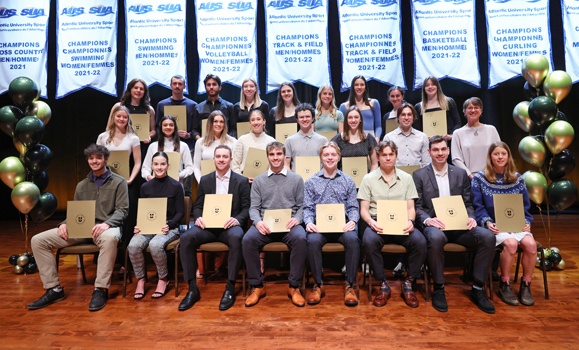 After two years of virtual celebrations, the Dalhousie Tigers annual Academic All-Canadian Celebration was held in the Rebecca Cohn Auditorium on Thursday, (January 19)
A total of 158 Dalhousie varsity student-athletes achieved U SPORTS Academic All-Canadian status during the 2021-22 school year. To qualify as an Academic All-Canadian, student-athletes must maintain a GPA of at least 3.50 over the academic year while competing in a varsity sport. Hard work, dedication, sacrifice, and support are crucial in these students' lives. 
Tim Maloney, executive director of Athletics and Recreation, opened the celebration highlighting the support student-athletes receive from Dalhousie.
"This event is arguably my favourite of the year because it celebrates what we value the most — combined excellence in academics, athletics and community involvement," he said. "It's also a great opportunity for us to recognize all of those who play such an important role in helping our student-athletes be so successful including our academic leaders, faculty and staff who are understanding, supportive and play such important mentorship roles in our student-athletes' academic success."
While student-athletes are always students first, Maloney also spoke to the success they experienced in athletics.
"Fifty-eight percent of our student-athletes were Academic All-Canadians last year," he added. "And not to take away from their academic performance, but we also care about winning here — those student-athletes played a big role in bringing home nine AUS championship banners as well."
Recommended reading: Glen‑Carter named U SPORTS player of the week
Perseverance pays off
 
Dr. Frank Harvey, Dalhousie's acting president and vice-chancellor, commended the perseverance of Dal's student-athletes through the challenges brought on through the COVID-19 pandemic.
"It was particularly challenging for our student-athletes because sports, athletics, training and competition are all such important aspects of their lives, and their relationships and their identities," he said. "So, for those who navigated the evolving restrictions and protocols and struggled through the restrictions to training and competition and so many other pandemic-related challenges, we are so incredibly impressed by your perseverance through all of it and the resiliency you showed to thrive and excel."
And excel they did. The average GPA of the student-athletes who achieved Academic All-Canadian status last year was 3.92.
Women's swimmer Mady Shivgulam and women's hockey player Gabby Noordijk served as co-MCs for the event, referencing the achievements of the 91 student-athletes who were in attendance as they received their certificates.
Recommended reading: Tigers weekend action (Jan.15) 
It takes a village
 
At the end of the presentations, men's basketball player Alex Carson spoke on behalf of the student-athletes.
A four-time Academic All-Canadian, Carson began by highlighting the challenges that student-athletes face including heading to study hall right after a long practice, late nights studying with early morning practice the next day and doing school work while travelling for competition.
"It's not always easy, but through sacrifice and commitment, the 158 student-athletes who were Academic All-Canadians last year found a way to not only 'get by', but to excel in their sport and in the classroom, and that deserves to be celebrated," he began.
Carson also spoke to the important role families play in their success very early on in their athletic careers. He also highlighted how vital the support student-athletes receive from each other, coaches, the Dalhousie Physiotherapy Clinic and the athletic department staff is to their continued success.
"Everyone works together to provide us with the best possible opportunities and experience and that will stick with us long after our time here at Dalhousie."
Dalhousie's Academic All-Canadians – 2021-22
 
Faculty of Architecture and Planning
Joseph Fiander, Cross Country/Track & Field
Kayli Friesen-Weir, Track & Field
Faculty of Arts and Social Sciences
Myriam Arseneau, Volleyball
Jayne Borrens, Cross Country/Track & Field
Sarah Gierling, Curling
Jaydn Cowie, Soccer
Jess Goodwin, Track & Field
Samuel Maillet, Basketball
Liam Peyton, Hockey
Georgia Scott, Track & Field
Sofia Stewart, Track & Field
Maia Timmons, Basketball
Faculty of Computer Science
Ted Graveson, Volleyball
Hillary Ogoke, Soccer
Owen Purcell, Curling
Emilio Roche, Soccer
Michael Trim, Soccer
Faculty of Engineering
Andrew Arseneau, Volleyball
Nicolas Beaulieu, Track & Field
Gregor Deveau, Swimming
Lachlan Greechan, Track & Field
Amelia Lane, Swimming
Jeffrey Meagher, Curling
Reilly Pickard, Hockey
Ioannis Trihopoylos, Soccer
Samuel Wade, Basketball
Jeffrey Walton, Volleyball
Lauren Williams, Swimming
Kaitlyn Woodworth, Soccer/Track & Field
Riley Workman, Soccer
Faculty of Graduate Studies
Marley Blommers, Basketball
Holly Buckler, Soccer
Sarah Dawe, Volleyball
Alexandra Doane, Soccer
Alec Freeman, Cross Country
Andre Hendricks, Track & Field
Kelsey Hogan, Cross Country
Abby Jenkins, Volleyball
Gracious Kasheke, Soccer
Christopher Pike, Soccer
Madeline Shivgulam, Swimming
Amanda Skiffington, Curling
Temi Toba-Oluboka, Track & Field
William Warren, Soccer
Faculty of Health
Malia Artibello, Track & Field
Carley Birrell, Soccer/Cross Country/T&F
Alex Carson, Basketball
Abbey Corish, Swimming
Will Cox, Cross Country/Track & Field
Ethan Dahr, Track & Field
Abbigael Gaudry, Track & Field
Elaine Gentleman, Swimming
Skeets Greene, Track & Field
Harmon Grimshaw-Surette, Cross Country/Track & Field
Hudson Grimshaw-Surette, Cross Country/Track & Field
Ella Hornby, Volleyball
Taylor Joyce, Hockey
Danielle Keefe, Cross Country/Track & Field
Renata Kingston, Cross Country/Track & Field
Zachary Lowe, Track & Field
Chelsea MacIsaac, Track & Field
Evan MacKinnon, Hockey
Adam McEachren, Curling
Hannah McGean, Track & Field
Lauren Mosher, Swimming
Abbey Nichols, Swimming
Isabella Noble, Volleyball
Martine Nyhof, Swimming
Anna Parsons, Basketball
Luke Rideout, Volleyball
Nick Robertson, Cross Country/Track & Field
Emilie Schofield, Swimming
Malachy Shannon, Volleyball
Arcel Siosan, Volleyball
Matthew Smith, Basketball
Logan Sparkes, Swimming
Hannah Trites, Track & Field
Talia Vydykhan, Volleyball
Isabella Weist, Hockey
Faculty of Management
Joël Caloz, Track & Field
Callum Campbell, Volleyball
Katie Crombeen, Basketball
Justin Cross, Volleyball
Brett Crossley, Hockey
Jasmine Delima-Baril, Swimming
Josh DeYoung, Volleyball
Quinton Dowling, Volleyball
Benjamin Gory, Basketball
Aidan Goslett, Cross Country/Track & Field
Matt Green, Hockey
Jack Hanley, Hockey
Ahmed Haroun, Soccer
Taylor Heard, Soccer
Christian Huntley, Hockey
Aiden Jamieson, Hockey
Callum Legge, Soccer
Noah Mascoll-Gomes, Swimming
Shaun Miller, Hockey
Cole Mitchell, Swimming
Adam Murphy, Soccer
Gabrielle Noordijk, Hockey
Keana Oshowy, Hockey
Campbell Pickard, Hockey
Sadie Pinksen, Curling
Nick Pryce, Hockey
Kevin Resop, Hockey
Daniel Rosen, Cross Country/Track & Field
Adam Sellan, Basketball
Keevan Veinot, Basketball
Katie Wuotila, Basketball
Kyle Yewchuk, Hockey
Faculty of Medicine
Victoria MacDonald, Swimming
Abbey MacLellan, Track & Field
Faculty of Science
Aaliyah Arab-Smith, Basketball
Adele Arsenault, Soccer
Maggie Baxter, Hockey
Sydni Bird, Hockey
Emma Bishop, Hockey
Amanda Black, Track & Field
Alyson Bodner, Soccer
Brett Boldon, Volleyball
Noah Brake, Swimming
Zoe Brown, Soccer
Grace Calnan, Volleyball
Katie Cameron, Hockey
Hannah Chadwick, Basketball
Frederick Chandler-Baas, Swimming
Megan Chiasson, Soccer
Peter Collier, Track & Field
Alexander D'Alessio, Swimming
Riley Donovan, Soccer
Liam Ferguson, Swimming
Natasha Fortin, Curling
Kathleen Fougere, Volleyball
Zoe Fullarton, Cross Country/Track & Field
Annabel Gravely, Soccer
Zachary James, Track & Field
Lia Kentzler, Basketball
Lauren Lowther, Cross Country/Track & Field
Ewan Maclean, Swimming
Madeleine Maillet, Basketball
Connor Manuel, Soccer
Jasper Mansfield, Soccer
Anika Nastasiuk, Track & Field
Nena Sofia Nicolls, Soccer
Josie Oickle, Soccer
Andréanne Paul-Chowdury, Swimming
Alexa Petrie, Swimming
Lukas Rudaitis, Cross Country/Track & Field
Lexie Small, Hockey
Charlotte Spencer, Soccer
Lily Spoozak, Track & Field
Caitlin Taylor, Swimming
Jonathan Taylor, Swimming
Kennedy Whelan, Hockey
Hayden Woodrow, Swimming
Frances Wright, Cross Country/Track & Field
Alix Yallowega, Hockey