»
Go to news main
Dalhousie versus the World
Posted by
Josh Young
on January 11, 2023 in
Students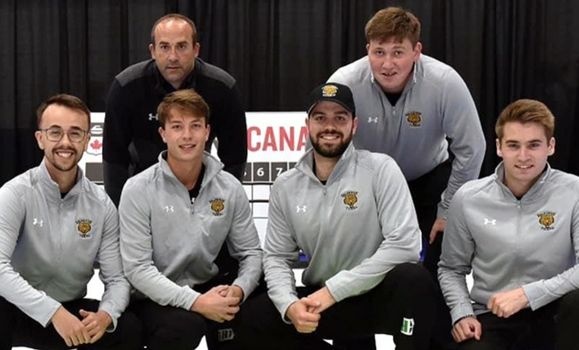 The Dalhousie men's curling team will be wearing the Maple Leaf instead of a Tiger head this month on the front of their jerseys. The group is representing Canada at the 2023 FISU World University Games held in Lake Placid, N.Y. from Jan.12-22.
"I'm super excited, I can't wait to go," says kinesiology student, Adam McEachren (Truro, N.S.). "I've been to curling nationals and last year we (McEachren and Dal's skip, Owen Purcell) went to Sweden to represent Canada at the world juniors for curling and those were events that were solely curling focused. So going to a multi-sport event is going to be something different."
The FISU World University Games are similar to the Olympics, but for university athletes, and this year's event features more than 1,000 athletes competing in 12 sports over the course of the 10-day event. The Dal Tigers won a qualifying tournament in September to earn the privilege of representing Canada. Skip Owen Purcell (Halifax, N.S.), third Jeffrey Meagher (Halifax, N.S.), second Adam McEachren, lead David McCurdy (Truro, N.S.), alternate Caelan McPherson (Halifax, N.S.) and coach Anthony Purcell are all heading to Lake Placid. They are the first team from an Atlantic Canadian university to represent Canada in curling at the games.
"It's pretty cool, I think it puts us on the map," adds McEachren. "When people think of university sport curling they don't really think of the Atlantic provinces. For us to achieve that as the first group of guys is pretty spectacular, I'd say."
Second time's the charm
This is redemption for Purcell, McEachren and Meagher who came close to representing Canada at the Games in Switzerland in 2021. They played Wilfred Laurier University in the final but lost 8-5. Two years later they met Laurier again in last year's final, this time beating them 8-5 to send them to Lake Placid.
"I remember my last shot we nearly missed it because Adam was sweeping so hard, he was so ready to go," says computer science student Owen Purcell. "We made that last shot and it was just relief from head to toe with everything settling in that we get to go represent Canada again. I remember the first people I turned to were David and Caelan because they've never gone to nationals before, and I was so excited for them to get this opportunity. It was an amazing moment."
This will be Purcell and McEachren's second time representing Canada who also compete together out of the Halifax Curling Club. They represented Canada at the World Junior Curling Championships last May in Jonkoping, Sweden. They won just two of their first five matches but battled back and won the bronze medal.
"We learned a lot playing in that event, so the specifics we can apply really well to this event now," adds Purcell. "One thing that really helped us there was playing patiently and slowing down the pace of the game so we get settled in. That way we're not completely burnt out by the ends of the game or just later during the week."
Rookies on the international stage
Even though Purcell and McEachren have worn the maple leaf before, Meagher, McCurdy and McPherson haven't. Purcell and McEachren are just as happy to see their teammates have this chance as they are to represent their country again.
"I think knowing it is Caelen, David and Jeff's first times and me knowing how much fun I had the first time and what it is going to be like for them, it is kind of cool for me to be a part of helping them get there," says McEachren.
This will be a different experience for Purcell and McEachren. At the world junior curling championships, it was only curlers participating. This tournament has an Olympic feel to it with athletes from all over the world competing and Lake Placid being a popular city for many events including the 1980 Winter Olympics. The curlers, the cross country athletes and biathletes are all in one residence building at Paul Smith's College and get to mingle with each other.
"Being able to see the other sports and being part of the Canadian team with the other athletes is something really special that you can really only get from the Olympics. And that's what makes this event so amazing, it is kind of like a miniature Olympics," says Purcell.
Team Canada plays their first match on Friday against Switzerland at 8:00 p.m. AST. They will play nine times over the week before the playoff round begins. Viewers can watch the games online at FISU tv.
Team Canada:
| | | |
| --- | --- | --- |
| Name | Hometown | Program |
| David McCurdy | Truro, NS | Civil Engineering |
| Adam McEachren | Truro, NS | Kinesiology |
| Caelan McPherson | Halifax, NS | Biology |
| Jeffrey Meagher | Halifax, NS | Mechanical Engineering |
| Owen Purcell | Upper Tantallon, NS | Computer Science |
Team Leader: Helen Radford, Dalhousie (Halifax, NS)
Coach (M): Anthony Purcell, Dalhousie (Upper Tantallon, NS)
Schedule: 
| | | |
| --- | --- | --- |
| Friday, Jan. 13 | 8pm | SUI vs CAN |
| Saturday, Jan. 14 | 3pm | CAN vs CZE |
| Sunday, Jan. 15 | 10am | CAN vs BRA |
| Monday, Jan. 16 | 3pm | SWE vs CAN |
| Tuesday, Jan. 17 | 10am | CAN vs KOR |
| Tuesday, Jan. 17 | 8pm | NOR vs CAN |
| Wednesday, Jan. 18 | 3pm | USA vs CAN |
| Thursday, Jan. 19 | 10am | CAN vs GBR |
| Thursday, Jan. 19 | 8pm | Semifinal |
| Friday, Jan. 20 | 8pm | Bronze |
| Saturday, Jan. 21 | 3pm | Gold |
*All time in AST